Autumn is here! Now, just because we don't have autumn in the Philippines doesn't mean we can't enjoy savoring the smells and flavors of a globally loved season. This fall season, we're falling back in love with the warm toasty flavors of Pumpkin Spice in our coffees. Is there a better way to snuggle up and enjoy the Ber months?
The seasonal flavor is back and only for a limited time only, so get your pumpkin spice fix while before they're gone again for another year! Luckily, you can try it from two places: Starbucks and Krispy Kreme! Here are all the pumpkin spice treats you can get:
Pumpkin Spice Latte
Of course, the first one you need to have will be the classic favorite: the PSL – Pumpkin Spice Latte.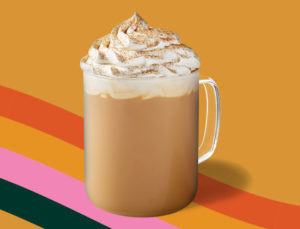 Starbucks announced the return of their Pumpkin Spice Latte last September 21 along with the rest of their pumpkin spice line. Enjoy their signature espresso blend and steamed milk blended with the pumpkin-spice flavors to create a warm, cozy, spiced drink. Available in Short for Php 165, Tall for Php 175, Grande for Php 190, and Venti for Php 205.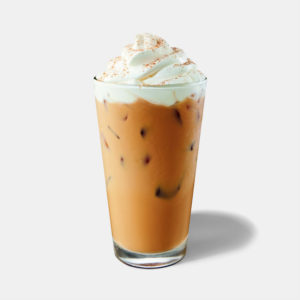 You can also enjoy it as an iced beverage! You can embrace your inner ice queen/king and enjoy the brisk air of the cold season with cold, creamy sips of an Iced Pumpkin Spice Latte! The Pumpkin Spice sauce, cinnamon, and nutmeg will warm you up from the inside so that the cold won't bother you anyway.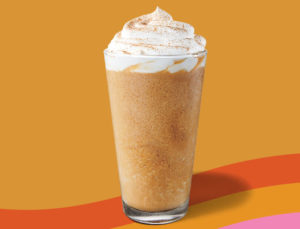 If you're more of a slushie or blended drinks person, you can go for the Pumpkin Spice Frappuccino, which starts at Php180 for Tall, or the coffee-free Pumpkin Spice Cream Frappuccino at Php 180 for Tall.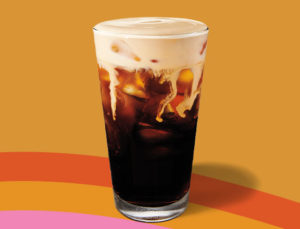 Starbucks has also brought back the Pumpkin Cold Brew which you can enjoy in Tall for Php 185, Grande for Php 200, and Venti for Php 215. This uses Starbucks' cold brew and vanilla syrup. It's topped with a Pumpkin Cream Cold Foam (made with Vanilla Sweet Cream and Pumpkin Spice sauce) and a dusting of the Pumpkin Spice topping.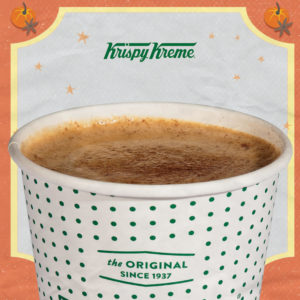 Now, if you keep striking out and someone else gets that last PSL, you can get your Pumpkin Spice fix at Krispy Kreme! Their OG Kremey Coffee gets a touch of fall flavors so you can cozy up to their Pumpkin Spice Latte.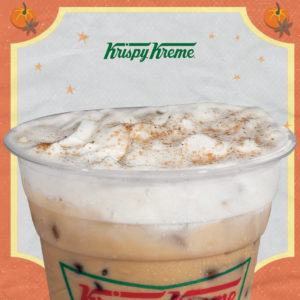 If you enjoy their sea salt iced coffee series, you're in luck! They also have the Sea Salt Pumpkin Spice Latte. It's a pumpkin spice mix infused with milk, vanilla syrup, freshly extracted espresso, and topped with a Sea Salt Kreme!
Pumpkin Spice Treats
Now if you're done with all the drinks, you can bite down into all these fall-inspired bites!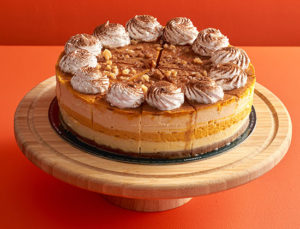 As someone who loves fall flavors, you shouldn't miss Starbucks' wickedly good Pumpkin Swirl Cheesecake. Layers of rich flavored cheesecake, and a spiced graham crust Topped with caramel sauce, crushed pecan nuts, and decorated with delicious pumpkin spice swirls. You can order by slice (Php205), or whole (Php2,050).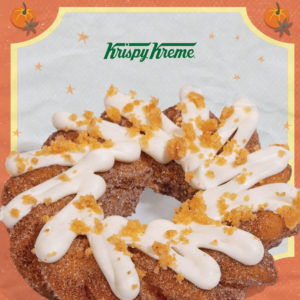 A Krispy Kreme order is not complete without doughnuts! They've carved pumpkin, spice, and a cheesecake right into your favorite, light doughnuts. You get warm and cozy fall spices, light and fluffy doughnuts, and rich cheesecake all in one. Bite into a Pumpkin Spice Cheesecake doughnut and see for yourself!
Follow Starbucks and Krispy Kreme on Facebook for more details!
Follow us on Facebook, Instagram, Tiktok, and Youtube for foodie finds, re-imagined recipes, and easy eats that will take Pinoy bellies on an adventure!