by Angeli De Rivera
Everybody has had a slice of an Old-Fashioned Chocolate Cake. This is the cake you've blown candles in for one (or two!) of your birthday celebrations. It's the dessert you can't get enough of—both the dense cake and the thick fudgy chocolatey frosting you'd scrape off from another slice (aminin!).
But what makes a Chocolate Cake well, old-fashioned?  From what's been experienced in its several forms, it's recognizable with its almost no-frills decoration, letting the sweetly, thick chocolate frosting speak for itself as it coats over two or three layers of incredibly moist chocolate cake. On occasion, luscious custard or caramel is added in-between layers but Filipino versions call for the more beloved yema. While perfect for celebrations, it's also the ideal comfort food post-break-up, the best kind of midnight snack, and the ultimate breaker of diets—because we all know we need to indulge these stressful days.
Wildflour
Imagine a nine-inch dark chocolate monster of a cake made more sinful with a thick middle layer of coffee custard. The chocolatey flavors of Wildflour's Old-Fashioned Cake are so intense and decadent that you'd want to down this with a tall glass of milk—the perfect late-night cheat eat if you know what we mean.
For orders, visit www.wildflourtogo.com.
View this post on Instagram
Cakes by Louise
This is the chocolate cake every 80s and 90s kid had during their birthday. It's easily recognized by the lattice-patterned, fork-runned chocolate frosting and the thick band of signature filling in the middle. Eating a slice (or two, or three, but who's counting?) is like a blast from the past since the recipe hasn't changed, according to Louise, the current proprietor, and granddaughter of the original maker.
For orders, visit their Facebook page or Instagram
View this post on Instagram
Consuelo's
Fudgy, straightforward, and an absolute dream. Consuelo's version is all-business when it comes to its no-fuss cocoa fudge frosting—just thick waves on top and in between layers. Its main feature though is the ultra-moist cake you'd want to get lost in. Feeling guilty having the whole 8-inch to yourself? No worries, it's also available in 6-inches and as a baby cake.
For orders, visit their Facebook page or Instagram.
View this post on Instagram
Homemade by Roshan
If you're having a bad day, a slice of this Roshan classic will surely improve your mood. Prettily decorated with border rosettes and simple pattern work on top, Roshan's Good Ol' Fashioned Chocolate Cake promises decadence with every spoonful of its super moist cake, thick fudgy frosting, and caramel custard filling.
For orders, visit homemadebyroshan.com.
View this post on Instagram
Mary Grace
The chocolate frosting of Mary Grace's Chocolate Cake is so refined and glossy that you can see your reflection on it. That doesn't mean though that we won't slice into it revealing its velvety creamy custard filling. Made of premium Belgian chocolate, this chocolate cake is available in 4-inches or 8 inches. We'd go for the bigger size, of course.
For order, visit https://www.marygracecafe.com
View this post on Instagram
Butternut Bakery
This chocolate kid may be the newest in the bunch but it evokes delicious memories and pure pleasure from its chocolatey layers flavored by single-origin cocoa powder crafted from African beans. Plus, don't you just want to take a (finger) dip onto that luscious homemade caramel sauce?
For orders, visit butternut.ph.
View this post on Instagram
Burnt Sugar
Formerly known as Shoppersville Bakeshoppe, their classic chocolate cake is back, and it's just as yummy and incredibly scrumptious as before. The signature big chocolate swirl will get you giddy while the yema filling will get you addicted all over again. As a bonus, you can even ask to customize the look of your chocolate cake with their signature marshmallow icing!
For orders, visit their Facebook page or Instagram.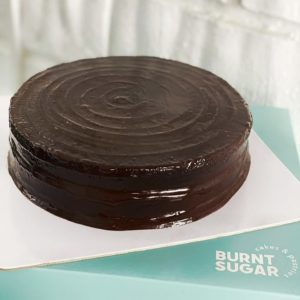 Starbucks
What's coffee without cake? This is the reason why the good folks at Starbucks always make sure to have their fancy-frosted Classic Chocolate Cake available on their chiller since it's one of their bestsellers. A slice of their dark moist chocolate cake filled with buttery caramel fudge with any of their signature coffee drink is the perfect pick me up after a tiring workday.
Visit Starbucks.ph for a list of the branches near you.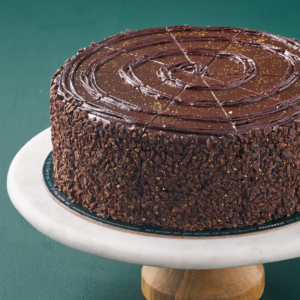 Follow us on Facebook, Instagram, Tiktok, and Youtube for foodie finds, re-imagined recipes, and easy eats that will take Pinoy bellies on an adventure!