By Camille Bacsa
Our beloved country is undeniably rich in culture and cuisine. Unfortunately, as times change, some recipes remain locked in the drawers of old family kitchens and heirloom restaurants, with fewer Filipinos preparing them in their homes, let alone during their annual noche buena, for various reasons — inaccessibility of ingredients, lack of popularity, or the sheer tediousness to prepare these colonial dishes.
Regardless, here at BiteSized HQ, we believe it is important to look back on our history to understand our culinary evolution better. Here are five forgotten Christmas dishes we wish you would try this season!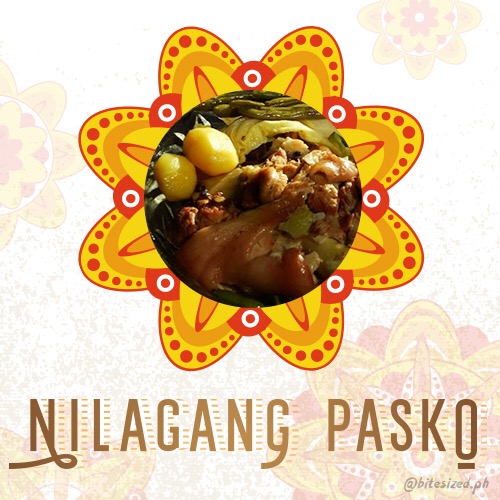 Photo from GMANetwork.com
ORIGIN
Traditionally served during Christmas in the Spanish Colonial Period.
TODAY
Rarely made today as its critical ingredient – the authentic Chinese ham – can only be bought in select places like Chinatown or Quiapo.
SERVE WITH
Balisungsong na Kanin (Rice steamed in banana leaves).
PREPARATION
Boil together trimmings of beef, chicken, and/or pork with onions, potatoes, cabbages, young corn, leeks, saging na saba, camote, pechay and other traditional nilaga vegetables. Add thinly sliced Chorizo de Bilbao and Chinese Ham or Jamon de Funda to add its distinctive flavor. Cook until tender and serve hot.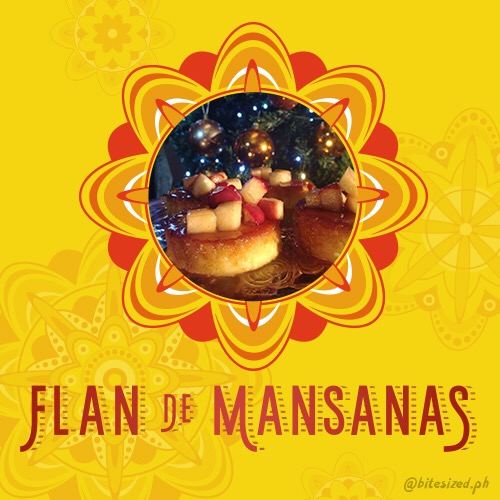 Photo from GMANetwork.com
ORIGIN
Popular dessert during Spanish colonial times.
TODAY
Filipinos opt to make a basic leche flan as apples are expensive.
SERVE WITH
Great on its own but even better when served with other delicious Noche Buena desserts.
PREPARATION
Select tart apples, remove core, peel, and cut. Simmer apples in water and sugar until tender. Add usual leche flan ingredients like condensed milk, evaporated milk, sugar, egg yolks. Beat until you get a creamy texture. Melt caramel in llaneras and pour flan mixture. Bake. Allow to cool, unmold, and serve. Add caramelized apples on top, as preferred.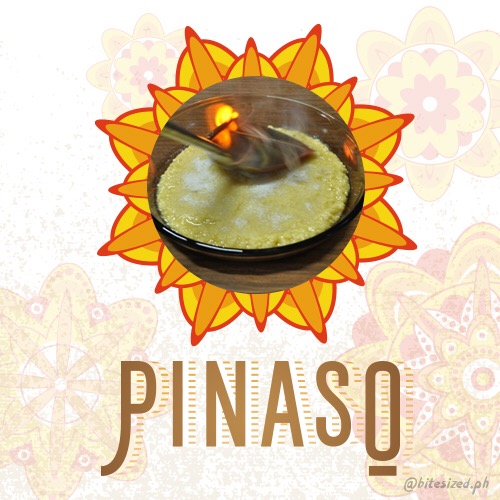 Photo from blauearth.com
ORIGIN
Bulacan, but said to be adopted from Mexico during the Manila Acapulco Galleon Trade days. It was also the popular and novel solution of Pinoy cooks when there was a surplus of egg yolks when egg whites were used for construction as a binder for rocks, corals, and shells.
Derived from the tagalog word for scorched or "pinaso".
PREPARATION
Mix and cook together milk, eggs,and crackers until thick. Add dayap rinds and granulated sugar, then pour mixture into serving bowl. Top with more sugar that will be scorched with a heated metal siyanse to caramelize the surface.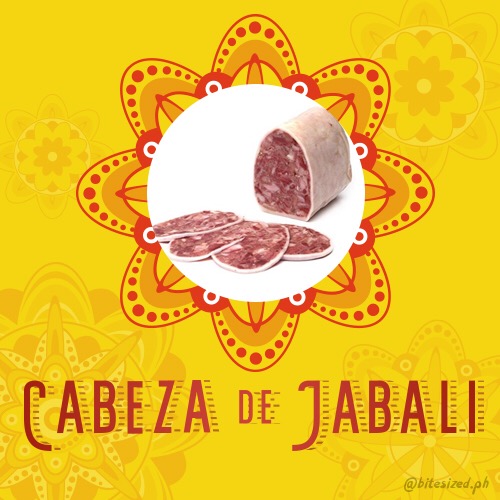 Photo from Samos-Deli.com
TRANSLATION
Boar's Head.
ORIGIN
Mentioned by travelers to Sulipan, Pampanga as early as the 19th Century as a staple meal in celebrations of affluent Kapampangan families.
TODAY
Only 2-3 families make this heirloom recipe today. It is rarely made as hunting wild boars is now illegal in the Philippines. The dish also takes 3-4 days to make.
SERVE WITH
Slices of bread.
PREPARATION
Debone the wild boar's head then marinate with salt, peppercorns, paprika, and brandy or wine overnight. Stuff with sausages, chorizos, tongue, ears, ham, carrots, pickles, onion, or bayleaf, as preferred. Tightly roll and stew in vegetable stock for 3 hours or until tender. Drain and chill in refrigerator to congeal. Slice to serve.
TINUBONG
ORIGIN
Ilocos
Derived from its container called "tubong" which is the inter-node of a bamboo.
TODAY
A sticky, sweet kakanin traditionally made during Christmas from fragrant rice known as "diket", sugar, and coconut milk that are stuffed in bamboo tubes and roasted over charcoal. Glutinous rice or glutinous flour can also be used and it is made even more special with the addition of buko, cheese, margarine, peanuts, raisins, or anise.
SERVE WITH
Brewed coffee, peanut or cacao chocolates.
PREPARATION
Mix together diket (fragrant rice) or glutinous rice with white or brown sugar and coconut milk. Garnish with buko, cheese, margarine or other preferred ingredients to enhance flavor. Pour mixture into bamboo tubes and seal with coconut husks or banana leaves. Bake in an oven or roast over charcoal. Tinubong is good for 3-5 days once cooked and can be reheated while inside the bamboo.