The debate about chicken tinola on social media is getting a little intense. Sure, taste is a personal preference, and we could all just agree to disagree. But Filipinos really have mixed sentiments on the classic dish with just about everyone airing their opinions online.
One side is definitely a fan, but the other – not so much. Just look at how these netizens are passionately defending — or slandering — the classic Filipino ulam.
Wala daw lasa yung tinola? Sobrang sarap kaya ng tinola!! Baka di masarap luto sa inyo? HAHAHAHA pic.twitter.com/kNVdEZzdeI

— G I F E R ✨ (@gifer_fernandez) February 26, 2022
Tinola fan and Twitter user @gifer_fernandez only has one question for haters: naluto ba tinola niyo nang maayos?
Kahit anong tinola slander ang gawin ng iba, it's still one of my fave Pinoy dish! Pati rin ng family ko! 💕 https://t.co/dD4L1wDCsu

— Aly 🌑🌸 #WindChimeWP🎐 (@iamAlyloony) February 28, 2022
Twitter user @iamAlyloony says no to tinola slander!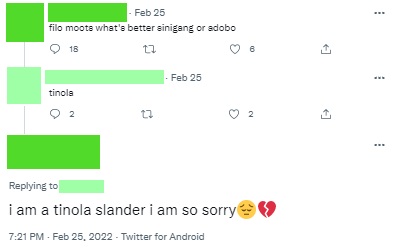 But this netizen only wants sinigang or adobo, not tinola.

Another netizen does NOT like tinola a little bit much.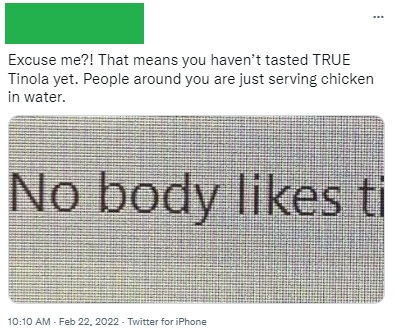 Because tinola is NOT just chicken in water, okay?
Hindi talaga ako fan ng Tinola ever since pero nung sinubukan ko siya last week, talagang mapapaulit ka sa sarap!! 😊 https://t.co/TMCGSXaY8R

— Ced 🪐 (@ddotcj) February 28, 2022
When done right, tinola is SOOO good that there are even converts like Twitter user @ddotcj.
Those who don't like tinola argue that it's bland, plain, and "lasang tubig" — just boring broth with tasteless boiled chicken parts. It's nothing special compared to the other signature Filipino dishes like sinigang and adobo. On the other hand, those who are big fans of this so-called "plain" dish defend tinola with a passion, arguing that it just needs to be cooked right. How? Let's discuss.
First is to lay the flavor foundation of the dish. It should be noted that the careful sautéing of its main aromatics namely garlic, onions, and ginger is just as crucial. Next, is the most important: drawing out the essence of the chicken. This comes from the long and gentle simmering of meat and eventually the addition of other staple ingredients such as green papaya or sayote, patis for seasoning, and malunggay, which would form its comforting medley of flavors. Occasionally, even lemongrass is added to add another dimension to the tinola.
There are definitely a lot of arguments from both sides. But maybe it's time we turn to the food experts. After all, there is a reason that tinola has a long history in Filipino cuisine, becoming a classic and beloved dish known and cooked by many. Even Filipino hero Jose Rizal acknowledged the chicken soup in his novel 'Noli Me Tangere', where the protagonist Crisostomo Ibarra took comfort in chicken tinola as one of his first meals after arriving from Europe.
Check out these food personalities, who share their take on tinola to show you exactly why this classic dish should also be celebrated.
Panlasang Pinoy's Vanjo Merano
US-based vlogger Vanjo Merano is the man behind the blog Panlasang Pinoy, a website he created to share Filipino and Asian recipes with people all around the world.
With all the tinola slander online, even Merano all the way from the US has heard about all the hate tinola is getting on social media. That's why he has recently shared his own recipe of Classic Chicken Tinola. With only eight ingredients, Merano showed viewers just how to cook the dish properly. In a call with fellow food vlogger Ninong Ry, he also enumerated tips to keep in mind when preparing and cooking tinola.
Ninong Ry
Known for his good food and awesome personality, Ninong Ry shares his take on different dishes through humorous recipe videos peppered with occasional relatable quips while he cooks. And he, too, saw the tinola slander currently happening on the internet. Of course, he can't just let this pass!
Ninong Ry applied the tips made by his Kuya Vanjo Merano and also cooked the classic chicken tinola dish. But he didn't stop there. He went on to prove to all those tinola haters that this dish is more than just "chicken water." Inspired by the original tinola recipe, Ninong Ry presented two new unique ways to cook the dish: the Hainanese Tinola and the Tinola Risotto.
In just one episode, Ninong Ry proved that the so-called "plain" tinola dish is actually flexible and versatile enough to have different versions—and they all taste good. "Hindi boring ang tinola. Hindi matabang ang tinola. Hindi 'hindi masarap' ang tinola, dahil napakasarap ng tinola," he described after enjoying spoonfuls of his tinola renditions.
Still not convinced? Then check out these tinola-inspired recipes below:
Chef Ed Quimson
There's no food professional or enthusiast in the Philippines who doesn't know the name of the late Ed Quimson. He had served as chef for several notable restaurants, such as Via Mare, La Tasca, and his own Chef Ed's. The chef extraordinaire was also known for his creative takes and combinations of Spanish and Filipino dishes. One of his most famous signature dishes is his Tinola Paella, where he turned the mild soup into a sumptuous rice dish.
Bitesized.ph
As passionate enthusiasts of Pinoy food, the Bitesized.ph team have also created unique takes on the classic dish. We turned the light soup into a creamy coconut-milk-enriched dish in Tinola sa Gata at Tanglad, while we gave the Chinese steamed bun a Pinoy twist in Tinola Xiao Long Bao.
Bago magpandemic puro kain sa labas or padeliver lang ng food ginagawa ko pero dahil nauso lock down napilitan akong magluto. Una kong try ay Tinola at ang sarap kinalabasan. Infer Knorr cubes talaga nagpapalasa. Not Charot! https://t.co/NMFBNmjBjR

— Charot! (@IamCharotism) February 26, 2022
Twitter user @IamCharotism has tried and tested Knorr Chicken Cubes to cook tinola — and they swear it's the secret ingredient.
Do you want to know the secret behind these tinola recipes? What actually makes each chicken tinola recipe appetizing and unforgettable is the use of Knorr Chicken Cubes! Imagine, just one piece of cube holds the flavor of one long-simmered whole chicken, instantly adding more linamnam goodness to your tinola. Did we say it's a source of iron, too? Now that's how you make an unforgettable and delicious chicken tinola.
Craving some tinola right now? Order your Knorr Chicken Cubes now via U-store, Lazada, or Shopee, and start cooking! To know more about Knorr Chicken Cubes, visit knorr.com.ph.