By Camille Bacsa
In the sweltering heat of summer, a cold treat is always a kind respite, even when its condescendingly called "dirty ice cream." Despite the colloquial term, it is patronized by Filipino children and sweet-toothed adults alike, enjoyed for its distinct linamnam and delicious array of all-Pinoy flavors like ube, mantecado, buko, keso, and more Westernized ones like chocolate and strawberry. The mere tune of clamoring bells and a bellowing manong sorbetero invites nostalgia and an image of life's simple pleasures.
How did this simple treat come to existence though, in a tropical land like ours? Believe it or not, it was already popular during our declaration of Independence, served as a dessert in the 1898 banquet that put Emilio Aguinaldo in power as the first president of the Philippines.
Sorbetero in the 1900s
In fact, it crossed over to Philippine shores as early as 1847, when our nation was introduced to its humbler relative: ice. During the Spanish occupation when we began to dabble in trade with the United States, American company Russell & Sturgis managed to petition a tax-free importation of 250 tonnes of ice with a cautious government. As demand grew, a steady influx of ice – some harvested from Wenham Lake, Massachusetts and even making stopovers to India – were brought in the country, permanently tax free by 1848 through a Royal Order. Russell & Sturgis is credited for building the first ice plant in Calle Barraca, Binondo – though their name hardly rings a bell today because the company went belly up in 1881 and was reacquired by businessman Julio Witte. Succeeding factories like the 1902 Insular Ice Plant were constructed to satiate demand – and for a little side trivia, they say that the famous saying "mabilis pa sa alas cuatro" originated from this prominent company's loud 4 pm bell signalling the end of workers' shift.
Owing to Filipino creativity, patience, and a primitive ice cream freezer known as the garapiñera, the first sorbetes was made. The garapiñera houses the liquid ice cream's ingredients in a metal cylinder, encapsulated in an ice-filled wooden bucket with a cover attached to a bevel gear so it can be hand cranked until the contents reach the desired texture and consistency. Salt was typically added to the ice to speed up freezing. Churning took hours and was a family activity – typically started by the father once he has placed the cracked ice in the contraption. Talk about really working for your meal!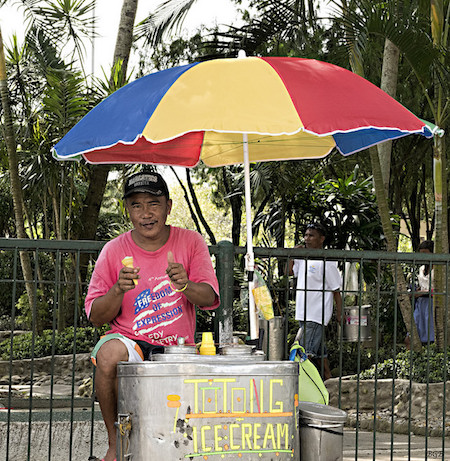 Image by Brian Evans from flickr.com (CC BY-ND 2.0) 
The vibrant sorbetes carts peddled around town are also iconic and uniquely Pinoy. Colorfully painted like jeepneys with 2 large wheels easing it forward when manong sorbetero pushes it by hand, the cart can typically carry 3 flavors at a time in each of its 3 metal canisters, which are cooled by salt-sprinkled shaved ice to keep it frozen for longer. A small clear container can typically be found in sorbetes carts as well to display the sweet tooth's choices of sugar cone or pastel-dyed bread buns. Since sorbetes is typically prepared at home rather than a commercial plant and sold in the streets, it was coined to be "dirty" compared to its store-bought counterparts. However, it only becomes cheaper but not less yummy or dirty (unless really poorly handled) with its use of coconut milk or carabao's milk and some cassava flour.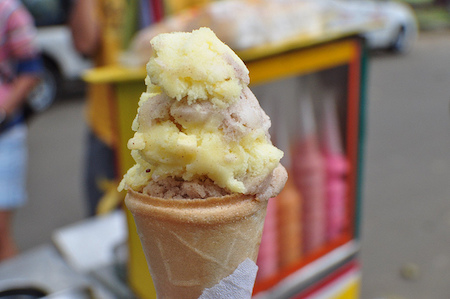 Image by Laine Trees from flickr.com (CC BY 2.0)
Throughout time, its flavors have greatly evolved. Popular ones included mantecado, ube, queso helado (iced cheese), pinipig, langka, mango, and buko. When big brands like Magnolia started coming up with Western flavors, sorbeteros also felt the need to mimic with cookies and cream, chocolate, and strawberry sorbetes offerings. Today, the growing interest and success of artisanal homemade ice cream have pushed the envelope tenfold to satisfy curious tastebuds with exotic flavors like champorado with dilis, tinutong (burnt rice), green mango with bagoong, and even kakanin based ones like bibingka, sapin-sapin, and tibok-tibok (Pampanga version of maja blanca). Though you won't find these in the humble carts roaming busy streets, these unique flavors are sought after by daring foodies in specialty stores.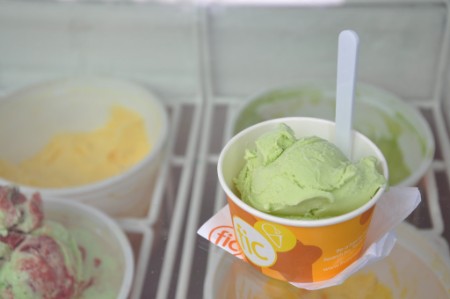 One such business that is enjoying its niche in the industry is Pinoy Sorbetes by The Food People Inc., the same group behind the popular and now widely distributed FIC (Fruits in Ice Cream) here and abroad. Their creations are deemed to be makeovers of the "dirty ice cream" made extra special with TLC, quality ingredients, strict factory standards, and artisan tastes. Aside from the classic Pinoy flavors, they have also introduced twists such as banana-q, tsoko pinipig, kape't gatas, guinomis, and red munggo, which is inspired by the ice drops peddled in the streets back in the day.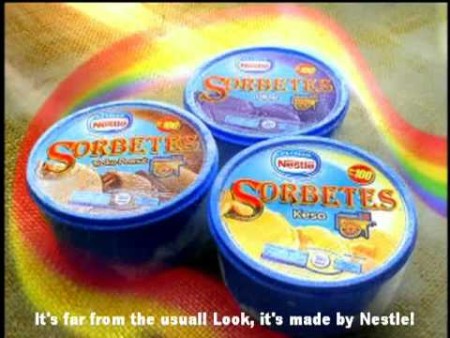 Clearly, the appreciation and commercial viability was also capitalized by industry giants like Nestle and Selecta. Just look in any supermarket freezer and you are likely to find heavily advertised Pinoy Sorbetes-inspired tubs of ice cream that comes in nostalgic flavors and a relatively cheaper price. Perfect accompaniments for Pinoy afternoon snacking and home-based birthday parties.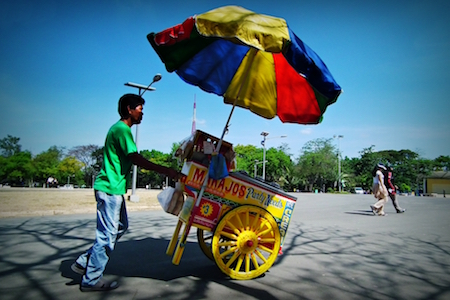 Image by RoyceM from commons.wikimedia.org (CC BY-SA 3.0)
Speaking of parties, it is also more common today to hire sorbetes carts in private parties. Not only is it cheaper than having a free flowing station for ice cream, but it is also so easy to incorporate in the festive theme owing to its colorful construction and myriad of flavors.
Video via Facebook
If you haven't already felt it in the news,
Filipino food is also taking the limelight abroad
, and the infamous Pinoy Sorbetes is not afraid to join the bandwagon. One of
London
's trendiest new foodie spots is
Mamasons
, whose bold byline is literally "dirty ice cream," piquing the interest of passers-by with their offerings of
ube, black buko (coconut charcoal), kalamansi,
and
barako coffee with hazelnut.
What's next, you might wonder? At the rate things are going, it's only a matter of time until the international community falls head-over-heels in love with our special take on ice cream, and crave for more. For such a simple pleasure that is embedded in every Filipino childhood, sorbetes is versatile and timeless as ever.