While some foodies would attest that shell cracking is part of the joy of eating crabs, there will be moments wherein you just want to devour a dish plentiful with crabmeat without the labor of cleaning out every orange crevice.
The Chow Men knows exactly how you feel that's why they came up with a fantastic menu of Chinese-inspired dishes with lots of, yup that's right, crab meat. Don't expect the canned or the frozen kind though—The Chow Men guarantees fresh, just picked out-of-the-shell meat so you won't taste any briny or metallic aftertaste. They also do their dishes in small batches favoring quality rather than quantity.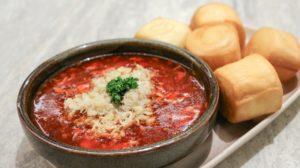 For an impressive starter go for the Crab Dip with Fried Mantou. Choose from three sauces, all signature, all impressive: Salted Egg Aligue, Singaporean Chili, and Spicy Tausi. You can even order two flavors or all three if you want to try them all. Each order comes with a couple of fried mantou buns that you would happily dunk into a pool of incredible sauce loaded with crab meat.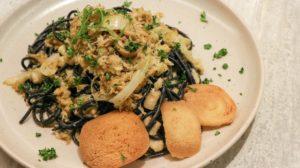 The Crab Cream Squid Ink Noodle is a bestseller and with good reason. At first glance it's already a stunner: squid ink spaghetti is dressed in a cream-based sauce that's flavored with mushrooms and lumps of crab meat sauteed in aromatics. Each forkful promises a medley of seafood flavors. Finish it off with the slices of fried mantou buns to mop up all the goodness.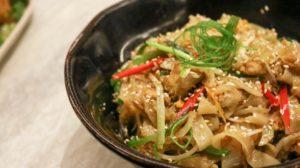 Another noodle stunner is the Crab Ho Fan. Chewy and thick rice noodles is quickly stir-fried with aromatics and generous lumps of crab meat. It may look deceptively simple but the dish is a revelation and an easy choice when you just want something light yet flavorful. They also have the classic version of this cooked with beef and soy sauce.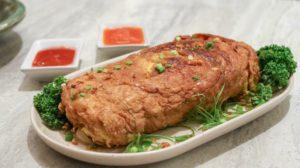 The Chow Men's Crab Omelette was made in homage to the bestseller of one of Asia's first Michelin-awarded eateries, Raan Jay Fai. While the Bangkok original makes them purely out of crab meat, Chow Men's version adds aromatics to boost up the flavors of the crispy egg omelette. It comes with sides of sriracha and sweet chili sauce to bring some sweetened heat into each bite.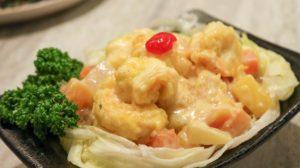 If you're looking for a classic done well then go for the Hot Prawn Salad. Crispy battered prawns and fruit cocktail bits are enveloped in a luscious mayo mix. The savory-sweet salad is served on a bed of fresh lettuce for that old-school Chinese presentation that'll give your folks a kick in the feels.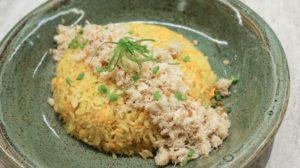 Everyone's unanimous favorite during the visit was the Crab Fried Rice and boy, did finish this dish fast. Perfectly stir-fried golden fried rice is loaded with crab meat, but that's not just it. The Chow Men serves it with a signature hoisin-based pour-over sauce with lots of crab meat making it a magnificent meal all to itself. Best eaten warm, but to be honest, it still tastes amazing even after being left in the cold.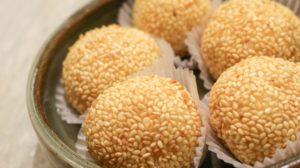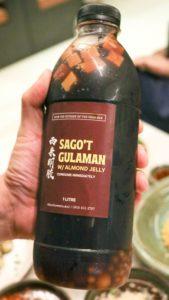 Of course, no fantastic meals should end without a dessert. To cap off their meals The Chow Men offers housemade Buchi that come in non-traditional fillings—Ferrero, Reese's, Toblerone, Kit-kat, and Salted Egg. Get ready for a burst of luscious goodness once you bite into a piece. You can also opt to enjoy a liter of their special Sagot's Gulaman with Almond Jelly for another sweet ender.
Craving for crabs in Asian-style cooking without opening, smashing, or picking any shells? The Chow Men has got you. Just be ready with your appetite.
The Chow Men can be currently pinpointed at Stall 16 at The Grid Food Hall until the end of the month. Though you can still order from them thru their social media. For promos and news visit their Facebook page and Instagram.
Follow us on Facebook, Instagram, Tiktok, and Youtube for foodie finds, re-imagined recipes, and easy eats that will take Pinoy bellies on an adventure!