You've got to love call center culture. People within its workforce continue to develop strong and unique bonds from the arduous work environment matched with crazy work hours for the majority of the company. It's this incredible camaraderie that organizations like TELUS International want to foster thru employee engagement activities, which promote positivity and passion among the people.
But, who would have guessed that one of their office activities would result in a one-of-a-kind project capturing the diverse yet bonded spirit of the company? That's right. What started as a recipe competition across the BPO giant's delivery centers resulted in TELUS International's A Taste of Diversity Cookbook, a collection of winning recipes from 60 team members in China, India, and the Philippines.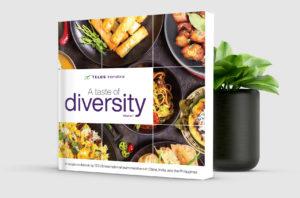 "Many of our most treasured moments involve sharing a meal with loved ones," as explained by Rajiv M.Dhand, Regional Vice President for Asia-Pacific at TELUS International. "Breaking bread has always been a tradition that brings people together and is the simplest, most universal expression of love and community. At a time when it is so easy to feel isolated and disconnected because of the restrictions brought about by the COVID-19 pandemic, we wanted to create a cookbook that can be a catalyst for bonding with each other, even from a distance," he added.
The winning recipes were carefully selected by a distinct board of judges from each country that joined. From the Philippines was Chef RJ Ungco, a respected culinary expert in the food and restaurant industry who, after a celebrated run with five-star restaurants in Manila, now runs his own culinary business.
To help the contestants with their entries, the competition held a virtual recipe writing workshop and food photography 101 session facilitated by Chef RJ and DiscoverMNL founder, Lucky Alabado.
Out of 150 entries 60 were chosen and we're divided into different categories in the book: soups, salads, appetizers, main course, and desserts. Noted Filipino dishes in the book included Suam na Mais, La Paz Batchoy, Bulalo-Molo Soup, Lato Salad with Mango in Cane Vinegar, Cozy Arroz Caldo, Cheesy Repolyo Dynamite, Ensaladang Langka, Dynamite Sardines, Apan-apan (Stir-fried Water Spinach), Black Beans with Multigrain Chips Mix,  Chicken Adobo in Malunggay Pandesal, Kaboom Shrimps, Ensaladang Langka, Ginataang Seafood Fiesta, Arroz Valenciana, Spicy Vegan Bagnet Sinigang, Spicy Sweet Sour Tahong, Beef Salpicao, Spicy Pinakbet with Lechon Kawali, Chopsuey ala Lindey, Adobong Pata in Cinnamon with Grilled Pineapple, Bicol Express, Shredded Beef Tenderloin Tapa,  Pork Sinigang in Coconut Milk,  Homemade Spanish Sardines, Ube Halaya w/o Coconut Milk, Banana Cue in Chocolate Syrup and Milk, Crema De Fruta, Double Chocolate Crinkle Cookies, and Suman sa Ibos. Each recipe spread included the name of the creator,  the backstory of the dish, and quick tips.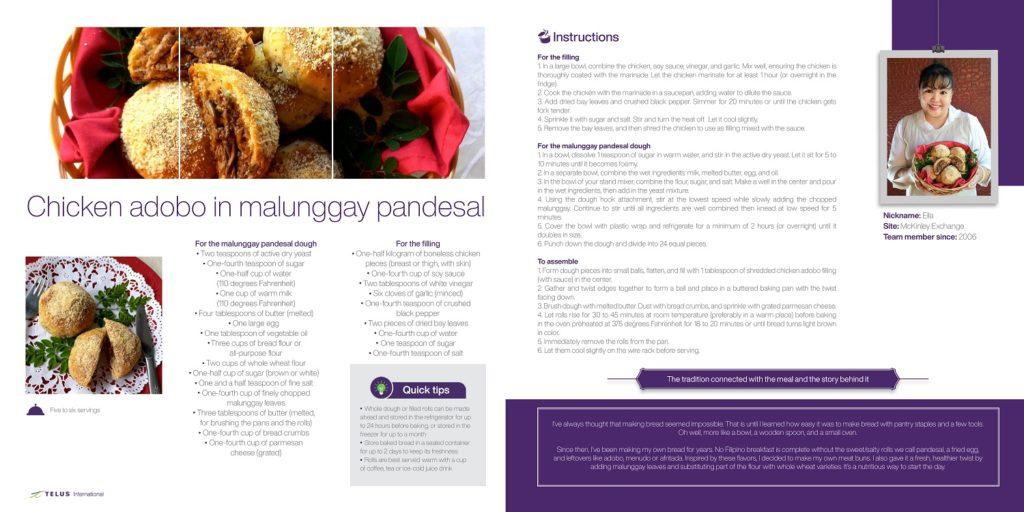 As a special treat, TELUS International Philippines is offering a free download of the cookbook at linkedin.com/company/telus-international-philippines/. Readers are invited to share their own take on these recipes with photos or videos, using the hashtag #TasteOfDiversity.
"The TELUS International Asia-Pacific A Taste of Diversity cookbook has been made by our team members with love. From family recipes passed down from generation to generation, new recipes made with ingenuity and passion, and recipes that reflect the unique culture of our team members – all these and more can be found here. The TELUS International team in Asia-Pacific takes pride in our diverse and caring culture. And that colorful diversity is reflected here, in our first-ever cookbook," shares Dhand.
Follow us on Facebook, Instagram, Tiktok, and Youtube for foodie finds, re-imagined recipes, and easy eats that will take Pinoy bellies on an adventure!