For those who frequent the Queen City of the South, dining Sutukil-style or Sugba, Tuwa, and Kilaw (STK), Cebu-version of Dampa, is a must-do. Imagine a plethora of Cebuano dishes being served fresh and cooked as you order. While long travel is still an anxiety-ridden activity these days, we still have to satisfy our cravings, right?Iit's a good thing Rico's Lechon, one of our all-time favorite Cebuano original eateries in Manila has answered our prayers.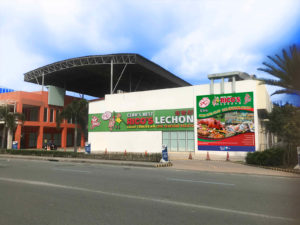 To get the holidays rolling, Rico's Lechon recently launched its biggest branch to date in Blue Bay Walk in Macapagal, Pasay. What really excites us about this branch is  its 160-sitting capacity from the dining, al fresco, and VIP areas. It will soon open a Merkado or "paluto" area with an aquarium gallery carrying the live seafood customers can choose from. The store also has its own Lechon roasting area so customers are guaranteed freshly-roasted lechon, just the way Rico's has done it for the past 20 years. Lechon and seafood? Now that's the ultimate Pinoy food tandem! Make sure to also order the mouthwatering Lechon Baka to complete the ultimate Rico's Lechon experience.
But wait, there's more! Rico's Lechon Blue Bay Walk is also offering two new concepts we food-loving Manileños will love— Boodle Feasta and Palayok Hotpot!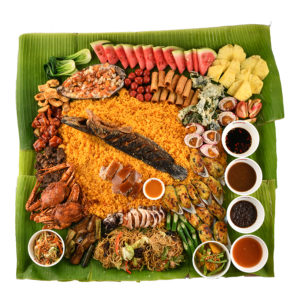 Boodle Feasta features a fusion of rice, vegetables, choices of sauces, Rico's iconic Lechon, and its perfect pair—seafood! Immerse in a one-of-a-kind dining experience as Rico's food selection offers you the convenience of ordering with a wide variety of food choices.
The feast is served in four sets, perfect for sharing with your family and friends. Set 1 costs P750 (serves 2-4 pax), Set 2 costs P2,500 (serves 5-8 pax), and Set 3 costs P3,500 (serves 9-12 pax). The joy of sharing does not end there. And, for only P650, experience the taste of Cebu's "Da Best" lechon, specially curated for you! Feast on the Lechon Boodle Feasta, the brand's flagship meal, as a perfect way to create priceless bonding moments with the family.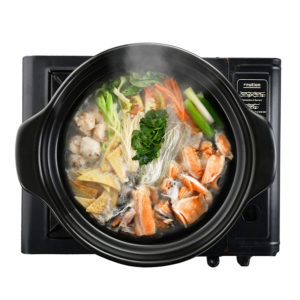 On the other hand, the Palayok Hotpot will surely have your mouth water with 8 varieties to choose from. Seafood and meat lovers alike are sure to enjoy as they binge on Seafood and Vegetable, Chicken Tinowa, Fish Tinowa (Tanigue), or Seasonal Seafood available, Lechon Pork Bone Soup, and Beef Bulalo hotpots, ready to give warmth to the cold "Ber" nights.
Each variety is available in medium and large sizes, good for 4-8 pax. Within the price range of P580 to P1,100, patrons can dig into a Filipino style "shabu-shabu", a first in the country, customized to their liking.
On December 4, Rico's Lechon will also open another branch in Circuit Makati. This new branch is meant to complement the brand's current roster of restaurants in the Philippines to give more people the Cebu experience.
Pre-order for pick-up and delivery by contacting Rico's Lechon Fulfillment Center at 0917-814-7648 / 7799-0810 or Blue Bay Walk branch at 0917-847-7541. Visit Rico's Lechon's newest branch at Cluster E, Blue Bay Walk, EDSA Ext. cor. Macapagal Boulevard Metro Park, Bay Area CBD, 1300 Pasay City.
For more information, visit www.ricoslechon.com.
Note: This is a press release. Edits have been made by the Bitesized.ph editorial staff