Did you know that Filipinos are only consuming less than half of their required daily fiber intake? Generally, it would be optimal if people would take a recommended nutrient intake (RNI) of about 20-25 grams of fiber. Unfortunately, it was discovered thru a recent study that working Filipinos are only taking about 8 grams of fiber on average, according to PSND-registered nutritionist-dietitian, Jake Brandon Andal.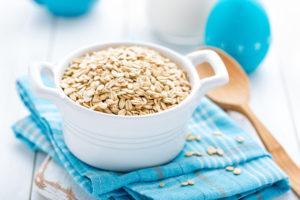 It should be important to note that consuming fiber is vital to having a healthy lifestyle. Fiber helps in aiding digestion, preventing constipation, and maintaining good digestive health. It also helps in managing weight and reduces the risk of acquiring heart disease. If you're not taking your recommended dose of daily fiber, it may be the reason behind your constant bloating and feeling constipated.
Thank goodness Quaker Oats, the No.1 oats brand, has so many fiber-rich products to help Filipinos to have a more balanced diet.
Compared to a 100g serving of white rice, oats have been proven to have 7x more fiber, which helps in fulfilling the recommended consumption of fiber in our body daily.
What's also enjoyable about oats is that not only is it a great breakfast option, but also a fantastic ingredient to be used in desserts, meals, and snacks as well!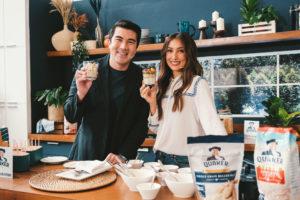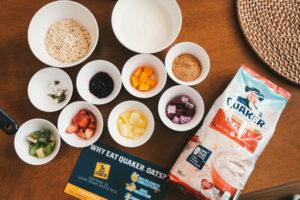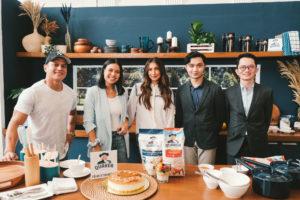 In an event held at The Atrium of Enderun in Taguig, showbiz personalities and Quaker Oats Ambassadors Solenn Huessaff and Luis Manzano challenged each other in a Battle for The Best Healthy Treats. Both personalities gave their take on a Rainbow Superfloat, a special dessert recipe made up of rolled oats, Greek yogurt, and assorted fresh and frozen fruit slices. While it was an entertaining battle to watch (Solenn won over the crowd due to her aesthetic take!), the fun takeaway really was learning about the delicious possibilities you can do with Quaker Oats.
Speaking of takeaways, Quakers Oats is also glad to share these fantastic easy-to-do fruity treats you can do at your own home. Enjoy!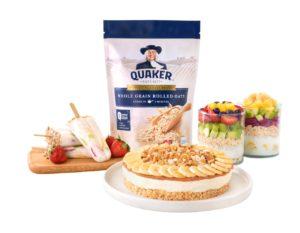 RAINBOW SUPERFLOAT
Makes 2 glasses/jars
¼ cup Quaker Rolled Oats
2 cups yogurt 0%fat or any other kind of yogurt
2 calamansi, juice extracted and skin zested
1 kiwi, peeled and sliced
1 mango, peeled and sliced
¼ pineapple, fresh or canned, cubed
¼ pink dragon fruit, peeled and sliced
¼ cup strawberry, washed and sliced
¼ cup blueberry, fresh or frozen
3-4 tbsps coco sugar
Prepare the calamansi yogurt base. Mix together the yogurt, coco sugar, and calamansi zest.
Assemble the dessert: with a spoon pour the calamansi yogurt in a container and add a generous layer of Quaker Rolled Oats.
Add multiple layers of fruits to create the rainbow effect.
When done set it aside in the refrigerator to chill. When ready to eat sprinkle in some coco sugar for a bit of sweetness.
CARAMELIZED BANANAS NO-BAKE CHEESECAKE
Makes 1 7-inch cake
Oats Crust
1 cup crushed Quaker Rolled Oats
¼ cup light brown sugar
¼ cup unsalted butter, melted
2 tbsps all-purpose flour
pinch of salt
Caramelized Bananas
2 Ripe Lakatan bananas, mashed
3 tbsps light brown sugar
2 tbsps unsalted butter
Cream Cheese Batter
2 cups cream cheese
1 small can condensed milk
¼ cup freshly-squeezed lemon juice
1 tbsp vanilla extract
Start with caramelizing the bananas. In a pot over medium-low heat pour the light brown sugar and let it caramelize. Add in the butter. Let it mix with melted sugar.
Add the mashed bananas to the caramel. Mix until the banana is coated well with the caramel.
When done remove from the heat and let it cool down before chilling it aside in the refrigerator.
In another bowl mix all the ingredients of the oats crust until everything is well incorporated.
Using a spoon press the crust against the bottom of a 7-inch mold. Set it aside to chill.
Now prepare the cream cheese batter. In a mixing bowl combine the cream cheese, condensed milk, lemon juice, and vanilla extract. Using a hand mixer mix all the ingredients until the mixture is smooth and no lumps.
Pour the cream cheese mixture over the crust and chill for at least five hours.
When the cheesecake has set pour the caramelized bananas over the cream cheese layer. Decorate it with Quakers Oats and fresh bananas. Serve chilled.
HOMEMADE FRUITS
Makes 4 sorbetes sticks
½ cup Quaker Rolled Oats
2 cups canned peaches or any other fresh or canned fruits, cut into cubes
1 tsp cinnamon (optional)
1 ½ cup yogurt or light cream
1/3 cup light brown sugar
In a pot over a low flame pour in the yogurt or light cream and add in the light brown sugar and cinnamon, if using. Mix well then remove from heat when done.
Add the fruits and Quaker Rolled Oats into the cream mixture.
Carefully pour the mixture into the sorbetes molds. Put them in the freezer for at least six hours.
When ready to eat carefully remove the sorbetes from the molds.
Follow us on Facebook, Instagram, Tiktok, and Youtube for foodie finds, re-imagined recipes, and easy eats that will take Pinoy bellies on an adventure!