Kat Maderazo is the woman behind the delicious baon treats prepared by Bento by Kat. Kat's bento training concept is the perfect solution for moms whose kids don't each much at school. The intricate designs of each bento are what make it a hit for kids, much to the elation of moms out there. Each bento meal is made not only with precision, but also with passion and love. In order to make the perfect bento meal, specific tools are needed. Here we listed down and reviewed the bento-making tools as used by Bento by Kat.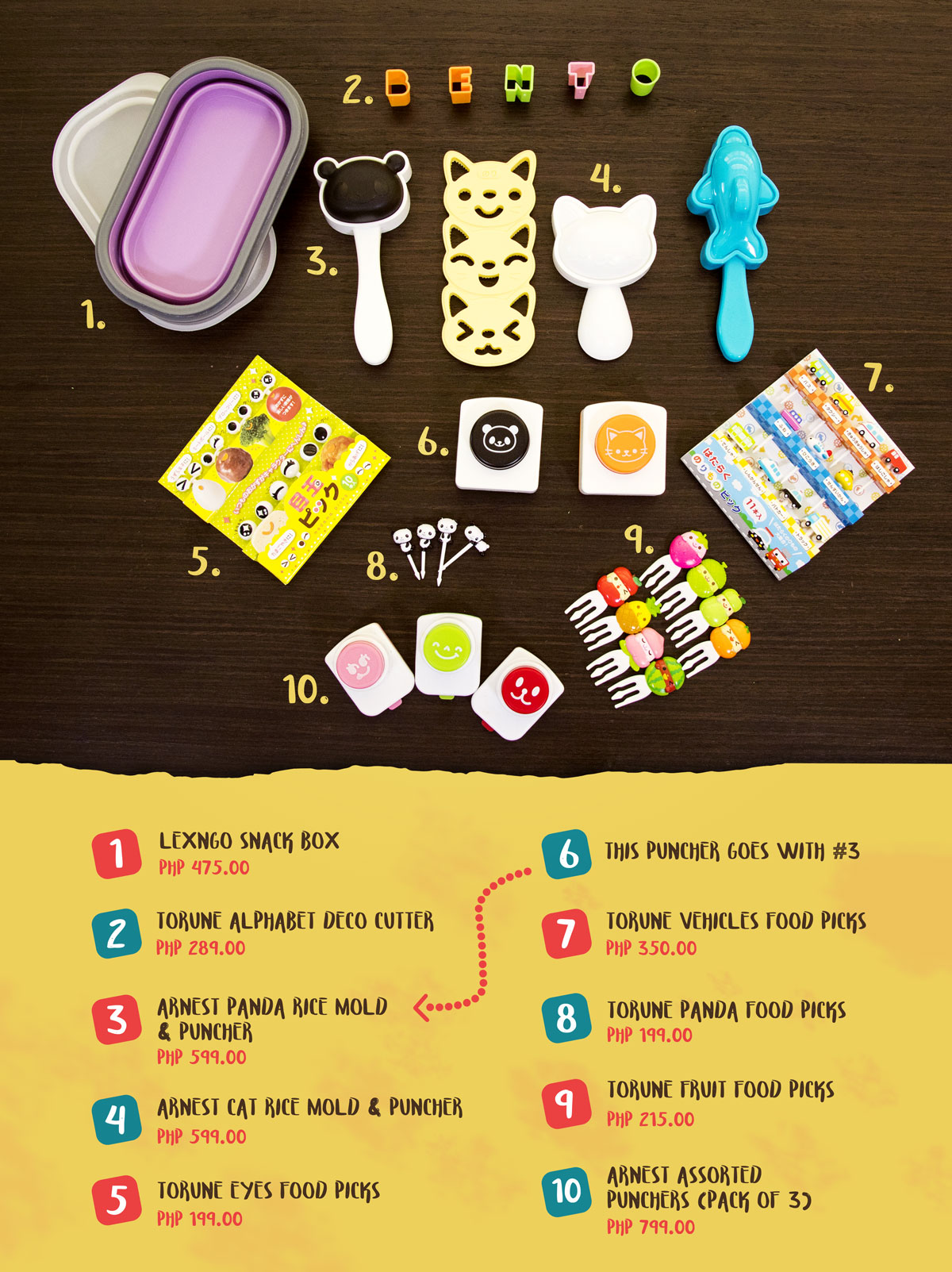 1. LexnGo Snack Box
The LexnGo Snack Box is the ideal storage for every Bento meal that you will make. With its rubber style, elastic compartment, and expandable container, you need not worry if your child's meal will clutter inside.   
2. Torune Alphabet Deco Cutter
Have some fun creating your child's Bento meal using the Alphabet Deco Cutter! Use these to cut thinly sliced vegetables. Other than letters, you can also try shapes and faces like the cat face cutter. Designed and cut food will certainly be a hit with your child and encourage them to try these fun shapes.
3 & 6. Arnest Panda Rice Mold and Puncher
This is not your regular puncher; the Panda Rice Mold and Puncher are designed to make panda-styled cuts for your nori seaweed sheets with panda-shaped rice. Isn't that just too cute?
4 & 6. Arnest Cat Rice Mold and Puncher 
Same as the Panda Rice Mold and Puncher, the Cat Rice Mold and Puncher lets you mold and style your cat rice with  nori seaweed details. There are more than just panda and cat faces to choose from. You can also try an airplane mode for little aviation fanatics. We're pretty sure this will make your child's baon the talk of the class!
5. Torune Eyes Food Picks
This adorably designed food picks are used to make sure that your child's fruit and veggies are intact and will not make a mess when placed in the snack box. It just might make them try their greens.
7, 8, & 9. Torune Vehicles Food Picks, Torune Panda Food Picks, Torune Fruit Food Picks
We can't get enough of these cute picks! Fruit, cars, and panda faces? Kids will devour whatever these picks can hold, like veggies, fruit, and small pieces of food.
10. Arnest Assorted Punchers (Pack of 3)
Cut up nori sheets with friendly faces to put on rice or meat balls, even on fruit and veggies! You can even use certain pieces to make up your very own food art.
Go and have fun in the kitchen and prep yummy baon treats for the kids! It's even better if you create these with your little ones, so let your creativity shine while you bond over food. It's easy to purchase these tools, too. Just send an email to [email protected] and ask for the complete catalogue.