By Angeli De Rivera
We've all had our golden moments. From winning a contest, passing a difficult exam, getting that promotion, to even just patting ourselves after a job well done! During these times, we often find ourselves craving for a much-deserved treat. What better way to enjoy those golden moments than by indulging in one of life's greatest culinary pleasures—ice cream!
A scoop or two of your favorite flavor can make all those golden moments the best experience ever. The folks at Magnolia know how those moments should be made more special. It's the very reason why they launched their Golden Label collection featuring classic and new ice cream flavors that would bring joy to ice cream lovers of all ages.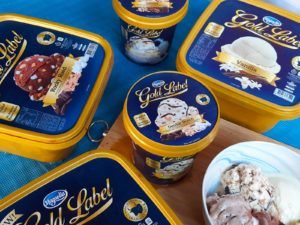 So, what makes the NEW Magnolia Gold Label Ice Cream different from the rest? This latest reinvention of ice cream uses fresh carabao's milk making it absolutely cream, naturally rich, and incredibly satisfying. What's also great is that it doesn't have any artificial flavoring—just pure high-quality ingredients with flavors that stand out when you've had your first taste. You just got to love how Magnolia has been churning out world-class flavors for Filipinos since 1925.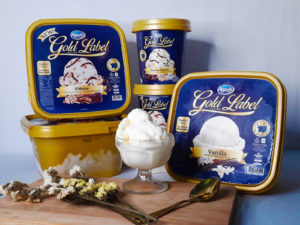 The NEW Magnolia Gold Label Ice Cream collection includes beloved ice cream flavors like the Vanilla Double Dutch, Rock Road, and Cookies and Cream. For those who like some Pinoy twist (like we do!) go for the cool fusion flavor Avocado Macchiato, the salty-cheesy-creamy combo of Kesong Puti, the unique Ube Taro White Cheese, Tablea Yema (said to be reminiscent of the old school Magnolia Chocolate Drink in a bottle), and Mango Dark Chocolate (trivia: this is Philippine's First Gold Medalist Hidilyn Diaz's favorite!)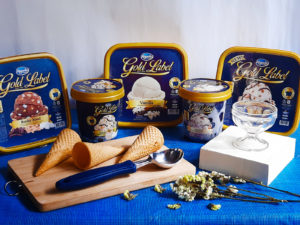 New flavors to watch out for are Quadruple Chocolate (dark chocolate ice cream mixed with cocoa nibs, blended with white chocolate ice cream with swirls of pink chocolate fudge), Smores (vanilla ice cream blended with graham cracker bits, toasted marshmallows, and thick dark fudge), and Choco Peanut Butter (made with a mix of premium chocolate and real Skippy Peanut Butter as well as roasted peanuts and chocolate chips).
As a special treat for the upcoming holidays, a 1.3L tub of Magnolia Gold Label Ice Cream will be available for only P295 starting November to December 31, 2021!
Want to make your special memories more unforgettable and golden? Then go for gold and celebrate life's winning moments with The NEW Magnolia Gold Label Ice Cream.
Shop Magnolia Gold Ice Cream at supermarkets and grocery stores, or online via San Miguel Frozen & Chilled on Shopee and Lazada, The SMC Hub and other online partners. Follow Magnolia Ice Cream Philippines on their Facebook page.
Follow us on Facebook, Instagram, Tiktok, and Youtube for foodie finds, re-imagined recipes, and easy eats that will take Pinoy bellies on an adventure!