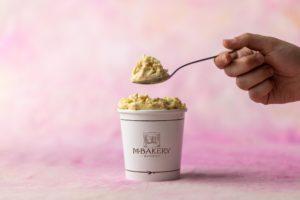 When someone mentions M Bakery, one of New York's and now Manila's favorite sweet spots, thoughts of their pretty and scrumptious cupcakes and world-famous banana pudding come to mind. But what about the other fantastical treats you can sink your sweet tooth into? Here are ten desserts from M Bakery you're sure to fall in love with as well!
Calamansi Icebox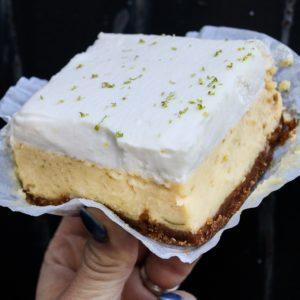 M Bakery puts a local twist to the New York shop's famous key lime icebox pie by using calamansi and it's a hit! The Calamansi Icebox is made of a graham cracker crust with traditional zesty calamansi custard filling, topped with whipped cream. Enjoy it in bar size (PhP 275), mini (PhP 425), and 9" (PhP 1,960) pie sizes.
Tres Leches Cake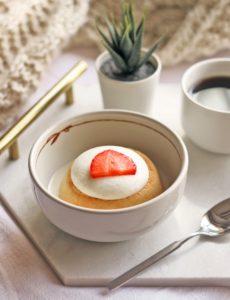 "The Best Tres Leches in town," was how one customer described M Bakery's take on this milky dessert. Made with three kinds of milk (evaporated milk, condensed milk, and heavy milk), this mouthwatering creamy dessert comes with a sponge cake soaked and glazed with milk and then topped with whipped cream and strawberry.
This comes in three flavors: classic, salted caramel, and coffee tres leches. The 4-inch solo (PhP 265) is available daily.  You may also place an advance order for the 9-inch family size (PhP 2,200), which comes with a free reusable oven-safe glass dish.
Blueberry Jamboree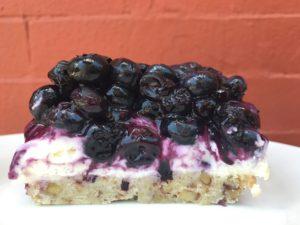 Blueberry lovers are in for an indulgent treat every time they get their fruity fix of M Bakery's Blueberry Jamboree. True to its name, this "jamboree", with every thoughtful component, celebrates how good blueberries can be with every sinful bite.
This fan favorite in both Manila and New York shops is a smorgasbord of flavors and textures starting with a crunchy layer of pecan shortbread crust with rich cream cheese and light whipped cream filling, then topped with gooey, fragrant, jammy fresh blueberries. A big plus is that there's a perfect size of this treat for every level of craving, whether solo, or to share at bar-size (PhP 395), mini (PhP 595), or a 9" pie version (PhP 2,200).
Chocolate Chunk Cookie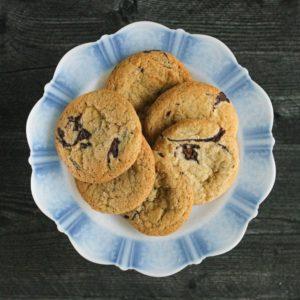 M Bakery customers know that a lot of times, classic basic is best. Nothing beats a well-done chocolate chunk cookie.  Get a decadent, flavorful, melty chocolate chunk with every bite of this cookie (PhP 75).
Caramel Pecan Cheesecake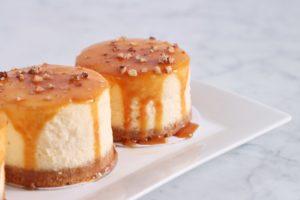 M Bakery's rich homemade caramel with toasted pecan nuts sitting on top of creamy vanilla bean cheesecake makes this dessert a match made in cheesecake heaven. Customers can't get enough of this classic New York dessert. Comes in 3 sizes: 3" (PhP 305), 6" (PhP 1,275) and 9" (PhP 2,725).
Chocolate-Dipped Macaroon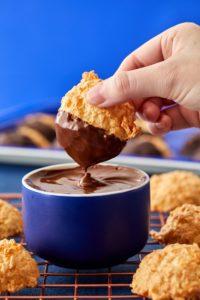 M Bakery does not skimp on the coconut for these delicious bites. Revel in this sweet treat with that satisfying crisp exterior and that soft chewy coconut-flavor bomb, dipped in premium chocolate (PhP 75).
Carrot Cake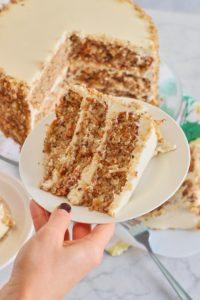 M Bakery takes its carrot cake up a notch, loading up its superbly moist carrot cake with freshly grated carrots, juicy pineapple, shredded coconut, and raisins. It's then finished with premium cream cheese icing and toasted walnuts pressed into the cake's sides.
It's literally M Bakery's heaviest cake packed and exploding with so many rich ingredients. Have a slice (PhP 325) or a whole cake which comes in 6" (PhP 2,200) or 9" (Php 3,250).
Marble Cream Cheese Brownie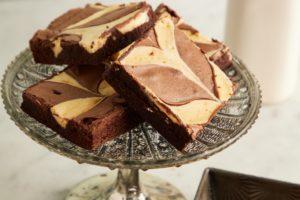 Everyone loves chocolate and cheese—but together? It's another level of awesome. Hit two cravings with one dessert with M Bakery's Marble Cream Cheese Brownies. Enjoy every satisfying bite of these fudgy chocolate brownies swirled with tangy cream cheese. Grab a piece (PhP 185) now or a loaf bar (PhP 700).
Chocolate Parfait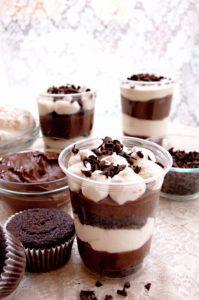 So many ways to enjoy good chocolate, and M Bakery has one more chocolate treat! Dive into M Bakery's delicious homemade silky chocolate pudding layered with freshly baked chocolate cake, whipped cream, and chocolate shavings (PhP 215).
Classic Icebox Cake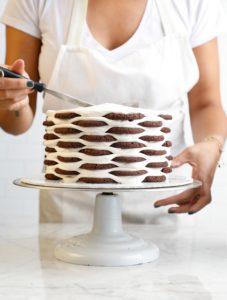 This dessert has a cult following among M Bakery's loyal customers. Light with just the right amount of sweetness to tide you over a long week, the Classic Icebox Cake is made with homemade chocolate wafer cookies layered with sweetened whipped cream. It is available in three sizes: solo (PhP 215), 6" (PhP 1,350) and 9" (PhP 1,960.)
To get a taste of the delectable and delightful desserts, head on to M Bakery's branches:
Lower Ground, Unit #23 5th Avenue corner 28th Street, One Bonifacio High Street Mall, Bonifacio Global City or call (+632) 847-9829 or (+63) 917-633-1718 to get your baked treats, join an icing class, or to place your advance orders.
You may also visit M Bakery at the 2nd floor of Power Plant Mall in Rockwell, Makati City or call +639178221262 to place your advance orders. You may also find M Bakery on GrabFood, Food Panda and Pick.A.Roo. To learn more about M Bakery's products and treats, follow M Bakery on Facebook or Instagram.
Follow us on Facebook, Instagram, Tiktok, and Youtube for foodie finds, re-imagined recipes, and easy eats that will take Pinoy bellies on an adventure!
Note: This is a press release. Edits have been made by the Bitesized.ph editorial staff.