When the pandemic happened, netizens shared on social media a lot of their homecooked recipes—from fast and easy meals to comfort food. And while it's evident that their creations are looking delicious, it all stems from their motivation to eat better and healthier. It was during this time when a lot of people realized the importance of home cooking and the value of preparing delicious yet healthy meals for their well-being. This is also an experience the Legaspi Family knows very well.
Showbiz power couple Zoren and Carmina and their twins, Mavy and Cassy, are the first family ambassador of Jolly Heart Mate Canola Oil. Rightfully so, since the Legaspi family values the bond of eating a good meal together that's made healthier and extra special with Jolly Heart Mate Canola Oil.
Mindful Cooking
"Noong dumating itong pandemic, mas naging conscious kami in making sure that we cook and eat healthier food," Carmina shares. "Mas gusto naming home-cooked meals than food deliveries para we know the ingredients, the way it's cooked and prepared, at ano 'yung cooking oil na ginamit. 'Yung mga ganung details na akala natin hindi importante, sobrang mahalaga pala."
As mentioned by Carmina, details are important especially when it comes to cooking. One such important detail is how Jolly Heart Mate Canola Oil offers the lowest amount of saturated fat or "bad fats" versus other types of vegetable oils. Bad fats increase bad cholesterol levels in your body which may lead to heart disease.
Jolly Heart Mate Canola Oil also has high amounts of monounsaturated fats or the "good fats" that help lower bad cholesterol levels in your body. Plus, it contains Omega 3 and 6 which are essential to your heart, brain, and overall body development. Jolly Heart Mate Canola Oil is the consistent number one canola oil in the market, trusted by health professionals who value its health benefits, and high versatility—perfect for a wide range of dishes.
A Food-loving Family
Like any other typical Filipino foodie family, the Legaspi fam bond thru food. Even when a member is busy with projects or is away from home, they make sure to update each other thru video calls. This is also the reason why meal times are precious for the Legaspis—they get to eat good food that's made with love while enjoying happy bonding moments.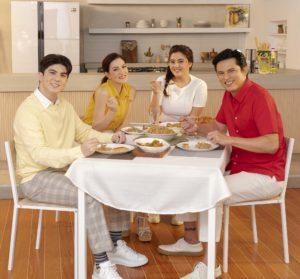 Each member even shared their favorite home-cooked meal. Carmina's favorite is adobo, while Zoren goes for "anything with noodles or pasta." For Mavy, it's "Salpicao ni Mama," and for Cassy, it's "Mommy's tuna pasta."
What's also refreshing about the Legaspis is their relationship with cooking. Carmina, a self-taught cook, could relate to any other busy mom who needs to cook a family meal. "I usually cook with whatever's in the pantry," Carmina admits. "So, anything gisa-gisa. And when you sauté, you need canola oil. Ang pinakamadali, gambas. Kapag dinner time, I prepare salmon escabeche or pag wala ako maisip – salpicao!"
Zoren, on the other hand, even enrolled in a prestigious culinary school. His passion for food was actually the inspiration for Carmina to roll up her sleeves in the kitchen as well. Even the twins are loving their time creating their own dishes in the kitchen.
As a special note, Cassy also shares an essential tip: prepare all the ingredients first. Jolly Heart Mate Canola Oil, in particular, is an important pantry staple. Aside from all its health benefits, it also has one of the highest heat points that make it ideal for frying, especially for deep-frying.
The Legaspi family calls on everyone to keep their family ties strong, starting with cooking and sharing meals whenever they can. With Jolly Heart Mate Canola Oil and its health benefits, bonding moments are made extra special with home-cooked meals that are good for the heart.
Jolly Heart Mate Canola Oil is available in supermarkets and grocery stores nationwide, and online on Lazada, Shopee, and AceMarket.ph. For more information, check out the brand's Facebook page.
Note: This is a press release. Edits have been made by the Bitesized.ph editorial staff.
Follow us on Facebook, Instagram, Tiktok, and Youtube for foodie finds, re-imagined recipes, and easy eats that will take Pinoy bellies on an adventure!