The term Japonesa itself is straightforward—a feminine term used by Spanish-colonized territories for someone who has Japanese roots or even a woman who considers herself Japanese. For this writer though, it connotes a sense of feminine mystic with a dual identity—one, a cool and cultured individual reminiscent of a trained geisha, the other a fierce woman who loves to live her life without any limits. Japonesa also happens to be the name of one of Poblacion's latest culinary gems. And just like the said persona, it has two faces—a laidback resto during lunchtime and a happening nightspot come sundown.
Another binary fact about Japonesa? The place specializes in Japanese-Peruvian cuisine. This culinary fusion may come unusually to some but Japanese-Peruvian food has actually penetrated the local culinary scene through several other restaurants. Japonesa though got its legitimacy from the chef who created its menu. Japonesa's Head Chef is Luis Higa. Born to Japanese parents, Luis has lived almost half of his life in Peru. Upon research, he has said to have made sure to use ingredients authentically used in Japanese-Peruvian dishes resulting in a collection of dishes that complement one another.
We got to meet or rather experience the chill side of Japonesa during its lunch service. Entering the threshold, the place had a zen-like ambiance from the wooden interiors but a modern and young vibe from the geometric finishes and wall art. By night the lights are dimmed and a guest DJ does his thing transforming the chill spot into a happening party place. All throughout its opening though it serves a bevy of small plates, entrées, and drinks, that'll make you stay longer than you planned to.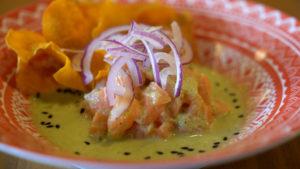 Japonesa's list of starters includes a series of tapas, ceviche, and tiraditos (raw fish dishes served traditionally in Peru). On our visit, we got two appetizers: the Verde (490Php), a ceviche made of Norwegian salmon swimming in a lovely green sauce made from cilantro, lemon apple, and coconut milk. The small plate is garnished with thin red onion slices and served with sweet potato chips.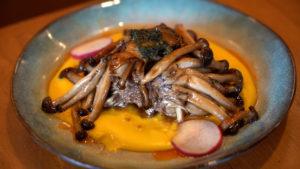 The second is the Entero Shimeji (380Php), a vegetable tapa that uses grilled shimeji mushrooms drizzled with garlic chimichurri on a bed of the smoothest squash purée you have ever eaten. For a burst of fresh, citrusy notes have the Verde but the Shimeji tapa has its earthy-nutty appeal. Both choices set the tone for good things to come.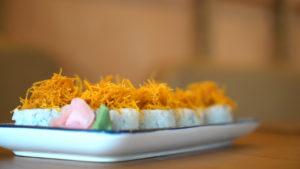 Next were the mains. Japonesa has a nice sashimi, sushi, and maki selection. Though generally Japanese in origin, Peruvian influences dotted across the options most especially in the Japonesa Signatures. An example is the Peruano (450Php), which is a maki composed of miso-marinated salmon, salmon, avocado, cucumber, and crispy shallots then topped with potato shreds.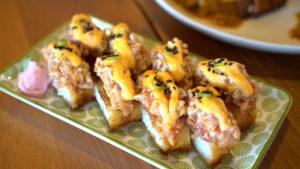 The crowd's favorite hands down though isthe La Japonesa (650Php). It's simple enough: a spicy tuna maki garnished with a slice of green chili. The main difference though is the use of crispy sushi rice adding a crunchy texture to that familiar sushi bite. Genius.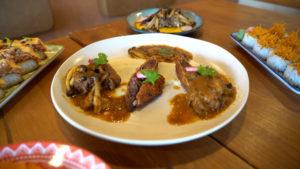 For much heartier fare, we had the Lengua Katsu (950Php). In Japan, the word katsu is a homophone of the verb katsu, which means "to win" or "to be victorious." Sure enough, this dish is a winner with its fork-tender slices of breaded lengua served with mushrooms, radish slices, and super creamy mashed potatoes and smothered all over with a deep lengua gravy.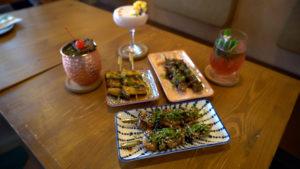 We weren't done just yet. We also got some of their yakitori options—all the pieces were perfectly seasoned with a signature soy glaze and then cooked over a charcoal grill. Each skewer: Pollo Negi (chicken thigh, scallions, 220Php), Piel de Pollo (chicken skin, 200Php), Eringi (king oyster mushroom, 200Php), had its own tasty appeal. We said to ourselves that these savory goodies on sticks were enough reasons to come back and try the rest of the options on another visit.
Even the signature libations at Japonesa were out to impress. Poblacion is party central and Japonesa caters to those who came out to play and enjoy drinks made with Japanese-Peruvian influences. Start the night with a fancy glass of sweet and floral Sakura composed of gin, strawberry, and hibiscus. For something sophisticated, enjoy the Watermelon Hai-Ball, which is a mix of sake, watermelon, and elderflower essence. Lastly, end the night strong with the Hokage that's made with 7 spirits, absinthe, and pineapple.
Whether you're going for a girls' lunch out, a first date, or a much-needed night out in Poblacion, we just hope you guys meet and eat at Japonesa soon—another winner brought to you by Notorious Concepts.
Japonesa. 5658 Don Pedro St, Corner Jacobo, Makati, Metro Manila. For reservations, call (0917) 168-2024. Follow them on Instagram.
Follow us on Facebook, Instagram, Tiktok, and Youtube for foodie finds, re-imagined recipes, and easy eats that will take Pinoy bellies on an adventure!