When it comes to cooking, we always look for the best ingredients to use. More so for professional chefs cooking enthusiasts, and seasoned home cooks who find joy in creating wonderful flavors in their kitchen.
Cooking in a Pinoy kitchen is no different. We always crave our classic Pinoy dishes and make sure that we use quality ingredients when making them since we serve them to our loved ones daily. Hence, we don't compromise and go for the finest produce or meats possible. With the ever-increasing price of goods recently, we can't help but think of who passionate home cooks should trust when it comes to their ingredients particularly, meats. With this in mind have you ever thought of using Irish meat for your dishes? No? Then maybe it's time to do so.
Land of the Irish
Ireland is actually known to be the largest net exporter of beef in the European Union and is regarded to produce some of the best pork and beef around the world. The lush, expansive highlands of the country make for excellent ground for cattle and hog raising plus the majority of the producers are conscious of using sustainable practices on their farms. Not bad for a population of just 5 million but with a capacity to feed 40 million with their food yield. Irish meat is also a coveted ingredient used by more than 90 Michelin-renowned chefs all over the world. They say it's not only the outstanding tenderness and flavor of the meats but also the satisfying feeling of using something that's healthy and environmentally conscious for their customers.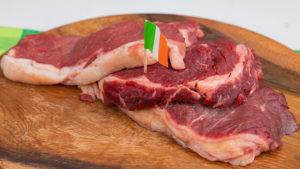 Irish Meat for the Pinoy Palate
Bord Bia – the Irish Government Food Board with co-funding from the European Union, has been steadily campaigning for the promotion of Irish meat in the country. In fact, Ireland is one of the largest suppliers of beef to the Philippines, backed by the decades-old trading partnership between the two countries as stated by Mr. Jack Hogan, Bord Bia Market Specialist.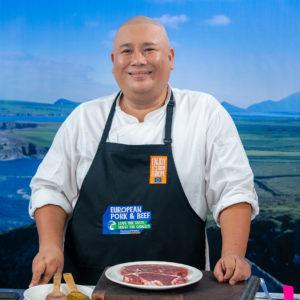 One of their recent efforts is thru a Masterclass taught by Chef Myke Tatung Sarthou, one of the countries' top food authorities and advocate of home cooking. Together with the host, Issa Litton, the Simpol Chef showcased the versatility of Irish beef using two dishes: Herb-Crusted Beef Striploin Steak and Short Ribs Piyanggang.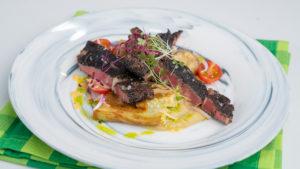 The Herb-Crusted Beef Striploin Steak was made using Irish Striploin Steak. Various spices like thyme, oregano, paprika, and rosemary plus seasonings like Worcestershire sauce, salt, and pepper were used to enhance the beefiness of the meat. A simple eggplant salad dressed with vinegar, tomatoes, and onion is served on the side.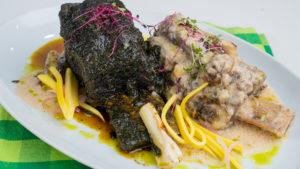 The most anticipated dish however was the Short Ribs Piyanggang. Chef Tatung actually talked about Piyanggang during his Madrid Fusión presentation in 2017. To recall, this curry-like Tausug stew is traditionally made with chicken and is cooked with coconut milk, aromatics, and its key ingredient: burnt coconut. For the Masterclass, Chef Tatung used Irish Beef Short Ribs, which rewarded the duo with fall-of-the-bone meat matched with a smokey, complex yet familiar tasting coconut cream sauce after the cooking portion of the demo.
The Masterclass definitely gave its viewers, especially culinary professionals and gourmands insights into how valuable Irish meat can be in their cooking. As explained by Mr. Hogan, "This activity, working with the renowned and respected Chef Tatung, demonstrates the compatibility and versatility of our high-quality meat to the Philippine cuisine."
The Meat of the Matter
What's great is how Irish meat is becoming more prevalent in premium stores and groceries like Landers. Bord Bia is also continuing to work with local traders and importers to help Filipinos enjoy high-quality Irish meat one dish at a time. Meat that's high-quality in terms of flavor and texture and produced with strict sustainable methods to benefit both the environment and consumer, using Irish meat is a good deal if you ask us.
To learn more about the European Pork and Beef Campaign in the Philippines, visit their website, Facebook, and Instagram.
Follow us on Facebook, Instagram, Tiktok, and Youtube for foodie finds, re-imagined recipes, and easy eats that will take Pinoy bellies on an adventure!