We all have that one friend/relative who loves, nay, obsessed, with food! These people are usually found inside the kitchen and, where else, the table. You may think that these foodies are one and the same, but you might be surprised that there are different kinds based on their personalities. Read on to know which gifts would suit these foodies!
The OC Organizer
We all know that one foodie who likes to organize almost every ingredient that they see. "Everything must be perfect"; that's the quote these OC Organizers always follow and live by. These leather knife bags from Equipt & Co. are the perfect gift for organized yet stylish foodies this Christmas!
The Thrifty Shopper
Who doesn't want to save money? This kind of foodie is the most common out of all the foodies, as these thrifty shoppers always have the notes and calculator apps opened on their phones. Takes these foodies at Dapitan Arcade this holiday season where you can indulge them with hundreds of great bargains! What's more? You can find different overruns from Crate & Barrel!
The Coffee Addict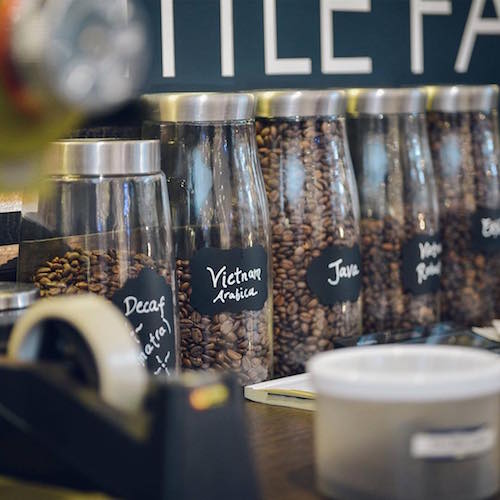 Care for some coffee? Of course we all know a coffee-dependent person; these coffee addicts live and breathe coffee, that's why you'll always see them at the nearest coffee shop! Show these coffee addicts some love when you buy them coffee from Little Farmer's Coffee, which recently opened its newest branch at SM Megamall!
The Hipster Aficionado
You know that someone is a hipster when he/she finds things in the most unusual places (and they don't tell anyone about it because they want to keep it to themselves). These hipsters usually lurk to places like Down to Earth, wherein you can find rare (and organic!) products. Why not surprise them and give them something from Down to Earth for their next cooking session?
The Tita Foodie
Care to join the Tita Foodie for high tea? She'll probably open a grazing box from Aperitif to match your brew. She's the type to bring a beautifully designed cheese platter to your get together, because potluck in reusable containers are so bleh! Help her keep her IG feed full of beautiful photos up to snuff with a box from the grazing expert.