There is no doubt Filipinos love and adore food. With such insatiable curiosity and an ever-increasing number of self-proclaimed foodies, it's no wonder there are food parks popping up in every corner of the metro, each one offering innovative and often sinful but delicious twists on local and international food fare.
As millennials claim more and more of the market and pumping it with new vigor with their hopeful entrepreneurial drive, we're also seeing more young movers and shakers in the food industry. Given the escalating costs of rent and tedious construction in traditional malls, it's no wonder many new business ventures are born and tested in these often colorful, sometimes multi-storey, urban hangout spots.
One such story belongs to Chica's Chicharronia, a young and ambitious brand centered around Crispy Pinoy Putok Batok meals that we just can't resist. One of its founders, Symon Siman, narrates that they came up with their concept by choosing one thing they want to be known for – their Chicharon Bulaklak – which they then innovated by translating it into a variety of set meals, side dishes, and snacks, thus giving birth to some of their bestsellers like: Sisig or Bagnet with Chicharron Bulaklak, Tokwa't Bulaklak, and the group-friendly Crispy Pata with Chicharron Bulaklak.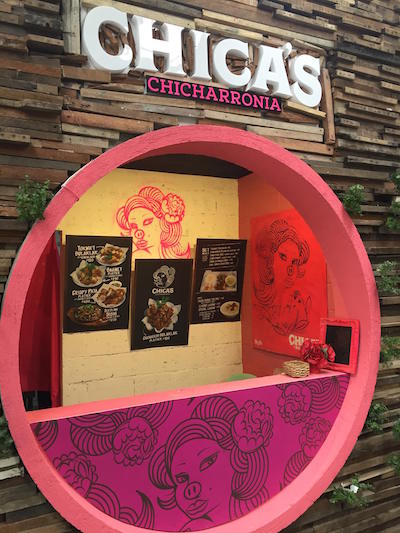 The Food Park Journey
Aside from the relatively lower capital requirement, food parks bring out your competitive streak, in a good way. With 10 to 20 food stalls vying for a customer's attention, Symon cites that they really make it their priority to build a strong brand identity and applying it in every aspect of operations – from the marketing, food, and even store design.
Even their fuschia pink brand logo depicting a sassy and sexy pig with a flower on her ear – is a bold reflection of Chica's Chicharronia's young, fearless personality. The tedious brainstorming and execution has clearly paid off for this team though – because in only a year, they have managed to position their concept in two food parks, Grub Hub (recently closed) and The Yard Underground, and malls, SM Novaliches and SM North EDSA by late 2017.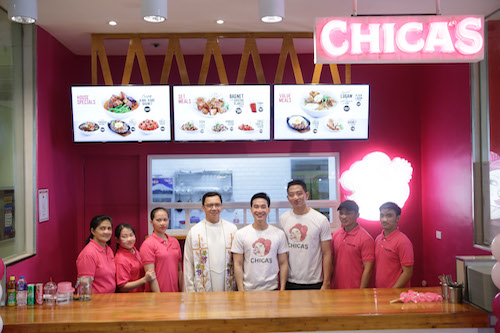 The Chica's Chicharronia team with business partners and Symon Siman at the blessing of their SM Novaliches Branch
Sitting down with Symon, BiteSized asks what are the primary business principles your team follows as the brand grows? He says that it all boils down to three main things:
building the infrastructure, which refers to having a commissary and a solid system in place to control sales, expenses, and inventory,
striking while the iron is hot, or seizing the trends and opportunities as they come, and
making sure customers are full and happy with the food being served and ensuring top quality is maintained across all branches.
Tips for Aspiring Entrepreneurs
With the size and breadth of the ever-evolving food industry, it's only right to come prepared. After all, it's not always a walk in the park when doing business in a food park – sales can be uncertain and volatile due to bad weather, and you really need to exert more promotional efforts once the initial hype for a hangout has died down. Despite this, building a food start-up is an exciting and rewarding journey. For aspiring foodie-preneurs out there, Symon shared some tips to help you out in your journey: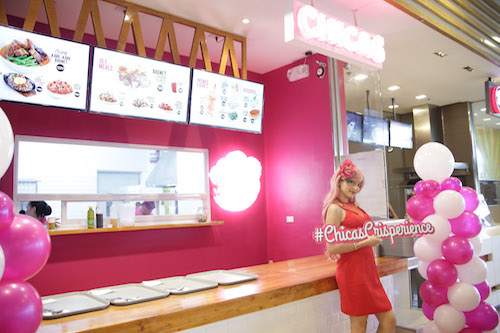 On choosing a food park to join: make sure that it has a well-equipped team that can market the place well and run the food park to create a memorable dining experience for your customers. It should also be accessible via public transport, and with foot traffic – the higher the better! For a list of food parks in the metro, click here.
On developing brand and menu: offer something that you yourself will buy. Symon and his team chose Chicharron Bulaklak as their signature ingredient because they love to eat it! Make sure also that your product is unique and not easily found elsewhere but still understandable – if it's too out there, people might be hesitant to spend Php 150 to even try it. Find the right balance! As for branding, do stand out by coming up with a solid brand concept and use it as your foundation to build your store design, products, and even social media marketing approach.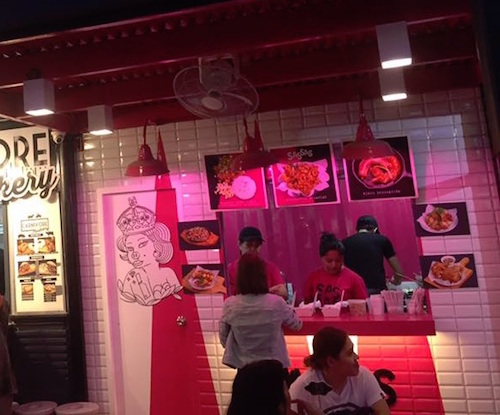 On building the infrastructure: put up systems that will make your operations efficient whilst simultaneously allowing you to control your business' sales, expenses, and inventories.
On your outlook: Without the necessary drive and passion, it will be easy for you to just give up when things get tough. Like Symon, you might even need to give up your full time job to make it happen – so you really have to love what you do to invest so much of your time, effort, and money into it.
Given all the great and challenging things in a food park, are you ready to bet your foodie idea? Share with us your thoughts in the comments below!
Visit Chica's Chicharronia's Facebook page for locations and announcements.