by: Camille Bacsa
February makes us want to swoon – from the sight of colorful (though overpriced) bouquets, decadent chocolates, candlelit restaurants, and a ubiquitous social media feed filled with sweet words, romantic gestures, and orchestrated proposals.
With warm fuzzy hearts, we find ourselves drawn to chick-flicks, hanging on to every word dramatically said by the star-crossed lovers. Little do we know, we find ourselves wanting to mimic them, from their carefree demeanor, out-and-about ways of living, to the date food they eat. Here at BiteSized HQ, we rounded up some of the most iconic and well-known foreign and local movies centered on food – and we hope reminiscing it now will make your heart and tummy feel full!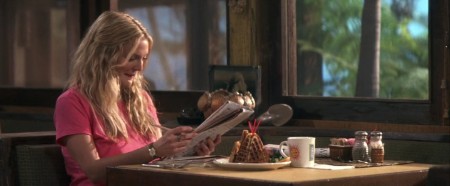 Hukilau Cafe, 50 First Dates
Image via Nomnom Movies
With all of the crazy dating schemes and horror stories out there, Lucy's anterograde amnesia is almost enviable. For the romantics though, this classic chick flick gives us hope that there are men like Henry out there who have patience and perseverance to repeatedly woo us, even if it's over the same plate of waffles every day. Constantly seeing the architectural pile of waffles on Lucy's plate though kickstarts our foodie brains to think of all the possible flavor iterations – from varying the syrup drizzled, toppings used, and even the way it was cooked and plated. Needless to say, the Hukilau Café must have had some really amazing meals, because it cannot possibly be just infatuation that got Henry constantly coming back!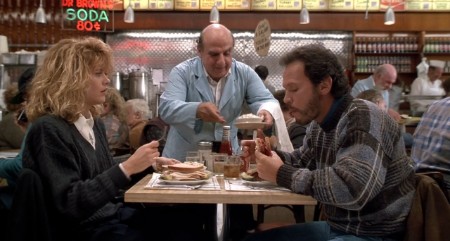 Katz's Delicatessen, When Harry Met Sally
Image via Elite Daily
We always hear the saying that chocolate is better than sex. Sometimes, it's also pitted against pizza, bacon, or some other sinfully good food – and quite frankly as the list goes on, the statement becomes more and more convincing. It's another thing though to make a humble pastrami sandwich be a permanent pop culture reference the way they did in When Harry Met Sally, where Sally finds herself challenging Harry's know-it-all attitude in the middle of a casual lunch with a very inappropriate reenactment (no spoilers here, go watch the movie). That's surely a strange sight to remember for all the conservative looking guests at the delicatessen – and a thought that will hopefully not pop up too obtrusively the next time you eat a pastrami sandwich.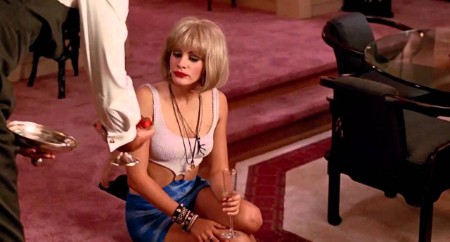 Strawberries and Champagne, Pretty Woman
We've all been in that awkward situation where someone had to correct the way we ate something. In the very relatable scene in Pretty Woman where Vivian chugs down her champagne before getting a chance to pair it with the strawberries, we are reminded of the Hollywood chick flick cliché that people from opposite worlds attract. Whether you believe this sentiment to be true or not, the luxurious escapades in this movie will really get you thinking – what if date night was always fancy? Your mind will likely get lost thinking about the pros and cons here – and ultimately, we hope that it inspires you to explore new flavors, but for the sheer curiosity rather than the price tags.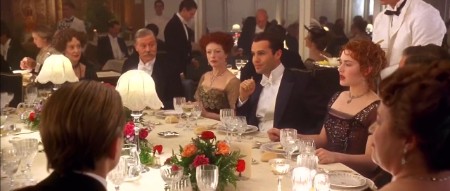 Fine Dining Dinner, Titanic
As the finest luxury cruise of its time, it's no surprise that the menu is special, consisting of oyster hors d'oeuvres, beef consommé, cream of barley, fillet mignon, chateau potatoes, and Waldorf Pudding. The intricate preparation of these fine dining meals is a recipe for romance, although we certainly wish you a better fortune should you prepare this for bae, because we all know how the unfortunate love story of Jack and Rose ends. Still, one of the best movies for the season of love that touches (and breaks) your little heart, even if you won't admit how many times you've seen it!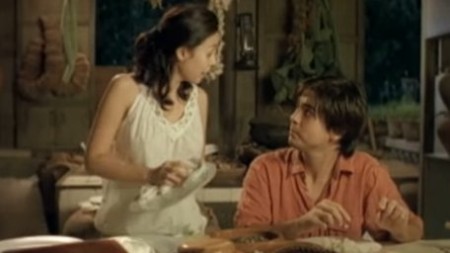 Filipino Fusion, Kailangan Kita
 Pinoy movies always have surefire elements – an unexpected (but always beautiful) couple, a dramatic struggle, heart-tugging lines, an opinionated family, and of course – delicious food fare. In this rom-com, we have the unsolicited romance of engaged celebrity chef Carl to his fiancée's sister Lena – but before their love fully blossoms, food is front and center as their culinary passions collide to produce intriguing American-Filipino fusion twists to Pastel de Lengua, Morcon, and Mango Mousse. The movie also showcases Lena's roots, through a multitude of mouth-watering Bicolano dishes. Understandably, with such delicious food onscreen and the captivating chemistry between Aga Muhlach and Claudine Barreto, the movie is a blockbuster hit – even though this will merely be a chismis-worthy story at the office pantry if it were to happen in real life.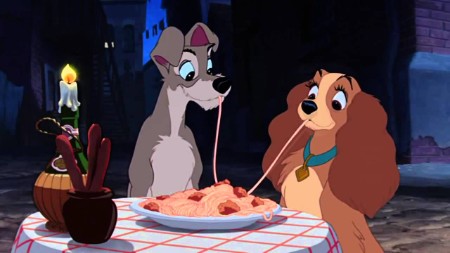 Spaghetti and Meatballs, Lady And The Tramp
 We have been preconditioned for romance at a very young age, owing to cartoons and animated films. If you're a Disney fan, one of your earliest non-princess-related love stories will likely be that iconic accidental kiss during the spaghetti and meatballs dinner between Lady And The Tramp. Maybe your young mind even imagined a similar moment between you and your crush. Needless to say, opportunities are always abound even in the simplest of things – so better master that pasta recipe before V-day!