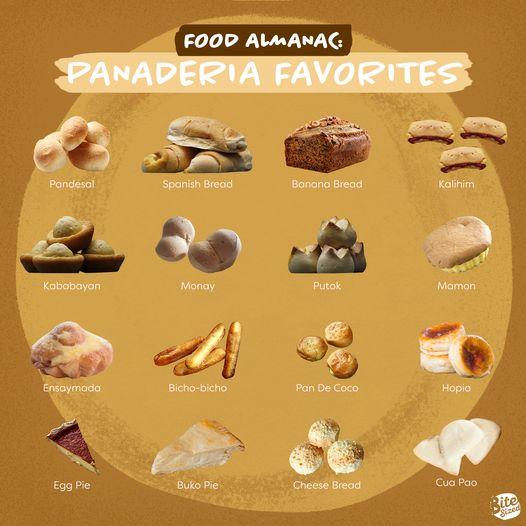 The homey smell of a freshly-baked bread from the local panaderia holds a special memory for many Filipinos. For some, the panaderia with their distinct transparent counters can sometimes be overwhelming with its variety of bread choices. And, even with the prices of these panaderia bread rising, we still patronize and enjoy them on a daily basis. Let's get to know these Filipino breads!
Pan De Sal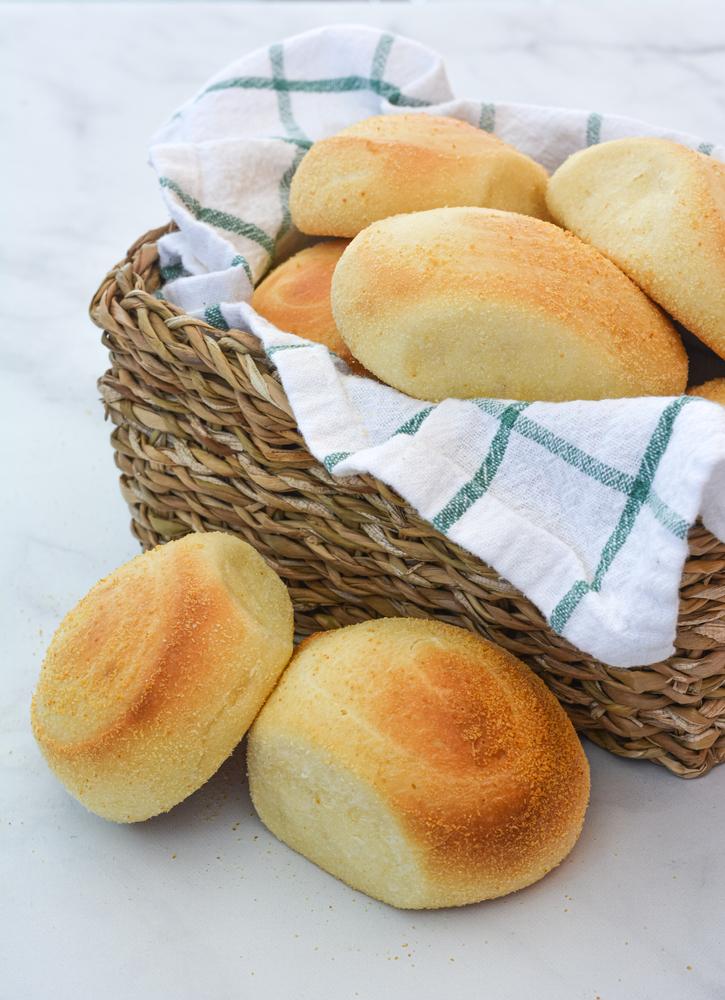 The quintessential Pinoy tinapay, pan de sal translates to "bread of salt". Pan de sal is mostly enjoyed as a breakfast staple or merienda. Pan de sal is the bread and butter of local panaderias as it is the most commonly sold item in bakeries. This bread is made with a few simple ingredients such as flour, milk, water, sugar, and salt.
Spanish Bread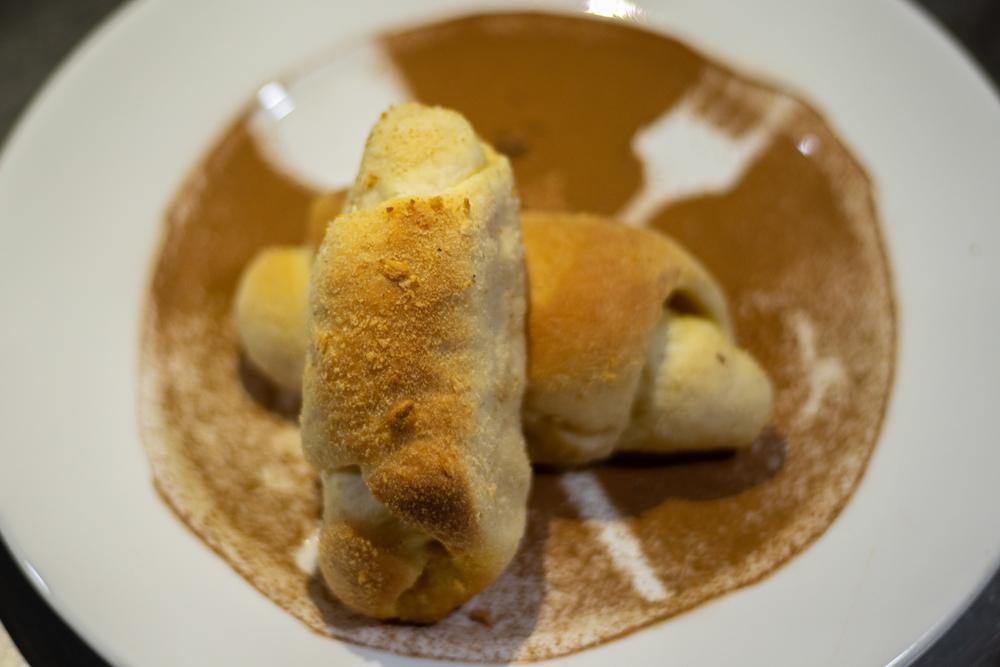 Spanish bread starts as a milky dough that's flavored with butter and sugar then rolled onto breadcrumbs to achieve its distinct shape and crust. It has a similar texture to pan de sal but with a sweeter taste. Think of it as the middle ground between ensaymada and pan de sal.
Banana Bread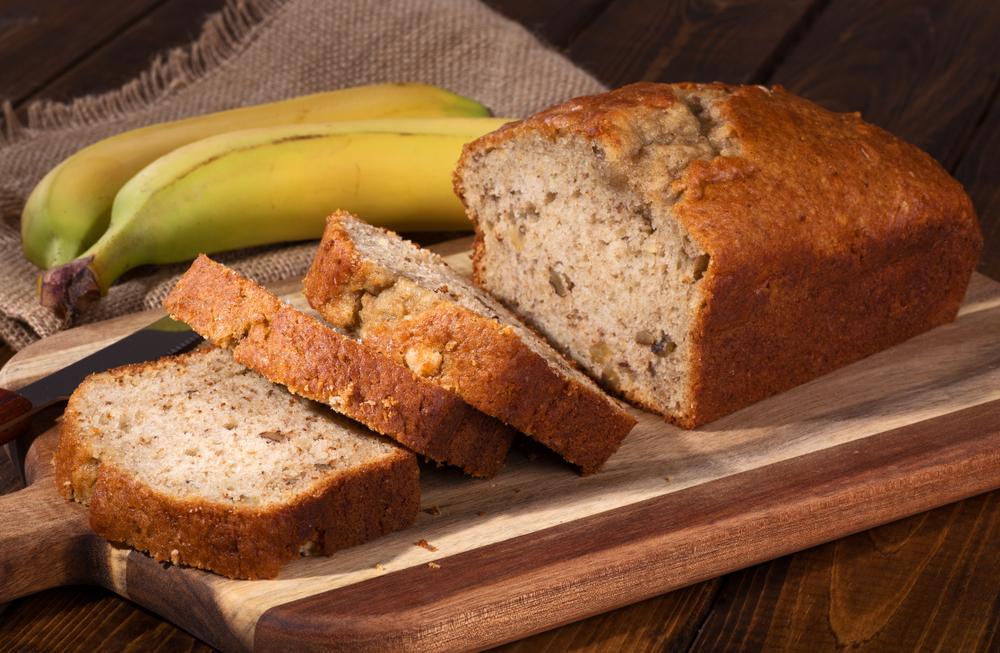 Bananas are abundant in our country, maybe that's one of the reasons why panaderias often offer banana bread. It's a sweet and dense bread that has a really strong banana flavor. Some panderias even bake their banana bread on banana leaves to add more flavor and aroma. Often than not though, the banana bread you'll get from the panaderia is a bit dry or overcooked so I suggest you pair it with coffee or hot chocolate. Nevertheless, the banana bread is enjoyed as a merienda by many Filipinos.
Kalihim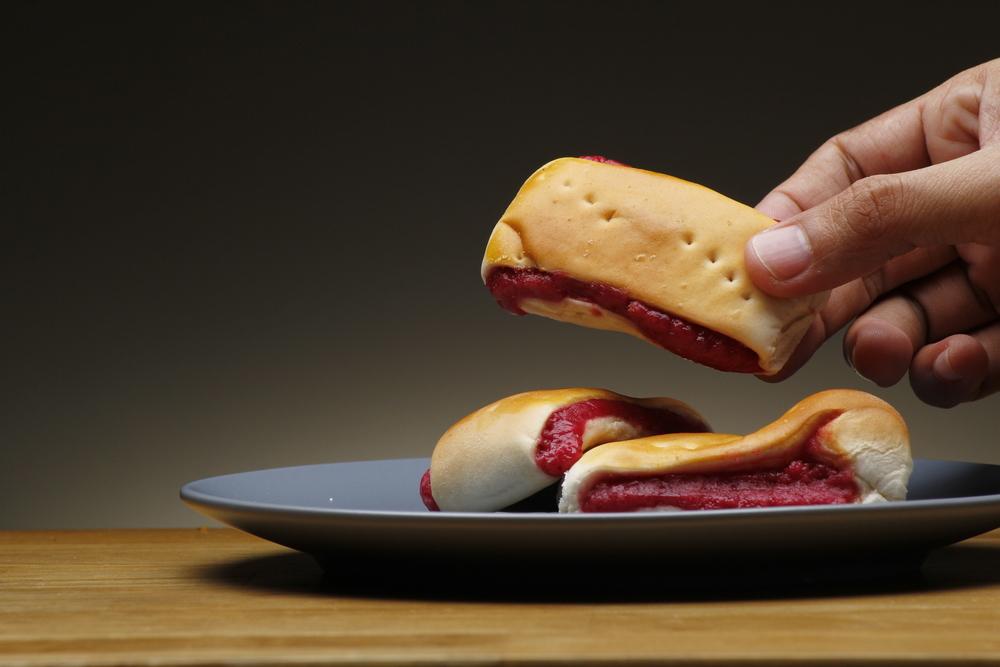 Kalihim is a soft bread filled with bread pudding made from day-old bread, milk, sugar, eggs, vanilla that's mixed with food coloring. Translated to "secret" in English, the name refers to the panaderia's trade-secret wherein they use the unsold bread as the main ingredient for the bread's filling. Sometimes, purple, sometimes green, often times red, the latter hue is also popularly called pan de regla meaning, "menstrual bread."
Kababayan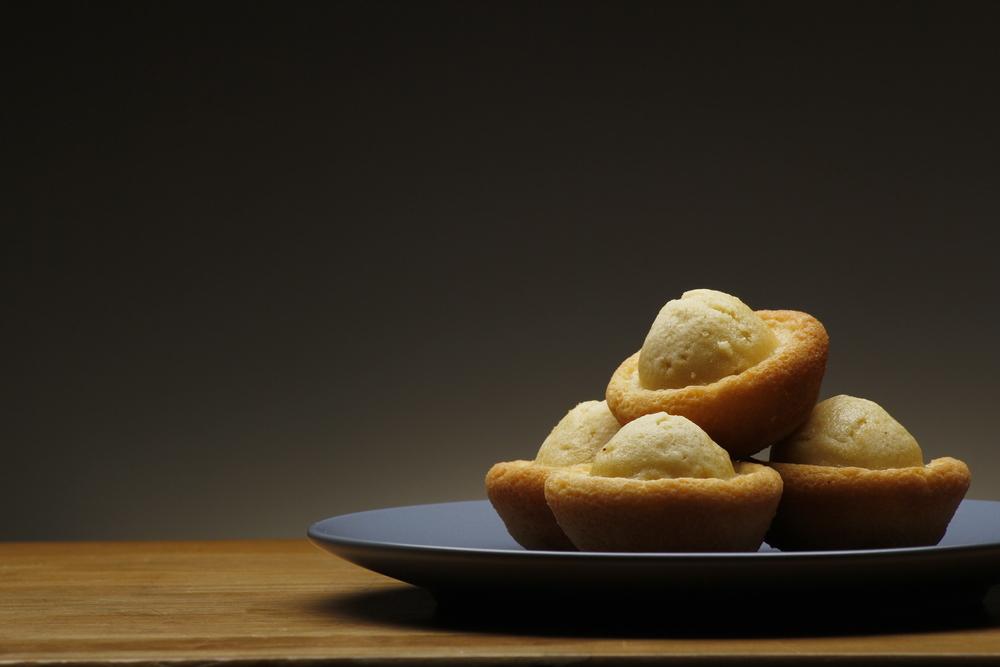 The Kababayan is a Pinoy sweet muffin made with eggs, sugar, milk, and flour. Translated as 'fellow countrymen," this muffin has a distinct appearance particularly its top which is similar to a salakot, a native straw hat usually worn by farmers.
Monay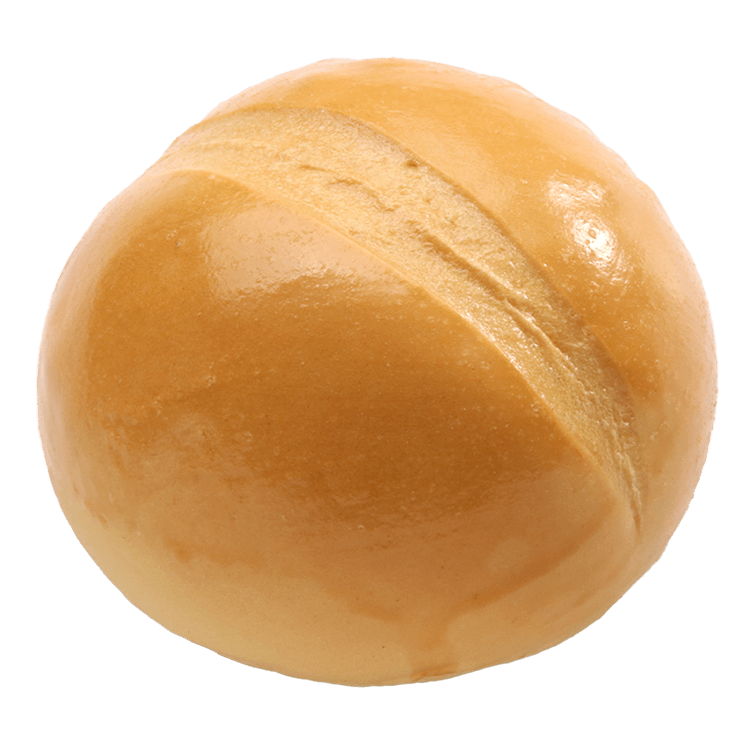 Monay is a dense and rich bread that has a distince split in the middle. It's the mother of all Pinoy bread since a lot of other bread can be made for the base dough of monay with the popular variations like the pinagong and putok. Usually thick and fillingm, monay also has other versions where its soft and chewy.
Putok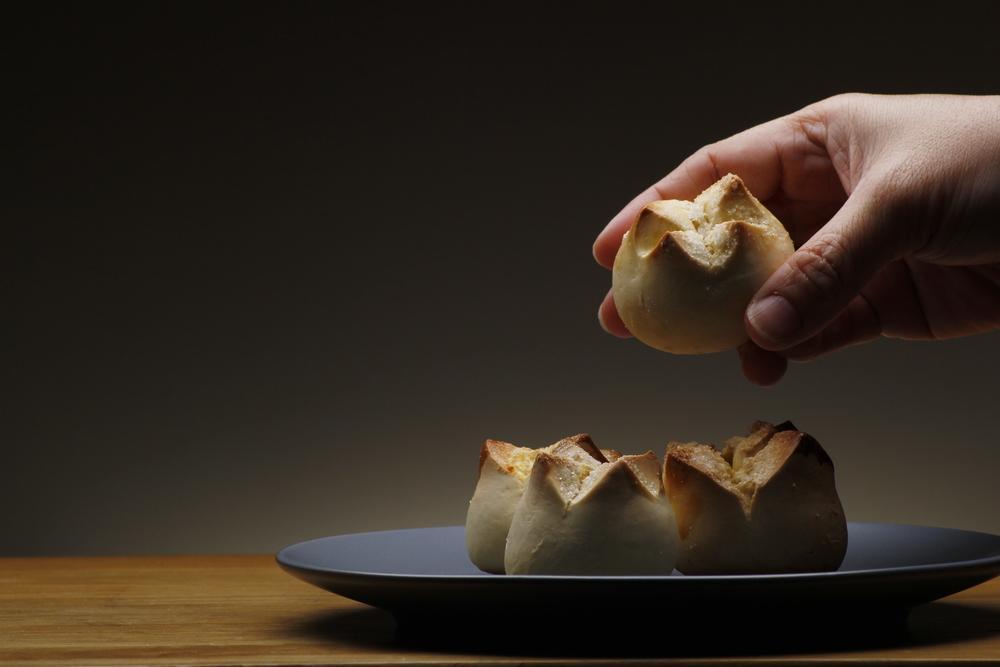 Putok is made from the monay dough and has a crown or cross indentation rather a split. Putok means "explode" which describes what the indentation looks like once it is cooked. This bread is more dense and harder than monay due to its shorter proofing time.
Mamon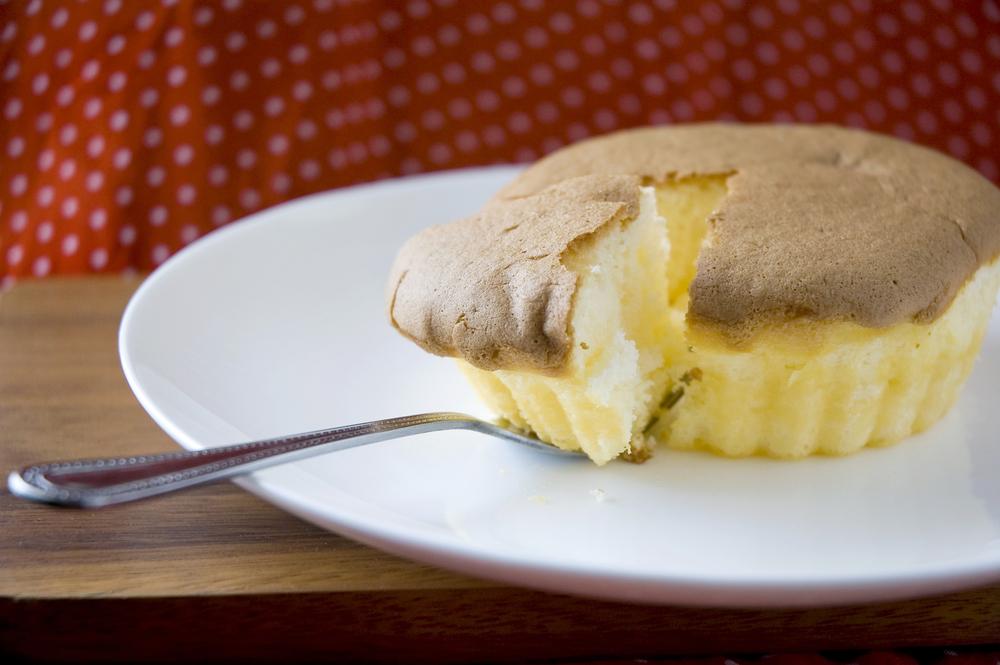 Mamon is a sweet fluffy sponge cake topped with lots of butter and cheese. It a pillowy, very light, and pleasantly sweet cake normally eaten as a merienda.
Ensaymada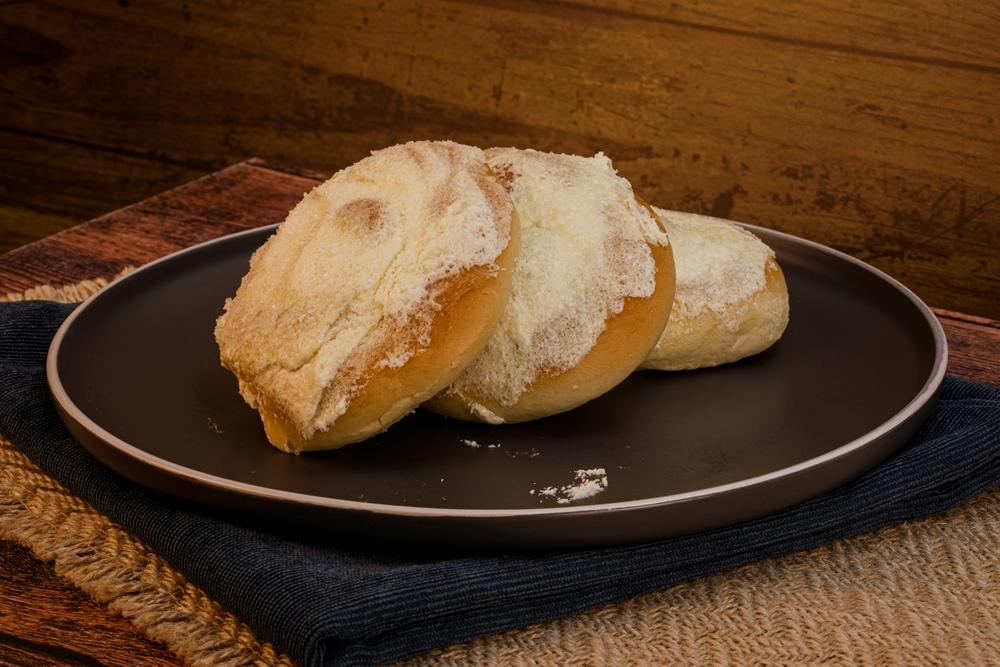 The Pinoy ensaymada is inspired by the ensaimada a yeast bun made with pork lard in Majorca, Spain. Similar to brioche bread, this light and sweet bun is traditionally topped with a lots of butter or margarine, sugar, and grated cheese, usually quezo de bola. Our love for ensaymada has inspired bakers to innovate and add newer toppings to the ensaymada such as salted egg, ham and quezo de bola and even modern flavors like ube, coffee, and Nutella. Though available all year long, this buttery, soft bread is a favorite gift item or pasalubong during the holidays and other special occassion.
Bicho-Bicho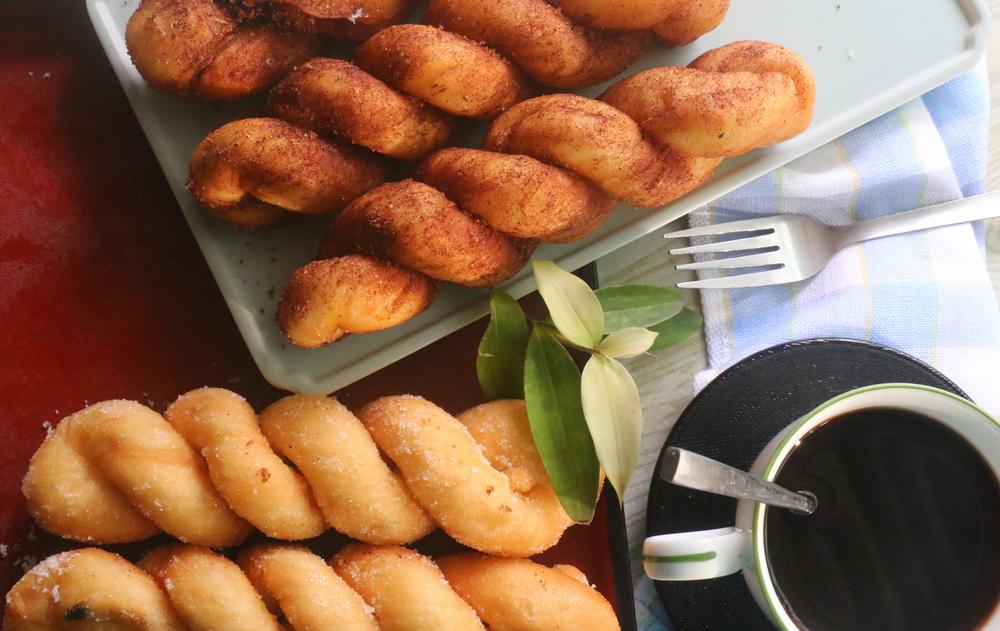 Bicho-bicho or bitsu-bitsu is a fried yeast dough that is twisted or shaped into a log then covered with sugar. This fried bread is somewhat a Pinoy version of doughnut and is eaten as a merienda.
Pan De Coco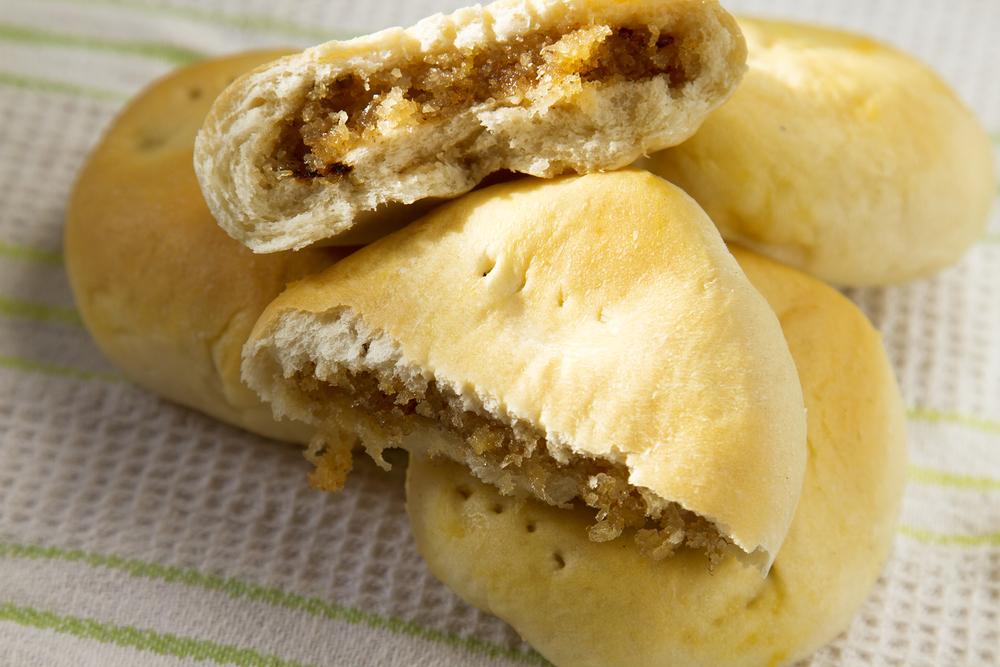 A sweet round bun filled with a coconut filling made with sugar, butter, and grated coconut. Pan De Coco's rich coconutty flavor and a caramel like sweet butter makes it addicting bread to eat. This bread originated from the Honduras and was introduced by the Spaniards to the Philippines.
Hopia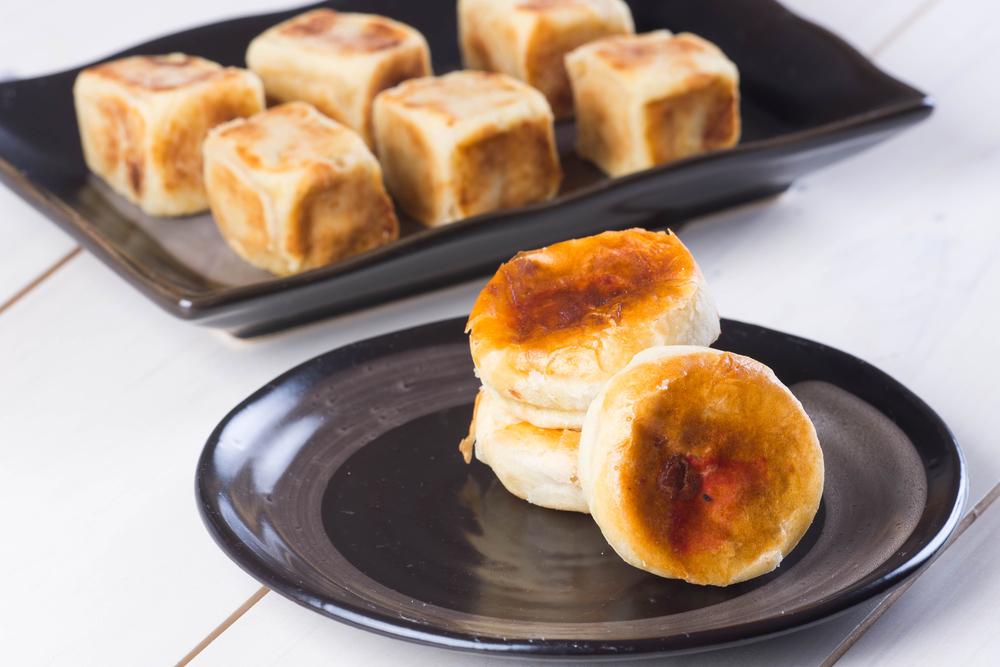 Hopia or "good pastry" in Hokkian is a round or cube pastry introduced by the Fukienese immigrants to us Filipinos during the early 1900's. Hopia has different filling ranging form savory to sweet. The most common fillings are mung beans, ube, and pork. Hopia is a favorite snack that's commonly paired with a bottle of soda.
Egg Pie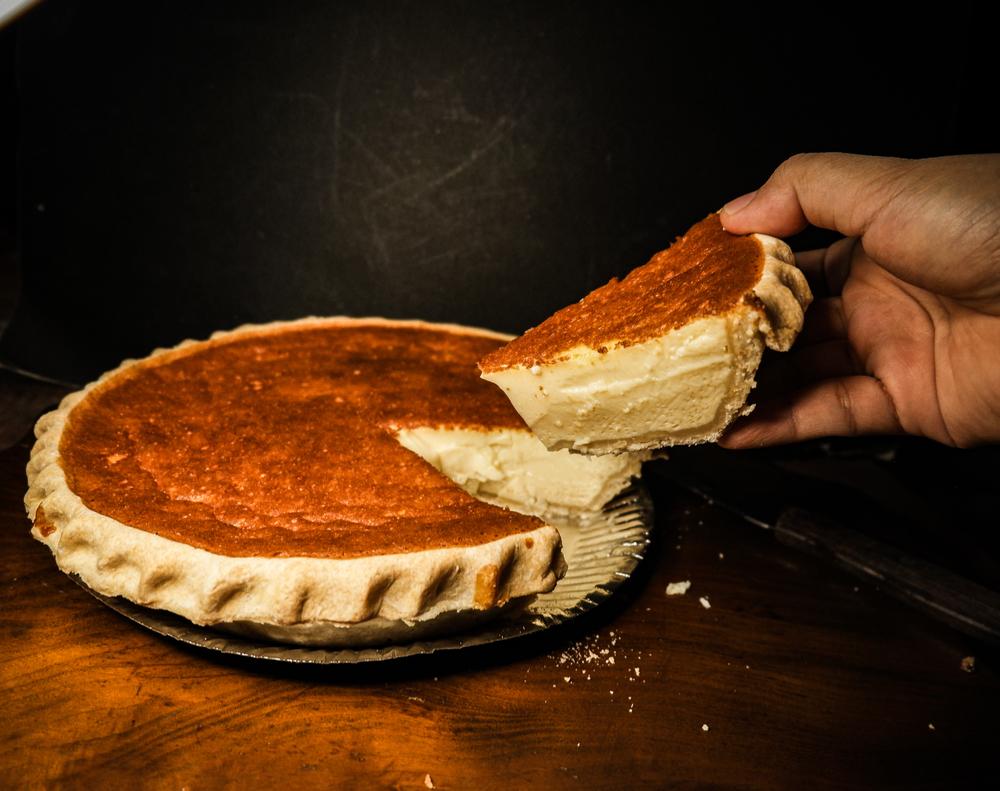 An egg pie is a popular panderia staple made up of a thick pastry crust filled with a sweet egg custard made with milk, sugar, lots of eggs, and vanilla extract. Egg pie is one of the go breads to buy for merienda, which is often sold by the slice.
Buko Pie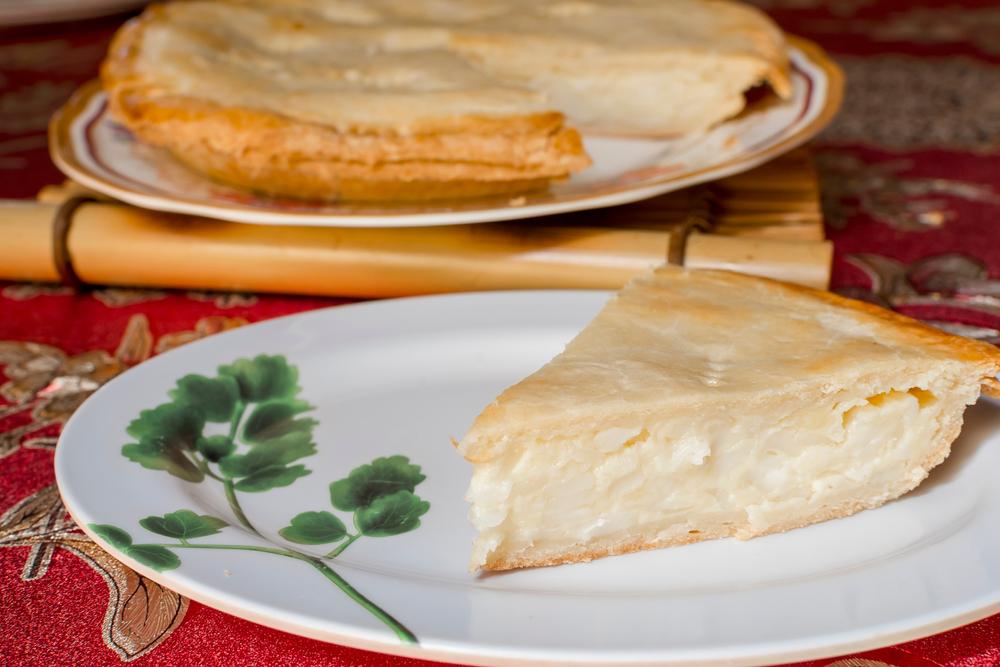 The buko pie is another favorite Filipino sweet pie. This dessert merienda staple is made with a custard consisting of young coconut and condensed milk baked on top of a semi-flaky crust. The most popular and sought after buko pies in the country are sold in Laguna, Tagaytay, and Quezon Province.
Cheese Bread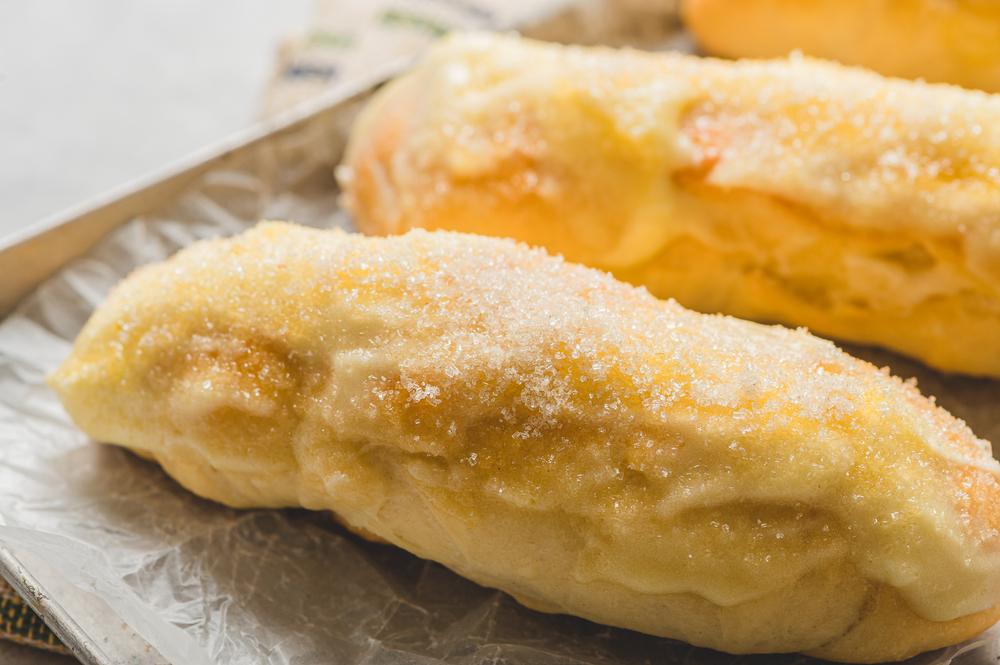 A leveled up version of the pan de sal, cheese bread is a sweeter and milkier version of the pan de sal. Cheese breads are filled with cheese and topped with cheese granules rather breadcrumbs. This bread is the perfect combination of sweet and savory!
Cua Pao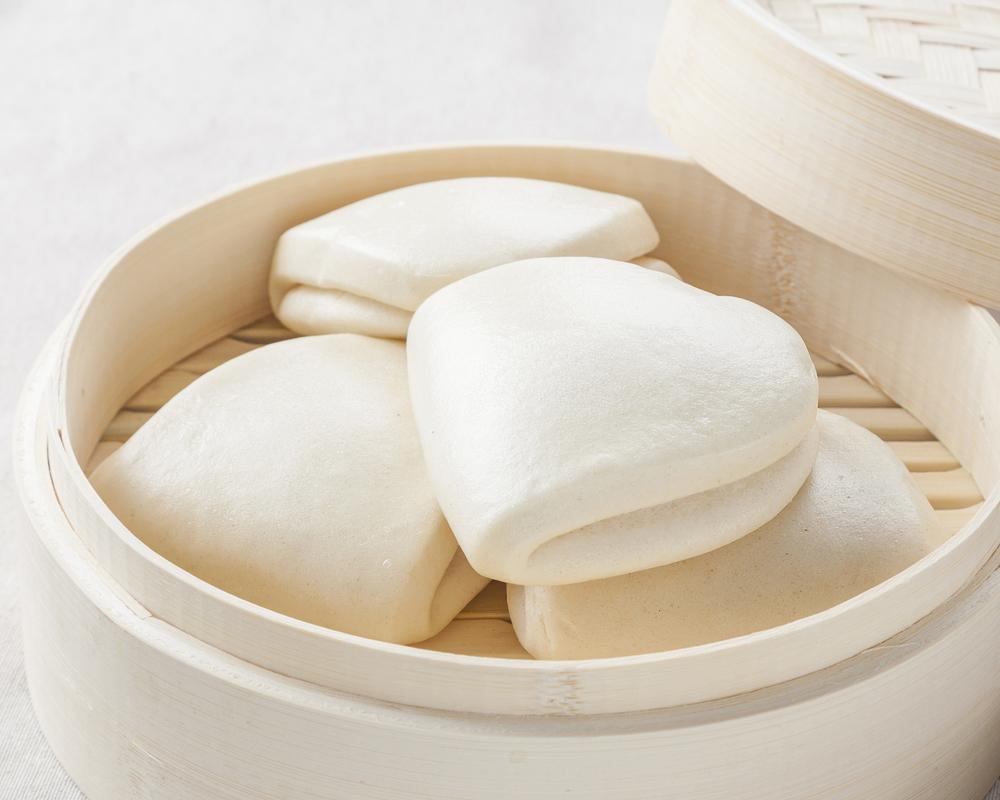 Cua pao is a steamed bun made with three sugar, water, flour, and yeast. It is normally served in Chinese restaurants where it is eaten with braised meats. Cua pao is a staple in some bakeries in the country specifically in Binondo, Manila and other Chinatown within the country. This can be eaten as it is or fried then served with condensed milk.
Do you have other Panaderia favorites that we missed? Let us know in the comment section! We'd like to try it so we can put our bitesized twist to it!
For panaderia favorites with a Bitesized twist Check out these recipes!
Follow us on Facebook, Instagram, Tiktok, and Youtube for foodie finds, re-imagined recipes, and easy eats that will take Pinoy bellies on an adventure!