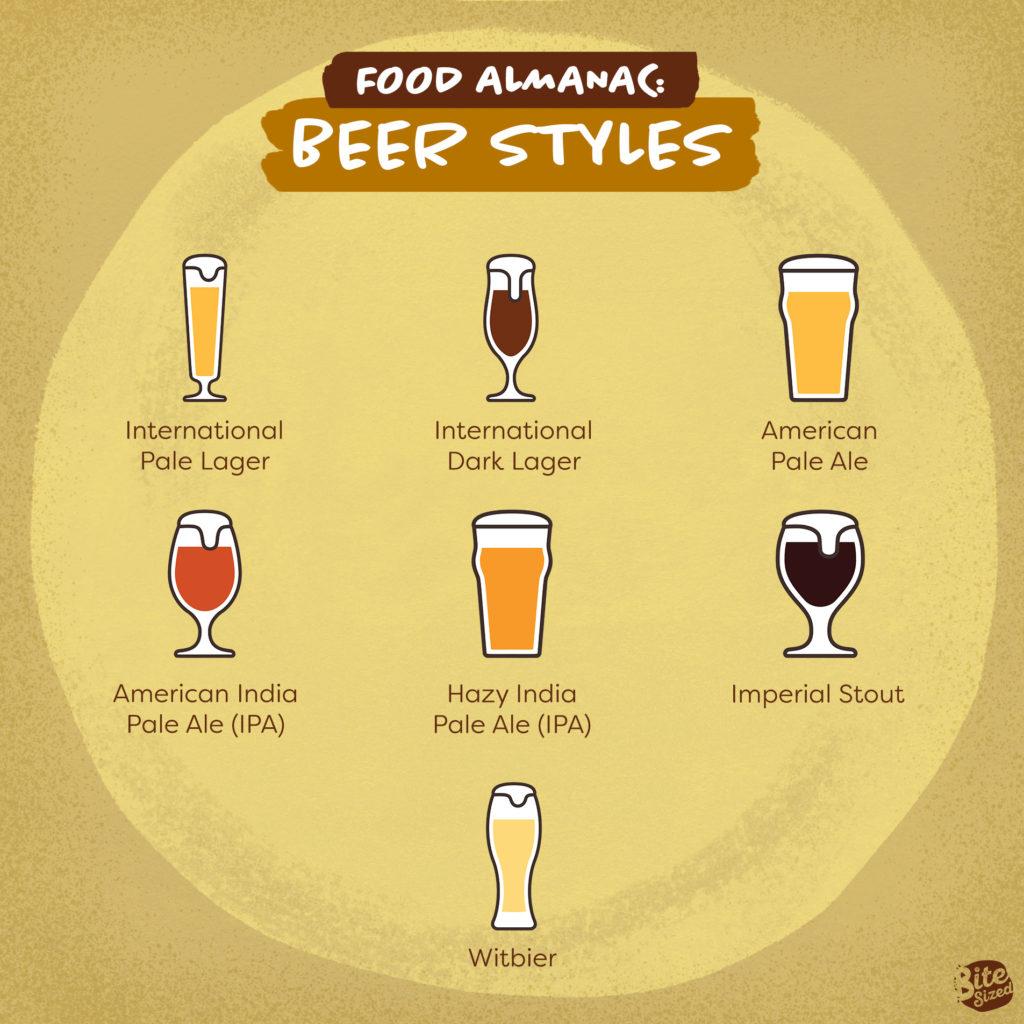 Cheers! Oktoberfest is here! A feast wildly celebrated in the world where beer is the protagonist of the festival. Pinoys have a great love affair with beer and that's the reason why many homegrown microbreweries have popped up in recent years to showcase their own brew and introduce different beer styles. As a result we now have a lot of options and varieties these days that it's easy to get overwhelmed and confused. That's why we made this simple beer almanac to help you decide which beers to try on your next night out!
Ale vs Lager
To understand the beer style we first have to know in which beer category they belong. The two main categories of beer are Ale and Lager. The difference between these beers comes down to the type of yeast used to ferment the beer. Ale is made with a yeast strain that ferments in a warmer environment, typically at 65°F to 75°F. The yeast floats on the surface as they ferment, so Ale is referred to as top-fermented beer. On the other hand, Lager is made with a yeast strain that ferments at a colder temperature. The yeast best ferments at around 35°F to 55°F and sits at the bottom of the liquid while fermenting, that's why Lager is also referred to as bottom-fermented beer. In terms of flavor, Lager has a crisp, clean, and dry flavor while Ale has a richer and more complex flavor.
Beer Styles
Now that we have an idea of the two categories of beer, let's get to know the most common beer styles we can find in our local bars!
American Pale Ale
Taste: Moderately hoppy with a hint of fruity and citrusy flavors
Color: Golden to Amber
Abv: 4.2% to 6.2%
Best paired with: Steaks, Burger, and Barbecue
Brands: The Perfect Pint Street Smart and Bondock Brewery Session Ale
American India Pale Ale (IPA)
Taste: Intense hop taste with fruity characteristics
Color: Medium gold to light reddish amber
Abv: 5.5% to 7.5%
Best paired with: Steak, Fried food, and Barbecue.
Brands: Joe's brew Sunsweeper IPA and Crazy Carabao India Pale Ale
Hazy India Pale Ale (IPA)
Taste: Fruity hop flavor with a slightly malty taste.
Color: Light amber to orange hue
Abv: 6% to 9%
Best paired with: Fried chicken, French fries and other Crispy dishes
Brands: The Perfect Pint Haze Gaze and Engkanto Mango Nation
International Pale Lager
Taste: Dry, lean, clean-tasting, and crisp
Color: Pale straw to Gold
Abv: 3.5% to 5%
Best paired with: Spicy Food, Burgers, and Salads
Brands: San Miguel Pale Pilsen and Heineken
International Dark Lager
Taste: Medium sweet maltiness with hints of coffee, molasses, or cocoa.
Color: Deep Amber to Dark Brown
Abv: 4.5% to 6%
Best paired with: Sausages, Pizza, and Burgers
Brands: San Miguel Cerveza Negra and Kozel Dark
Imperial Stout
Taste: Rich, deep and complex with a blend of roast chocolate and coffee character.
Color: Dark reddish brown to black
Abv: 8%-12%
Best paired with: Chocolate, Desserts, and Shellfish dishes
Brands: Turning Wheels Single speed stout and Perfect Pint Cacao Kick Breakfast Stout
Witbier
Taste: Pleasant bready, grainy malt flavor, often with honey or vanilla character.
Color: Pale straw to deep yellow color
Abv: 4.5% to 5.5%
Best paired with: Spicy food and fruity desserts
Brands: Boondocks Wheat Ale and Crazy Carabao Wheat
These are just some of the beer styles out there and there are many more styles to discover. Try and explore different beers to find the one that suits your preference and palate. Just remember, drink moderately and try not to chug all the beers in one go!
Go grab your favorite beer and let's celebrate Oktoberfest! Cheers! Enjoy and Drink Responsibly!
What is your favorite beer and food pairing? We'd love to know about it so comment below!
For appetizing dishes with beer as an ingredient! Check out these recipes!
Follow us on Facebook, Instagram, Tiktok, and Youtube for foodie finds, re-imagined recipes, and easy eats that will take Pinoy bellies on an adventure!