Sometimes, eating in a buffet restaurant can be a hit or miss kind of experience. The food may be good though the choices are limited. The place is ideal for large gatherings, yet the spread is so-so. The buffet is exceptional but the price? Nevermind. Let's just say that having an excellent and unforgettable buffet experience nowadays can be challenging. One food hall however, is outdoing the rest with its excellent and extensive choices, spacious dining sections all within a decent price point. Welcome to The Alley by Vikings at Ayala Malls Manila Bay.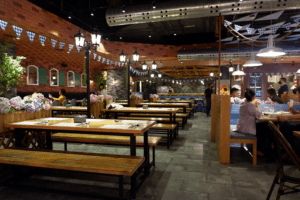 But what makes this specific branch of The Alley by Vikings a cut above the rest? It's all thanks to Chef Michael Santos. Chef Michael and his dedicated team makes sure all 15 stations of the restaurant are consistently churning out excellent dishes, treats, and libations to indulge and satisfy their buffet goers.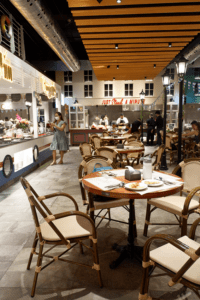 Located at the 3rd floor of Ayala Malls Manila Bay, The Alley by Vikings makes for a great eating destination, distant from the congested traffic from the usual tourist-y locations the area is known for. Here, you and your group (be it a date or a very large party of 100) will get to be spoiled yourself with 15 dining kioks each with its own distinct offering: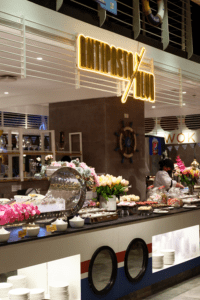 Antipasto Blvd
Mouthwatering appetizers, meal starters, and D-I-Y Salad Bar
Ocean Eleven
Everything made with fresh seafood: baked oysters, paella, shellfish entrees and more
Lost and Pound
Comfort food galore like burgers, chicken wings, nachos, and fries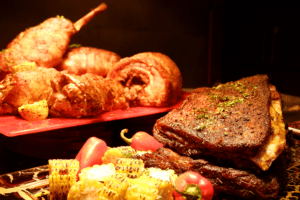 Just Steak a Minute
We think this is the most sulit of the stations: roast prime rib, lamb, porkloin and, chicken
La Sap
Leveled-up Filipino food
Hao Chi
Outstanding dim sum and other Chinese banquet staples
Buono
On-the-spot pasta cooking and other Italian favorites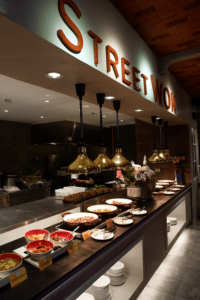 Street Wok
Popular Korean mains like jap chae, bulgogi, spicy chicken, and a lot more
Yatai
Fresh slices of sashimi, creative sashimi, and tempura cravings
Frituen Batsoy
Pork specials Bagnet, Crispy Pata, plus more Filipino fusion cuisine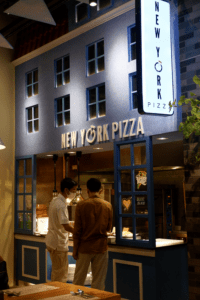 New York Pizza   
Fresh, hand-made, pugon-cooked pizzas
Honeycomb
The most delightful desserts and treats made from scratch everyday is served here as well as juices, sodas and other non-alcoholic drinks.
Bibingka and Puto Bumbong Station
No need to wait for Simbang Gabi to eat this scrumptious duo. Enjoy them freshly-made and generously slathered with your favorite traditional toppings.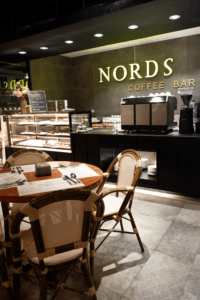 Nords Coffee Bar
From Americano to Latte, hot or cold, The Alley's resident barista will make your brew on the spot. 
Kegz
This is where the party begins. Here, you're served with your choice of alcohol-based libations and beers.
What we also appreciate most about this 400-seater food hall is the casual ambiance matched with excellent service provided by the staff. From the cook-to-order dishes delivered to your table (just keep your stub number!) to the personable service in making your drinks, you'll surely get every penny's worth at this branch.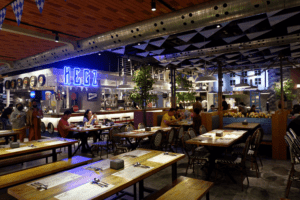 With a restaurant operation this huge and daunting; starting from lunch to dinner time and expecting hundreds of hungry diners coming in, Chef Michael certainly has a lot on his plate. But for the veteran chef who's had extensive restaurant experience, it's a challenge he's certainly thriving in.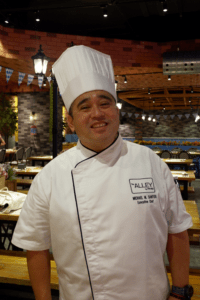 When we asked about which food station he wanted to highlight, Chef Michael proudly shared, "There's no really favorite station for me because everything speaks for themselves: our carving station is excellent, so is our Chinese, our burgers, shawarma, etc." but on a personal note, he responds: "My favorite is the coffee station [Nords], just because I love coffee."
Prioritizing quality over quantity when it comes to the food they're serving, as well as providing topnotch service by the wait staff, trust us— you'll find yourself looking for any reason to eat at The Alley by Vikings in Ayala Malls Manila Bay.
The Alley by Vikings. 3rd Floor, Ayala Malls Manila Bay, Diosdado Macapagal Blvd. cor. ASEAN Ave. Parañaque City. For reservations and inquiries, call (02) 8845-4647 or email thealleymanilabay@gmail.com.
For upcoming promotions, visit their Facebook page.
Follow us on Facebook, Instagram, Tiktok, and Youtube for foodie finds, re-imagined recipes, and easy eats that will take Pinoy bellies on an adventure!