By Angeli De Rivera
There's nothing like the comfort of food in big servings especially when you're in an extreme mood. Happy? A huge burger with a side order of large fries. Sad? Indulge in a much-deserved dessert. Really hungry? A pizza all to yourself.
This is also the reason why diners are often associated with comfort food. They're known to have a menu of dependable favorites that could easily satisfy a hungry customer. Jean Dumago-Descallar has always dreamt of owning a diner, and at the young age of 55, her dream has finally come true.
The people who give you their food, give you their heart," shared Jean. Using her and her family's love of traveling and discovering new food for inspiration, Jean opened up Diner 55, a place where Filipino foodies could find themselves enjoying excellent comfort food from around the world.
The owners tapped Chef RJ Ungco for the challenge to come with their dream menu. "Some dishes don't just make your tastebuds sing, some of them also make your heart flutter. But for every person, that dish could be different—especially for Filipinos.
With that in mind, Chef RJ and his team came up with Diner 55's extensive 55-strong menu with inspirations from west to east of the world to impress the diverse Filipino palate.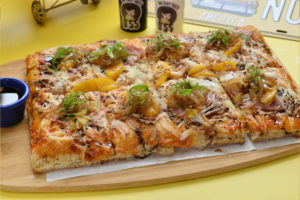 Standouts include the Yo! Fernando, the namesake of Jean's husband which is a focaccia-based tomato pizza that's loaded with double smoked ham, peaches, and mozzarella cheese with a balsamic reduction as its sauce. It's a must-try for those with an adventurous palate.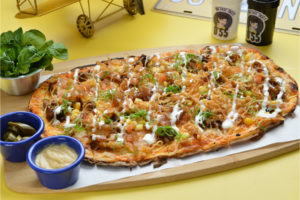 Hey, Jean! on the other hand, plays on the roll-up pizza that trended years before. It's inspired by the Fugazetta-style pizza of Argentina. Their version uses a mozzarella-stuffed tortilla for its bread that's topped with grilled Piri chicken, cheese, fresh arugula, corn salsa, crispy fried onions, jalapeños. and a rich aioli.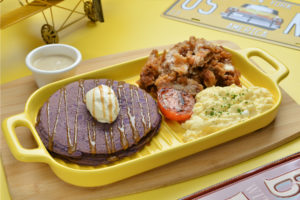 Diner 55's take on the classic chicken and waffles gets extra credit for its local twist. The Ooh-Beh! Waffle and Chicken platter consists of a huge 2-stack serving of ube buttermilk waffles with whipped butter and dulce de leche sauce, crispy chicken chunks, and a side of the fluffiest-looking scrambled eggs and grilled tomato to make your mornings brighter.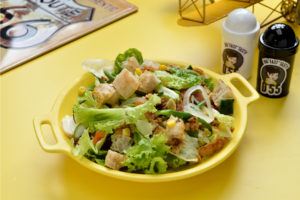 Even the salad gets a super-size treatment. The High Five Salad is a medley of textures and familiar flavors: The base is a toss between asparagus or French beans. It is made more sumptuous with the addition of corn kernels, crispy onion bits, cucumber, tomato, lettuce, grilled Piri chicken chunks, and a hard-boiled egg. Make sure to drizzle in the special orange dressing and mix it all together for that burst of tang in every bite.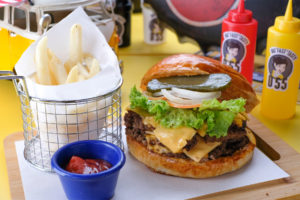 No diner is without its signature burger and Dinner 55 is no exception. The 5-5 Burger is a perfect 10 when it comes to portion and flavor. Imagine a pure beef patty with melted American cheddar slathered with a specially formulated burger sauce nestled between pillowy potato brioche buns. It gets even better with add-ons of American pickles, fresh tomato slices, lettuce, and red onions, plus a side of fries to complete the classic diner tandem.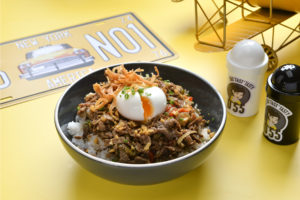 Asian comfort food faves are also represented like the Garlicky Beef Bowl. Diner 55's leveled-up rendition of the Japanese fast-food staple uses tender beef belly that's long been marinated in a sweet soy sauce then sauteed with lots of onions and garlic. After mounding it on freshly-cooked rice, the dish is topped with a soft-boiled egg and crispy onions for garnish.
The desserts at Diner 55 aren't just for comfort but are also out to impress like the Cereal Milk Panna Cotta. Taking its cue from New York's Momofuku signature creation, Diner 55 plays on childhood flavors of cornflakes-infused milk and making it into a luscious pudding that's made more sinfully indulgent with caramel popcorn plus a scoop of your ice cream flavor of choice.
Aside from the creative takes on comfort food favorites is how Diner 55 also doesn't shy away when it comes to portion and sizing. So, as a friendly precaution make sure to bring a big appetite when you decide to try their dishes.
With a fun menu this infectiously positive and inviting as well as meals that promise a full belly with their plus-size servings, Diner 55 is dashing it way into our food-loving hearts.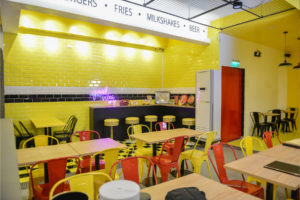 Diner 55 is set to have its soft launch this November 4 but come November 29, their Quezon City restaurant will be ready to welcome customers for dine-in. The three-floors of the fast-casual eatery even has their own functions: al fresco dining at the ground floor, a bar setup plus the kitchen area on the second floor, and a third floor that can be transformed into meeting rooms or karaoke venues, which is ideal for big groups looking to unwind while still feels safe and secured in a sanitized environment.
Diner 55. 1-I Dr. Garcia Street cor. Mother Ignacia Avenue, Brgy Paligsahan, Quezon City
Contact (02) 7256-4345 to place orders for pickup or delivery
The new diner is open daily from 11AM-8PM
Follow Diner 55 on their Facebook page or Instagram
Follow us on Facebook, Instagram, Tiktok, and Youtube for foodie finds, re-imagined recipes, and easy eats that will take Pinoy bellies on an adventure!