By Samantha Ramos-Zaragoza
Iconic foodie sites across Metro Manila aren't just testaments to our melting pot of local delicacies. From public markets to clusters of restaurants, these locales are experiences of the cultures that have shaped the capital's neighborhoods and communities. Keep our culinary heritage alive and use this guide to 15 Metro Manila eat stops for your next gastro-venture.
Considered the pet shop hub in Recto, Arranque Market is also a gem for foodies looking for interesting finds. Stock up on experimental ingredients like
frog legs, abalone, fermented vegetables, sea cucumbers, fish lips, ducks, pigeons,
and
eels
for your next kitchen undertaking.
The quiet Quezon City neighborhood is prized among regulars and a gastro-hub for taste seekers looking for Asian hole-in-a-walls and comfort food fixes. Get your hands on
Bugis Street Food
and
Shiok Shiok's
Singaporean hawker delights,
Shuin and Fong Wei Wu's
Taiwanese dishes,
Kabigting's Halo Halo
and merienda favorites, and
Lam Tin Tea House
and
Shanghai Hand Pulled Noodles'
specialty Chinese soups, dimsum, and rice toppings.
We're big fans of Binondo and make it a point to do a yearly stopover in this Chinese-Pinoy mecca. Among classics we can never pass on are
New Po Heng Lumpia House
,
Ho-Land Hopia & Bakery
,
Sincerity Cafe & Restaurant
, and
Dong Bei Dumpling
.
Check out our features
for more info on these favorites!
Image from Foursquare
Bargain for the lowest priced seafood in this market where you can bring home the fresh catches of the day, just make sure you're there at 3am to score the best loot. Experience the unique way merchants and buyers haggle for the right price, which is through whispering, hence the name bulungan.
When it comes to novelty Asian snacks and ingredients, we trust Cartimar groceries to always deliver. Visit
Tiong Hwa Food Products
and
Darumaya Japanese Food Center
for new pantry staples like Miyakoichi Yakisoba, Otofaku Okonomiyaki Sauce, Marumiya Sukiyaki Japanese Furikake Rice Seasoning, Nagatanien Asage Miso Soup, and ramen soup base packets.
A feast for your shopping cravings, Dapitan Arcade brings more bang to your buck when it comes to dressing up your kitchen. Though not necessarily selling food, Dapitan Arcade has been known for quality yet affordable finds for the home, perfect for exercising those cooking skills with the right tools and motivations. Head straight to Stall 40 for
tableware starting at P40
, Stall 4 for
oriental kitchen decor
, and Stall 56 for
decorative pots
. Don't miss checking out
Kanlaon Street
nearby for
wooden plates, pot holders, sculptured glasses,
and so so much more.
Divisoria is home to streets selling fresh produce and unique finds, not to mention bulk buys to start the food business of your dreams. Go to Soler, Tabora, Commercio, Sta. Elena, CM Recto, and M. De Santos streets for
kitchen and catering ware, food packaging, spices and ingredients in bulk, fruits, veggies, candies,
and
snacks.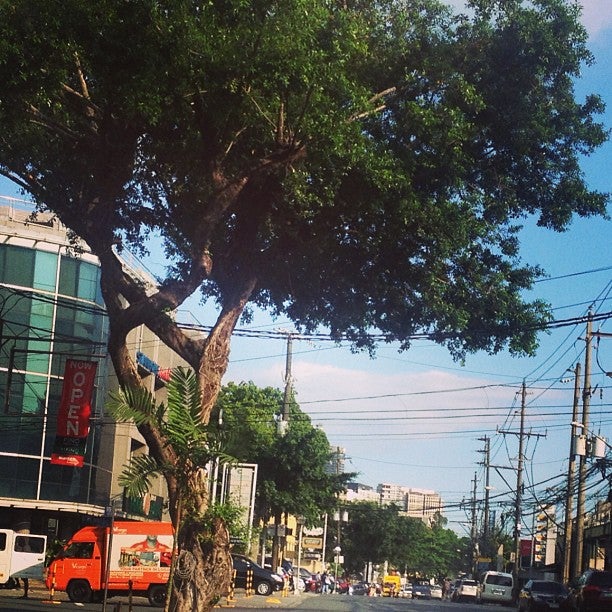 Image from Foursquare
One of Makati's main streets and once the busy route for the city's old residential villages, Jupiter Street has naturally become a magnet for restaurant owners taking advantage of its high traffic and regular prospects. From having a string of iconic restaurants to sprouting hip clubs, and to recently housing karaoke-loving folk, there's an old Makati feel that remains when you visit places like Korea Garden, which has been around since 1973, and even in the new and promising visionaries like Sweet Ecstasy, Lazy Bastard, and IMC Kavino.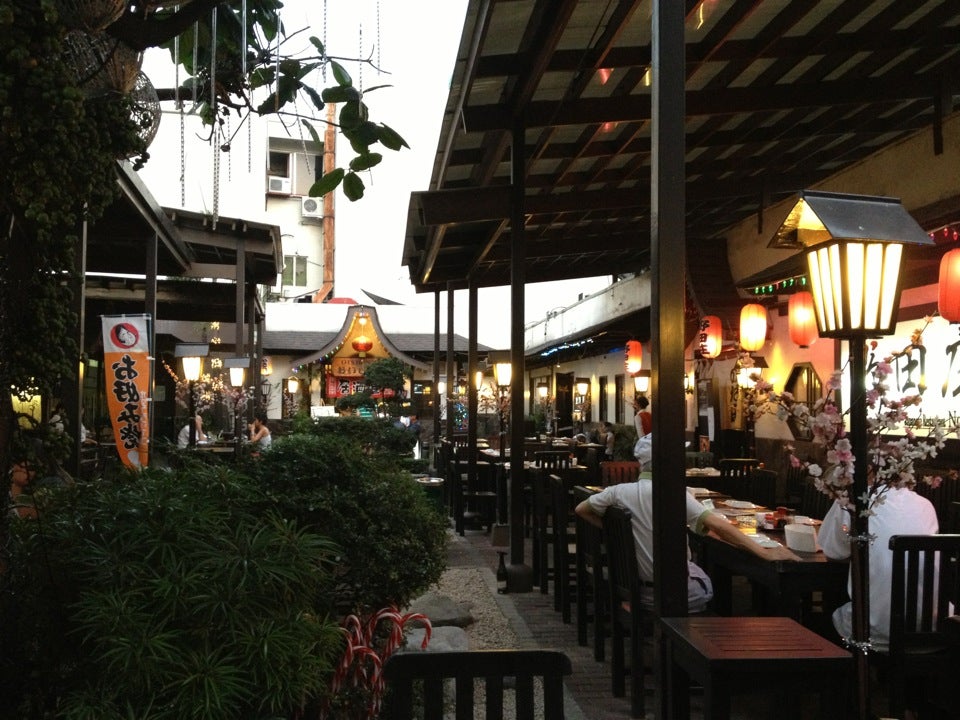 Image from Foursquare
Feel free to turn Japanese in this quaint village-looking food stop in the midst of Pasong Tamo skyscrapers, and devour some of the most authentic sushi, sashimi, ramen, okonomiyaki, takoyaki, and more! With about half the shops run by their Japanese owners and ingredients imported from their home country, but with filling meals that start at P200, time-tested crowd favorites like Izakaya Kikufuji, Kagura, and Riozen, even the grocery Choto Stop, are beacons of satisfying and topnotch comfort food for office workers and patrons.
Before Poblacion became 'Pobs,' the historical community has kept most of its heritage despite Makati's modernization, and has been transforming itself from a bustling plaza for its growing neighborhood, to red light district, to now sprouting some of the city's hippest concept restaurants in its laid-back vibe. Before
ABKD, Agimat, Tambai,
and
Royal Indian Curry House
to name a few, hole-in-a-walls and hidden food gems have already been captivating foodies from all walks of life for years.
Come to Quiapo to pray, trade, and yes, to eat. With the most visited Catholic Church and home to the largest mosque in Manila, the district in the heart of the city, still sheltering colonial structures and homes, entice throngs of people to
classic grub hubs, street food, halal offerings,
and even cheap wares. Visit fortune tellers and check out the herbal concoctions in Plaza Miranda, have a massage in the middle of the street, then go have your fill of
mami, goto
, and
authentic Chinese fare
on Hidalgo street. Are
Globe Lumpia House
and
Ma Mon Luk
all the rave with your lolos and lolas? Find them still standing through the test of time on Raon street and Quezon boulevard.
Image from The LJC Group
The historical circle that was once a cemetery in Spanish colonial era, and in the residential center of the Philippine elite, suffered from urban decay after World War II. We have the regarded Larry Cruz of The LJC Group to thank for spearheading its revival in the 80s with Café Adriatico (and later In The Mood, Larry's Bar, and Bistro Remedios) that soon became the talk of the town of its time. Other entrepreneurs followed suit and Malate earned its distinction as the nightlife district until the 90s. Today, foodies flock to Remedios Circle and Malate for classic comfort food like The Aristocrat, LJC's iconic restaurants, Purple Yam, Tanabe, and more.
Image from Salcedo Market's Facebook
Since 2004, Salcedo Park's Saturday Market has been bringing the Makati community together with over 150 stalls of sought-after food finds. While other morning market concepts have folded up, Salcedo Saturday Market remains strong for sticking to the classics through featuring regional cuisine, international gourmet food, desserts and delicacies, and organic produce. With the rate they're going, it seems like this is one market that is here to stay.
Image from Seaside Dampa's Facebook
Among Macapagal Avenue's landmarks is Seaside Dampa, the haven for fresh seafood and meats you purchase from their wet market and have cooked the way you like them from rows of restaurants (like crowd favorite Aling Tonya's) highlighting different specialities. You haven't experienced Filipino cuisine if you haven't gone to a dampa, and going to this classic time-honored staple brings the tasty adventure home.
Brimming with food options and a thriving night life, these nearby streets to the country's
top TV stations
(that consequently fuel the areas' culinary industry), attract flocks of foodies and fans to locally grown unique concepts, along with celebrities' side businesses and possibilities of scouting local actors hobnobbing. From popular
90s hang-outs
such as
Tia Maria's, Alfredo's,
and
Gene's Bistro
to today's promising finds like
La Spezia MNL, The Frazzled Cook, Kusina Juan Republika, Concha's Garden Cafe,
and so so much more, it's no wonder the
Department Of Tourism
has named Morato a tourist belt.