Listen to this article:

When two local companies who share the same values and vision like championing indigenous flavors come together, then it's a product worth raving about. With that said, Destileria Limtuaco (the name behind some of the country's best-tasting crafted spirits) and Karabella Dairy, a dynamic young ice cream company that prides itself on using 100% carabao milk for their ice cream line, recently teamed up to produce a festive gelato collection celebrating the best of local flavors inspired by some of the country's finest crafted spirits.
View this post on Instagram
The partnership was led by both companies' 2nd generation owners, respectively Brandon Limpe-Aw, Vice President for Admin of Destileria Limtuaco & Co., Inc, and EJ Buenaflor, Karabella's gelato chef and chief tastemaker. Both parties were equally responsible for the development of the flavors—from balancing the taste and alcohol content to adding new ingredients that would complement the flavors of the classic liquors.
Here are the five flavors you all need to try:
Very Old Captain Artisan Crafted Dark Rum
The distillery's perfectly crafted, deep-tasting rum goes perfectly well with the chocolate gelato mixed with it resulting in a deep-tasting, highly-addicting, chocolate ice cream.
Paradise Mango Rum Liqueur 
Bright yellow, naturally sweet, and abundant all over the country, one of our most prized fruits is the Philippine Mango. Its alcohol-based, ice cream version is mixed with toasted cashews for added texture and nutty creaminess.
Manille Liqueur de Calamansi
Destileria Limtuaco's vodka-based calamansi liquor levels up with the addition of basil in every velvety cream spoonful. Not only is it a dessert, it can also be served as a palate cleanser in between courses due to its clean yet citrusy-floral taste.
Intramuros Liqueur de Cacao
Another chocolate-based ice cream, this time it uses Destileria Limtuaco's cacao liquor and is enriched with tablea chocolate chips adding texture and enhancing the chocolate experience in each scoop.
Amadeo Coffee Liqueur
Coffee liqueur is a treat by itself. Making it into an enticing ice cream flavor plus a generous sprinkling of cacao nibs for crunch and taste? Enjoy a creamy, caffeinated indulgence to have any time of the day.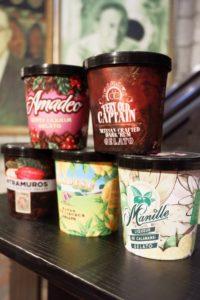 The Destileria Limtuoco x Karabella Gelato line is available in various sizes: 100Php for a cup, 395Php for a pint, and 995Php for a tub. They can be availed at the Destileria Limtuaco Museum in Intramuros. You can also order from Karabella through their Facebook page.
As a bonus, do try to also visit the Destileria Limtuoco's Museum in Intramuros. Visit them at 482 San Juan de Letran Street, Intramuros, Manila. Operating hours are 9AM-6PM from Tuesday-Sunday.
Follow us on Facebook, Instagram, Tiktok, and Youtube for foodie finds, re-imagined recipes, and easy eats that will take Pinoy bellies on an adventure!