When I was a young girl and all throughout my younger teen years, our route, if traveling south from our hometown of Pateros, was through the quiet streets of Taguig's old town proper. I can still recall the native restaurants that dotted the stretch of Laguna de Bay, which could only be reached from M.L.Quezon Avenue. I remember appreciating then the charm of driving by the old houses along the road and the leisurely pace we travelled in, albeit I wasn't the one driving yet. Fast forward to this year, we now hardly traverse this part of Taguig because of the C5 and C6 highways. A few days ago though, I found myself behind the wheel, this time to check out a new dining destination on a once familiar road.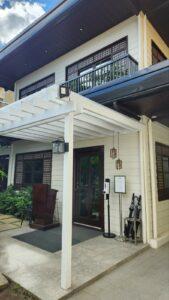 My destination for the day was White House Taguig. It's easy to identify since it sticks out like a sore thumb and it's the only fine-looking eatery along the quiet residential stretch. The inside of the restaurant is as welcoming as the façade. Guests can either sit in the foyer or garden area on the ground floor. Bigger parties can take the 2nd floor which, has a bit more room and has a lot of light during lunch hour. By night time opt for the beautiful al fresco sitting at the back for a more relaxed ambience. I later learned that the house once belonged to a prominent family from Taguig and the current owners decided to preserve the structure because of its storied history. Locals would call it the "white house" hence the name of the place.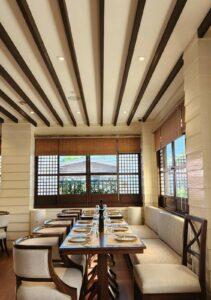 It piqued my interest when I heard that Chef Bruce Lim just opened a new restaurant in Taguig, and not in its hippest commercial area, aka BGC. Why would a renowned chef choose to set up camp on a location that's far from the happening crowd? The answer to that would be the unique dining experience they are offering. It makes you also realize: why go to a crowded place that serves the same dish a few stores away when you can have an exclusive and exceptional dining experience specially made by Chef Bruce and his team? With that kind of dedication and sincerity, you know that you're in for a treat.
White House's menu consists of Pan-Asian favorites selected by Chef Bruce together with the owners for their classic flavors and international appeal. What's more is they use authentic ingredients required for each of their dishes and makes no cuts when it comes to servings sizes and flavor.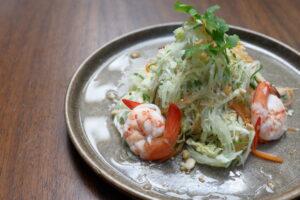 We were first served with the Green Papaya Salad or Som Tum (Php 335.00), a Thai dish composed of thinly-shredded papaya, a sprinkling of chopped nuts and fried mung beans for texture, plus garnishes of plump shrimps all dressed with a simple yet flavorful sauce. It made for the perfect mouthwatering starter of our multi-coursed Asian meal.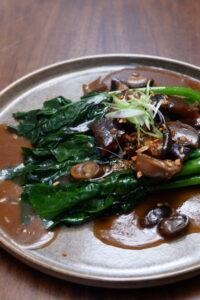 Next was the Gai Lan or Chinese Broccoli in Oyster Sauce (Php 415.00). This dish is deceptive in that it looks simple, yet the technique to build its underlying flavors is amazing. You can tell from first bite that the gai lan or Chinese broccoli was flash fried in a high heat to get its smoky flavor but still retain its color and crispiness. The addition of oyster sauce sautéed with shiitake and straw mushrooms plus a final flourish of fried garlic nicely balances the slight bitterness of the greens. This is a vegetable dish I would order again and again.
The Chow Mein (Php 565.00) makes for a great crowd pleaser. Imagine a large nest made of wheat noodles that's been deep fried to a crisp then topped with a soy-based gravy cooked with seafood and vegetables. Toss them all together and you get a fun and delcious-tasting noodle dish.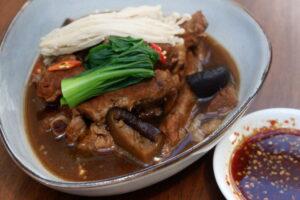 The restaurant also makes a mean Malaysian-style Bah Kut Teh (Php 780.00). From the first spoonful, you can make sense how much time and effort went into making this soulful soup. Chef Bruce didn't scrimp on the spices or ingredients that went into it as well. Drizzle a bit of the sambal sauce to add dimension and spice to your serving.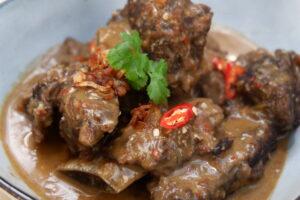 Another excellent entrée is the Rendang Daging (Php 810.00). Bold, creamy, and with just the right amount of heat, Chef Bruce's rendition of this classic Malaysian beef curry makes you want to order more rice just to match the richness of this stew.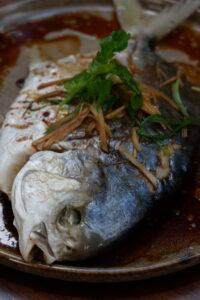 For a lighter more sophisticated choice go for the Steamed Pampano or Quing Zheng Yu (Php 980.00). Chef Bruce takes a beautiful pompano, steams it, then dresses it up with an elegant soy ginger sauce—simply executed yet sensational with every bite.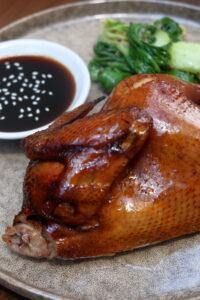 When asked about the dish he wants to highlight, Chef Bruce proudly mentioned the Soy Sauce Chicken (Php 615.00). White House does their version of the HK favorite by braising it low and slow in a soy broth mixed with seasonings, aromatics, and spices. The result is a succulent, umber-skinned masterpiece that glistens at every angle. To complete the dish, the chicken is served with steamed bok choy and a side of thick sweet soy sauce. Chef Bruce is right to be proud of this one.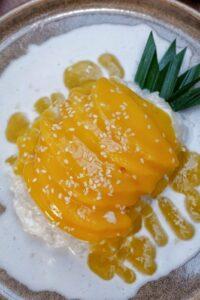 A fantastic meal needs a perfect ender and the Thai Mango Sticky Rice (Php 300.00) is the exclamation point to this Asian feast. A generous serving of glutinous rice cooked with coconut milk is topped with more coconut cream and even slices of ripe mango plus a generous drizzling of mango pureé. If you ask us, it's best to enjoy it with a cup of freshly-brewed Vietnamese coffee.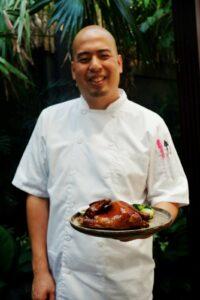 Gone are the old restaurants that we used to go in this part of Taguig. The M.L. Quezon Avenue also seems narrower than I used to remember. But now, I'm happy to traverse this old road again, just to make a delicious pilgrimage to Chef Bruce's White House.
White House Taguig. ML Quezon Avenue, Brgy. Hagonoy, Taguig, Metro Manila. For reservations, call (0960) 322-4823.
Visit their Facebook page and Instagram.
Follow us on Facebook, Instagram, Tiktok, and Youtube for foodie finds, re-imagined recipes, and easy eats that will take Pinoy bellies on an adventure!