by Meryl Medel
Life's a little bit hard on everyone right now (an understatement, I know), and each one of us has our own ways of dealing with stress. But maybe a nearly universal method of de-stressing is indulging in a sweet dessert or a good drink. And what if you can do both in one go? Because yes, it's possible. Check out these booze-infused treats you can indulge in to de-stress without worrying about a hangover.
Brownie Bar
View this post on Instagram
Brownie Bar prides itself with their "perfect liquor brownie bar" that is crispy on the outside, fudgy inside baked with three different chocolates and a choice of liquor that intensifies that sweet taste of this baked treat. It looks innocuous enough that a child might take interest in it, and if you don't mind a small dose of alcohol for your kid, you can let them have a bar. According to their website, most of the alcohol is baked off during the baking process so there's not enough to get your child intoxicated. Order through their website. Prices start at PHP 470.
The Drunk Baker
View this post on Instagram
The Drunk Baker took your favorite strawberry cheesecake and brought it to the next level. This sweet treat is made of a lemon olive oil cake as a base wrapped in a generous serving of rum cream cheese frosting and topped with a lot of sliced fresh strawberries. Order through their Instagram. Prices start at PHP 810.
Maricar's Chocolate Cakes
View this post on Instagram
Who hasn't heard of Maricar's infamous chocolate cakes? This is where the tin can cake craze began. The chocolate cake itself is made rich with the mix of dark chocolate and red wine, and it's completed with a luscious chocolate swirl icing on top. Order through their Instagram. Prices start at PHP 699 for the chocolate cake in tin cans.
Flour Pot
View this post on Instagram
Made with luscious layers of vanilla sponge cake brushed with their Mango Rum soak from Destileria Limtuaco, filled with buttercream and fresh diced mangoes, and topped with custard and fresh fruit, Flour Pot's Mango Paradise cake is exactly that — a paradise. Order through their Instagram.
Sparkling Gummies
View this post on Instagram
If you like snacking on something while doing your tasks, then you should give these Sparkling Gummies a try. It's the familiar chewy gummies, a whole world of deliciousness packed in a bite-size — just spiked with wine and booze. They've also got some other non-alcoholic flavors if kids want to try. Order through their Instagram. Prices start at PHP 280 for the booze-infused gummies.
Tipsy Tea
View this post on Instagram
Want an actual drink instead? Maybe a cup of milk tea? This infamous milk tea mixed with your favorite booze is the one for you. Tipsy Tea has got all sorts of alcohol-infused milk tea for you; just pick your favorite: Bailey's Kahlua Frangelico, Tequila Rose, Tequila, Vodka, Rum, Whiskey, Gin, and Creme de Mint. Order through Foodpanda. Prices start at PHP 128.
Tipsy Cream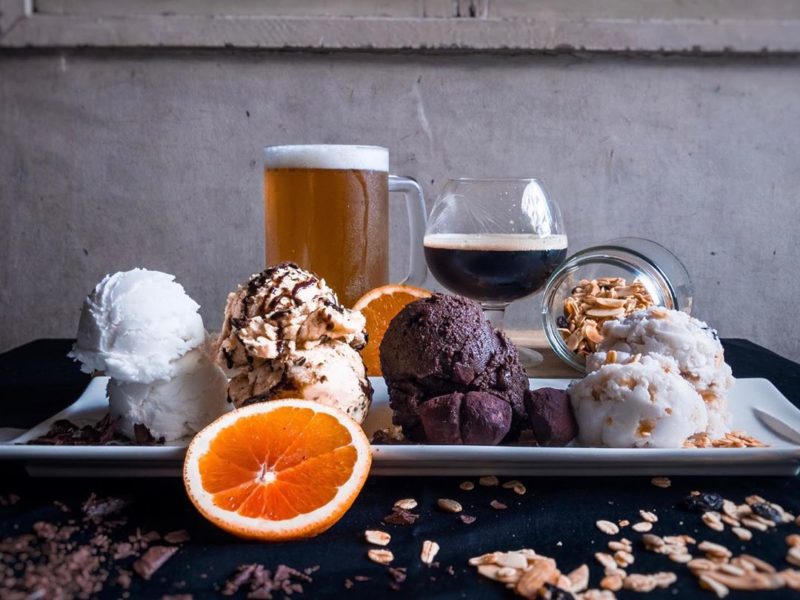 If you're a fan of cool and chilly desserts but still want a little taste of booze, get yourself some of this beer ice cream from Tipsy Cream. You can get a bundle of four beer-based flavors in one go, which would include their Apple Lager Strudel, Pilsner Stracciatella, Guinness Milk Chocolate, and their classic Vanilla Beer. If you want a fancier kind of alcohol, they also have these flavors to choose from: Calamansi Mojito, Sangria Sorbet, Pistachio Whiskey, Strawberry Vodka, Bourbon Custard, and Hot Chocolate Brandy. Order through their Instagram. Prices start at PHP 250.
The Dairy Grind
View this post on Instagram
Here's some more booze-infused ice cream you should try. The Dairy Grind has a lot of unique flavors offered under their Spiked Scoop menu. Strawberry Margarita, Vodka Mudslide, Coffee Rum, Spiked Butterbeer — everything's a must-try. Order through their Instagram. Prices start at PHP 250.
Follow us on Facebook, Instagram, Tiktok, and Youtube for foodie finds, re-imagined recipes, and easy eats that will take Pinoy bellies on an adventure!

This article was republished with permission from 8List.ph. Minor edits have been made for Bitesized.ph.