by Kyzia Maramara

Who said dates are for couples only? You most certainly can take yourself on a date whenever you like and it doesn't have to be an awkward affair either. A solo date night means freedom — you can go wherever and do whatever since you run the whole show. It's time you watched the latest movie at the cinema, chilled at a rooftop bar while watching the sunset, or visited that restaurant you've been eyeing for a while. And we know just the best restaurants for your special solo date in Metro Manila.
1120 House
View this post on Instagram
Estrella St, cor. Amapola St., Makati
Sundays to Thursdays, 11 AM to 9 PM
Fridays to Saturdays, 11 AM to 10 PM
Facebook | Instagram
1120 House is a new restaurant in the heart of Makati that could be your next solo date night spot. It houses three brands: Bon Appetit Café at the House, Rustan's Flower Shop, and Lady Scott Jones — food and shopping under one roof. You have the option to dine alfresco or inside the spacious indoors. Huge windows and pendant lamps hanging from the ceiling bathe the wooden tables and rattan chairs in a warm glow. Large plants are also scattered all over the place giving the feel of a secret garden.
View this post on Instagram
As for the menu, it includes starters, greens, sandwiches, pasta, baked goods, and dessert. But the star of the whole restaurant is their pork dishes. Must-tries include the mouthwatering Torched Chashu Pork Shank (P795) and Korubuta Pork Belly (P575). There's also the Bon Appetit Roast Organic Chicken (P595) that's gluten-free and the dairy-free Seafood Bouillabaisse (P785). Don't forget to treat yourself to a slice of Dark Chocolate Cheesecake (P265) for dessert!
Greg & Sally Tree Cafe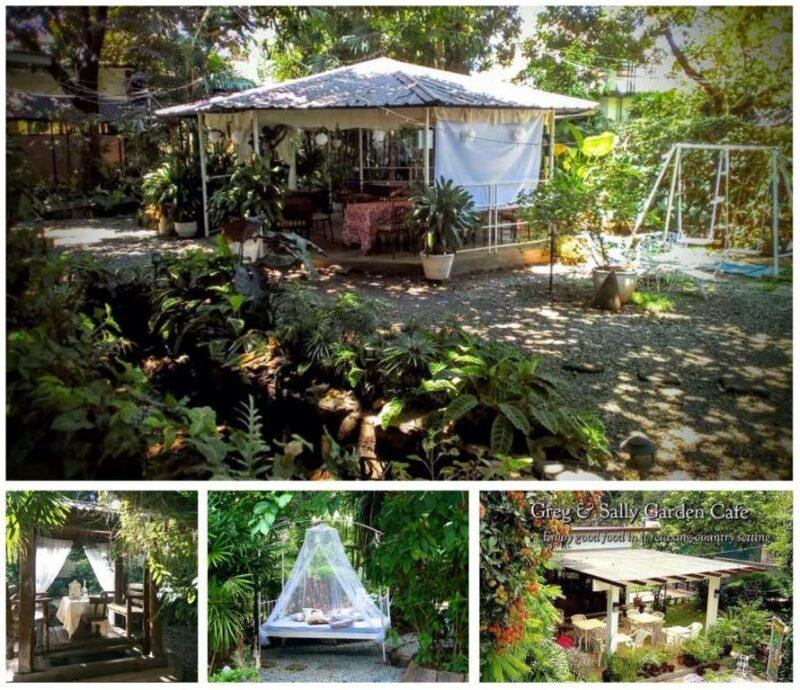 145 Ipil St. cor. Champaca, Marikina Heights 1810, Marikina City
Thursdays to Sundays, 11 AM to 9 PM
Facebook | Instagram
Not totally comfy with enclosed spaces? Don't worry, you get to enjoy the quiet outdoors at Greg & Sally Tree Cafe. This lovely cafe gets bonus points from plantitos and plantitas thanks to the greens that nearly cover every surface once you get past the property's gate. For solo dates, it's an intimate garden setting that allows you to slow down and hear your thoughts better. The cafe's menu includes a lot of delicious home-cooked Pinoy food — Pork Sinigang (P250 good for 3-4), Daing na Bangus with rice (P170), and Bagnet Pakbet Platter (P350 good for 3-4). At night, the fairy lights come on to make the place look more magical. It's one of the best restaurants to have your quiet me-time at!
Le Petit Cafe Fleur
View this post on Instagram
5893 Enriquez St., Poblacion, Makati
Tuesdays to Sundays, 10 AM to 10 PM
Facebook | Instagram
This quaint restaurant in the heart of Makati is Chef Sau's tribute to his mother who "expressed her love and her emotion [through] her cooking." Cafe Fleur's relaxing IG-worthy interiors lets its customers bask in the peace and quiet and their well-thought-out menu has too many delicious offers to choose from. You can dine alfresco at the restaurant's patio area or spend a few hours inside the cool cafe.
View this post on Instagram
The menu includes salads, pasta, and small or big plates for your meal. Treat yourself to the bestseller Sisig Tartlets "Pie Tee" Calamansi and Chili Sago (P495). The Baked 4-Cheese Potato Gnocchi Provolone, Asiagu, Parmigiano and Gorgozola (P575) is also a must-try especially if you're a cheese lover. For dessert, you can have a slice of their creamy San Sebastian Burnt Cheese Cake (P375). Cafe Fleur also has a great cocktail and drinks menu if you're in the mood to indulge alone.
Seoul-Sky Restaurant
View this post on Instagram
33rd Flr. MDC 100 Eastwood Ave. cor. E. Rodriguez, Bagumbayan, Quezon City
Mondays to Sundays, 11 AM to 8 PM
Facebook | Instagram
Korean cuisine with a view? That's what awaits you at Seoul Sky Restaurant on the 33rd floor of MDC 100. One wall is a floor-to-ceiling window that looks out over the city and basks everything in natural light. Get your fill of Jajangmyeon (P350), Kimchi Jiggae (P380), Bibimbap (P380), Honey Butter Chicken (P900 for 2-3), and more favorite Korean dishes. To make the most out of your Emo Hours, plan your visit during sunset so you'll be sipping your alcoholic drink while gazing at the darkening sky like a main character.
205
View this post on Instagram
C2, Upper Ground, High Street Central, Bonifacio Global City
Tuesdays to Saturdays, 11 AM to 12 MN
Mondays to Sundays, 11 AM to 11 PM
Facebook | Instagram
Whether you're taking yourself out for a quick breakfast date, a solo lunch out, or even a night hang-out by your lonesome, 205 is a great option. It's located in the bustling central district of BGC, which makes it easily accessible. Outside, you could set up your own working area or just watch Netflix on your laptop, cup of coffee in hand. Inside, you can choose to sit at the bar or the lounge area. Don't forget to dress up and take lots of selfies to make the most of 205's classy interiors!
View this post on Instagram
What can you get from their menu? Breakfast, soups and salads, risotto, starters and mains, pizza and pasta, sandwiches, and more. Some of the bestsellers you can try are Shepherd's Pie (P420), Beef Salpicao (P490),  The 205 Chicken Wings (P250), and Steak and Eggs (P750). The best part is you don't even have to splurge by the thousands for your solo date.
TETSUO
View this post on Instagram
88 Esteban Abada St., Quezon City
Mondays to Sundays, 10 AM to 8 pM
8483 Kalayaan Ave., Poblacion, Makati
Mondays to Sundays, 10 AM to 8 PM
Facebook | Instagram
Dining at TETSUO will make you feel like you're in a cyberpunk movie thanks to its concrete interiors, steel chairs, and neon signs. They're known for being one of the best chicken joints in the city so if you haven't yet, check out for yourself if the rumors are true. People have been raving about their Fried Chicken + Rice (P220) and Karaage + Soba (P270) solo meals. You can also check out their Torched Salmon (P380) and Curry Spiced Pork (P230) for sharing. Take a few of their flavorful Karaage Buns (P170/pc) home and you have a delish breakfast waiting for you the next day.
View this post on Instagram
Cosmic
5057 P. Burgos St., cor. Gen. Luna, Brgy. Poblacion, Makati
Tuesdays to Sundays, 10 AM to 5 PM
7 San Rafael St., Brgy. Kapitolyo, Pasig
Wednesdays to Mondays, 10 AM to 5 PM
Facebook | Instagram
Aside from Cosmic's 'Grammable interiors of dark colors, frosted windows, and wood tables, their food is another thing that will draw you in. Go on a healthy solo date and pick your meals from their 100% vegan Filipino comfort food menu. From all-day breakfasts and rice meals to party trays and take-home goodies, Cosmic has got you covered. Not to be missed is their Cosmic Mushroom Burger with Pesto Pasta (P305) and their Vegan Spinach Lasagna (P270). You should also try out their Vegan Leche Flan (P95) for dessert. It's indulgence without the guilty feeling of too much!
View this post on Instagram
Ramen Shokudo
401 Banawe Street, Quezon City
Thursdays to Saturdays, 11:30 AM to 11 PM
Fridays 10 AM to 8:30 PM
Facebook
|
Instagram
What's better than going on a solo date to treat yo'self? Getting your fill of ramen during the said solo date. You can never go wrong with this comforting Japanese noodle soup especially when it's made flavorful and authentic. Ramen Shokudo makes the most delicious authentic Yokohama style ramen and you can watch your dish being prepared in front of you. If dining solo intimidates you, all customers sit at the bar so you don't have to worry about looking lonely (solo dates don't have to feel lonely though!).

Follow us on Facebook, Instagram, Tiktok, and Youtube for foodie finds, re-imagined recipes, and easy eats that will take Pinoy bellies on an adventure!

This article was republished with permission from 8List.ph. Minor edits have been made for Bitesized.ph.