by: Camille Bacsa
Remember when you were younger and you envisioned bar hopping to be a very sophisticated thing to do? As you grew older though, this image got quickly replaced by reality – complete with sights of one too many folks becoming too boisterous as they drink beyond their capacity – and you wish there could be alternatives where you can drink, be merry with friends, and have a healthy banter over a few friendly games to break the ice. Thankfully, society is evolving and the industry recognizes this need – thus giving birth to a myriad of
bars that entertain
not only with their gleaming cocktails and ice cold drinks, but also
games for the ones with a streak of competitiveness
. Check out our list below, and invite your friends for a unique night out!

Default Café Pub
Conveniently located in the university belt of Manila, Default Café Pub is constantly littered with students, whether they are meeting up with new found friends, or de-stressing after a deadly dose of exams. They serve collegiate friendly meals like chicken wings and booze mixed in with innocent looking milkshakes and milk teas. Complete with interactive card games, this place is the epitome of a new way to chill.
1844 Pilar Hidalgo Lim Street, Manila, Philippines
Versus Barcade PH
Versus Barcade PH is for the young and young at heart. In its core, it qualifies as a modern bar with an extensive selection from playfully named cocktails to hard drinks. What makes it special though is how it lights up with its regular DJ spins and nostalgic arcade games like Mario Kart, Street Fighter, and Pacman – where you can one-up your friends, or even other guests during their game nights. Complete with neon lights and songs from multiple generations, get ready to party classic style in this cool new place to be in town.
Ground Floor, Uptown Parade, 9th Ave, Bonifacio Global City, Taguig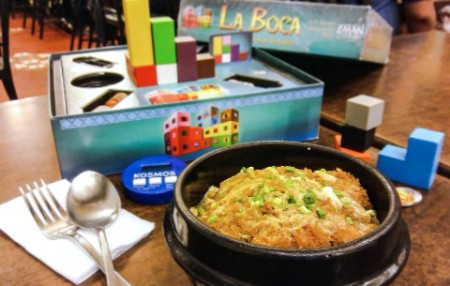 Ludo Boardgame Bar and Bistro
Sister of its famous counterpart in Tomas Morato, Quezon City, Ludo Boardgame Bar and Bistro offers a fun respite from the work-stresses of the day in the heart of Makati City. Get ready to chow down on delicious grub like cheesy nachos, gyozas, and chicken wings, whilst battling it out with your friends and frenemies with their wide selection of board games and card games. Bring out your truly competitive spirit too should you chance-upon one of their gaming tournaments. Who knows, you might just win a new gaming title, in the middle of downing a cold beer!
No. 38 Jupiter St. Corner Planet St. Brgy. Bel-Air, Makati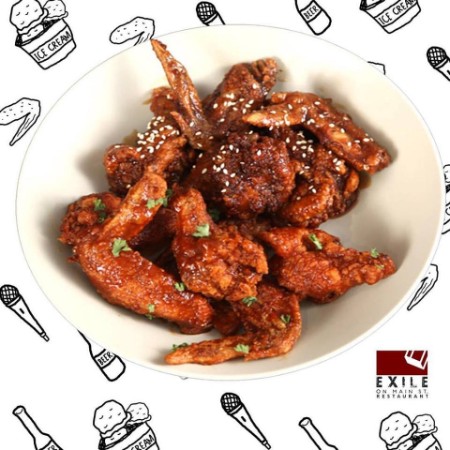 Exile on Main St.
Another Manila university belt resident (with a branch to boot in the blue Loyola side of town), Exile on Main St. prides itself in its creatively named chicken wing platters like Chick-Shall-Fry that comes in two flavors – Escape to China and Escape to Texas – and their in-store made ice creams, milkshakes, cakes, and cookies. Similarly stocked with interactive board games like The Resistance: Avalon, Zombiecide, and King of Tokyo, what really sets it apart from others in this list is that it's an artistic landscape, aiming for eye tricks with tables hanging from the ceiling, curtains made of cutlery, a wall full of whimsical artwork, and an overall quirky vibe through its décor. If you're feeling pressured, come and refresh your senses with a cold beer whilst appreciating the surreal scenery conducive for Instagramming.
Unit 2 #2428 Leon Guinto St. Barangay 727, Malate, Manila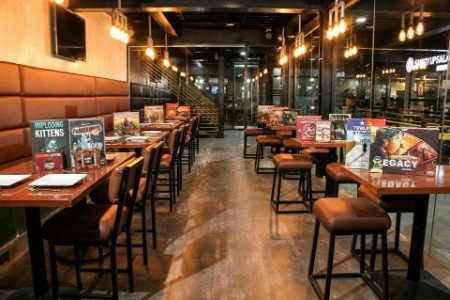 Cubix Boardgame Bar & Café
Serving both local and imported beers together with their tempting pulutans from chicharon to sizzling sisig, Cubix Boardgame Bar & Café completes their guests' nights with a fun offering of 50+ board games that are both for play and for sale. If you're more into traditional bar games though, they also have the classic beer pong for their patrons. Best way to bond for hours between friends who are always up for challenges!
1254 – 1258 Asturias St. Laong Laan, Sampaloc, Manila