During the height of the pandemic, my family desperately craved halo-halo. And when my parents crave halo-halo, it should always be from Milky Way Café. To make it convenient, we would rely on Grab to get our order. Surprisingly though, my searches in the app would always end up in Azuthai, Milky Way's Thai sister restaurant. After ordering our Milky Way halo-halo fix, which confusingly was in their list of offerings, I go back and check out Azuthai's main menu and was transfixed with their own dishes. I confess I haven't then tried this particular Thai place since there were others my family would rather go to, especially for the price point. Someday, I would mutter to myself. Funnily enough, someday came a lot sooner than expected.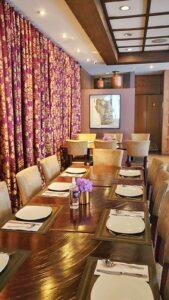 It was only during a private invitation that I got the chance to dine at Azuthai. I have been to Milkyway several times (most of them just to buy their bottled bagoong, my mother's preference for all our bagoong needs) and to Tsukiji only twice. Cirkulo will be reserved for another experience. Azuthai had always been on my restaurant bucket list since it was also where the first time I met Chef J Gamboa. It was during a very brief photo shoot for a defunct food publication I used to work in during a previous lifetime. He was endorsing then a premium ice cream brand so imagine me as a young food writer starstruck by a celebrity chef. Fast forward to today, and he's still as charming and affable as ever. Joining us as well was his equally lovely sister, Malu Gamboa-Lindo, who co-runs the operations of their family's group of restaurants. You'd think the siblings would just hand in the reins to their marketing officers to handle media lunches but there they were welcoming us with drinks and restaurant stories on hand. Soon after the introductions, our long table got filled with dishes—some classics that I needed to experience as an Azuthai newbie and the new offerings to the delight and fascination of the whole table.
First up was a classic and a Thai resto staple: Tom Yum Goong. Personally, cooking tom yum is a challenge since you need a good balance of sour, sweet, herby, and spicy. Azuthai's version hits all the right notes with hot and sour soup perfumed with fresh lemongrass, keffir leaves, and coriander and loaded with tomatoes prawns, and mushrooms. Next was another Thai favorite Tod Man Goong or Crisp Fried Shrimp Cake with a sweet spicy dip. Shrimp is grounded and mixed with aromatics and herbs, breaded then fried till golden brown. If I didn't know there would be a lot of dishes to be served at that time, I would have been genuinely satisfied with only this appetizer. The Crispy Larb Moo was a new dish—ground pork is rolled with aromatics and chilies and then deep-fried until cooked. It's akin to chicken popcorn but made with pork, herbs, and Thai spices—addicting with every piece popped in. The Yam Som O on the other hand is a refreshing starter salad made with pomelo segments, prawns, chicken, and toasted coconut all tossed in a tangy lime-based dressing.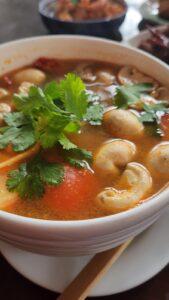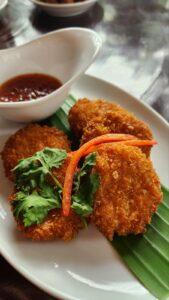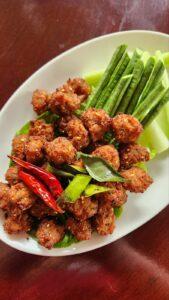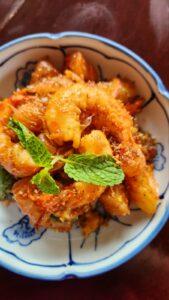 Crab omelet is all the rage in Bangkok and Azuthai's Kai Jeaw Poo can be a contender to some of the best in BKK. Once you take a bite you can taste the creaminess of the eggs happily married with add-ons of super lump crabmeat and sweet onions all seasoned with a bit of soy sauce. Don't forget to dip it into some chili and have it with some of the fried Thai basil garnish for a hint of herby bitterness to round out the flavors. I suggest pairing the former with the Khao Pad Tom Yum, a fried rice dish cooked with galangal, lemongrass, and prawns and flavored mainly with nam prik pao or roasted Thai chili paste. Mix it with the slices of cucumber and tomatoes plus cilantro garnish to bring out the flavors of the fried rice.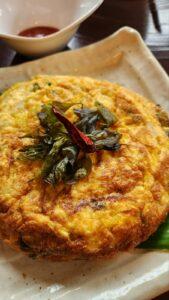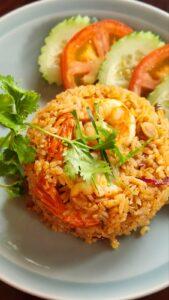 The oohhs and ahhhs came out when the main dishes arrived and rightfully so. Called Pla Tap Tim Taotiao, this show-stopping fried fish main is a feast on itself. Crispy golden tilapia that's been harvested from an exclusive farm in the south is simply seasoned and fried till crisp then poured with a yellow bean sauce cooked with ginger, garlic, and other aromatics. A bed of spring onions is laid on top to add freshness and pungency to the dish. The Gaeng Pet Phad Yang or Roast Duck Red Curry was another dish worth remembering. Savor the flavors of this red curry that's long and slow-simmered with duck meat, pineapple, and many other ingredients—you might need to order extra Thai fried rice for this one. Of course, a Thai meal will not be the same without Pad Thai and Chef J happily indulged us with their rendition of the stir-fried rice noodle classic cooked with shrimp. It was a bit hard to mess up the elegant plating which took some time to do, but how else can we honor this Thai favorite by tossing and mixing it all together and devouring every delicious bit of it?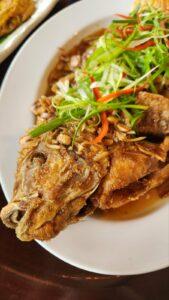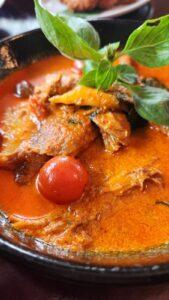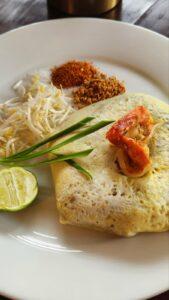 We ended the meal each with a serving of Ruamit, a Thai-style halo-halo made with fresh coconut milk, and a glass of Mango Sticky Rice Ice Cream Sundae. By the time we almost emptied our dessert cups we were joined by Chef Watee, a Bangkok native who's also been the head chef of Azuthai since opening in 2008. Her cooking is described to be homestyle Thai cuisine but with years of experience in working at 5-Star hospitality establishments in Thailand and Switzerland, she has certainly honed her craft to impress even the most discerning gourmand. In 2017, the restaurant was the first Thai SELECT Seal, a certification awarded by the Royal Thai Government thru the Thai Embassy for establishments that uphold the authenticity of their Thai Food and ingredients.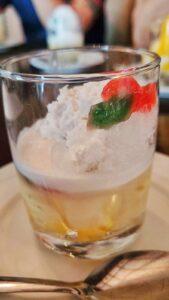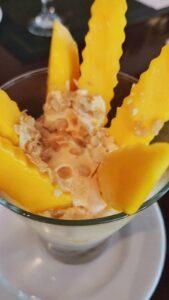 During our meal, I had to share my confusion with both Chef J and Ms. Malu about Azuthai's lone presence in the Grab app whenever I searched for Milky Way Café. Chef J then divulged that in order to operate through the pandemic, they decided to push Azuthai in the app whenever a customer would search for their sister restaurants. That way, customers would be aware of the Thai resto and be invited to try out its offerings. The marketing strategy seemed to have worked since the restaurant is now thriving again post-pandemic. Case closed and what a way to have my first meal at Azuthai and hopefully many more to come. 
Azuthai. 900 A. Arnaiz Avenue, Corner Paseo de Roxas, Makati, Metro Manila. For reservations, contact (+63927) 136-1306 (+632) 8813-0671, and (+632) 8817-6252. For Azuthai's complete menu, visit www.azuthai.com.  
Follow us on Facebook, Instagram, Tiktok, and Youtube for foodie finds, re-imagined recipes, and easy eats that will take Pinoy bellies on an adventure