Anthony Bourdain will always remain to be one of our culinary heroes. Of course, it's still hard to swallow that he's been gone for already more than four years. But sometimes, we get that feeling he's still traveling all over the world tasting the best dishes a country has to offer. In tribute to one of the greats of the food-loving world, here are some Filipino dishes we would want him to try. Cheers, Tony!
La Paz Batchoy from Iloilo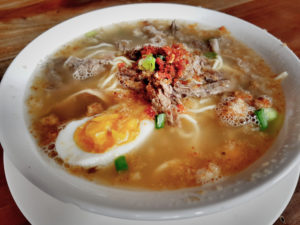 He's professed his love for Japan's Ramen, and Vietnam's Pho, but what about our La Paz Batchoy? It's loaded with fresh miki egg noodles, pork offal, beef slices swimming in a long-simmered pork-beef broth, and then topped with chicharron, fried garlic, and spring onions. We're imagining he's taking a spoonful of this Iloilo classic while saying his intro monologue after a long flight the night before.
Pinikpikan from Cordilleras

Not one to shy away from controversial topics or food, we'd think a serving of Pinikpikan, the Mountain Province's native chicken stew would have given the chef and us another understanding of what this ritual dish is all about.
Isaw from Metro Manila

Why not? We'd think he'd love to have this with a tall glass of beer while interviewing his host about the ongoings of current Philippine life. In between questions about politics, economics, and social commentaries we'd see him dipping his Betamax in a pool of very spicy vinegar while taking a swig of subzero beer.
Tuslob Buwa from Cebu

If Tony would be visiting Cebu, we'd take him to eat Tuslob Buwa, a Pasil street favorite made of pork liver and brains that sauteed with aromatics, bagoong, and chili. It's a great meal to share with a small group even with its "dirty reputation," an element the rockstar food writer isn't afraid to try.
Balbacua from Visayas and Mindanao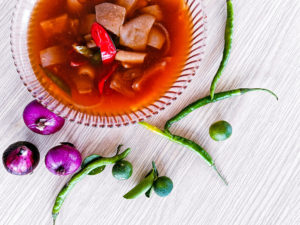 We could imagine the Anthony nursing hangover with a generous portion of Balbacua over freshly-cooked rice. This thick, collagen-rich ox stew made from hours-long boiled oxtail, face, skin, shank, and various local spices would have him doing his spiels on what he's going to do for the day.
Kinilaw from Cagayan de Oro

He might have had his fill of Ceviche from Latin America but nothing beats the sour-y goodness of our kinilaw. Made with local vinegar, sliced chilis, and the freshest seafood catch of the day, we think this would be the end-of-day meal for that beach shoot while he downs his choice Cerveza.
Goat Cheese from Davao
View this post on Instagram
Not one to go for desserts, Mr. Bourdain though has a sweet spot for cheese and our assortment of Goat cheese varieties from Davao specifically the Malagos brand do not disappoint. After a heavy meal, we'd see him eyeing the cheese board with these tangy, creamy goodies.
Various spirits and liquor from the different regions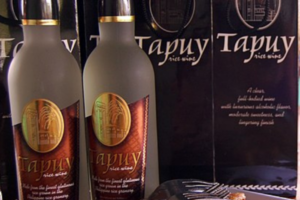 Of course, what's a meal without the drinks? We'd scour the best just for Bourdain: Basi from Ilocos, Tapuy from the Cordilleras, Lambanog from Quezon Province—each having its distinct make, flavor, and profile that's sure to delight and satisfy our favorite chef guest, Uncle Tony.
What Filipino dishes do you think he would have loved or would you would still want him to try if he's still alive? Let us know!
Follow us on Facebook, Instagram, Tiktok, and Youtube for foodie finds, re-imagined recipes, and easy eats that will take Pinoy bellies on an adventure!