Can you hear the sleigh bells ringing? With only weeks away from Christmas, restaurants, cafés, snack bars, and other beloved foodie places are clamoring to excite their patrons with new Yuletide offerings filled with festive flavors and enticing wrappers in every shade of green and red! From superb sweets to bountiful dishes for sharing, let this week's mash up gleefully remind you of those carefree days when you still believed in Santa Claus, and sugar never hurt your waistline. No matter what your fitness goals are though, there is no diet that can hold a candle against the joys of Christmas (over)eating.
Starbucks
This coffee giant is back with its annual Christmas treats and a race for their coveted planners. Let the classic combination of velvety steamed milk, espresso, and buttery toffee nut syrup of Starbucks' new Toffee Nut Crunch Latte, the minty and sweet candy notes of Christmas Tree Peppermint Dark Mocha, and the confectionary-meets-coffee Vanilla Nougat Latte transport you to cold December feels reminiscent of foreign holiday films. If you're looking for a chewier nibble, go for their Milk and Chocoloate Pudding, Ham & Egg on Brioche Bun, and Rocky Road Cookies. For coffee aficionados and regular Starbucks patrons, these will surely be a nice twist to your next order!
Wendy's
What a way to kick-off the holiday season with Wendy's Whatta Box, filled with generous servings of your favorite Christmas Bacon Ham Mushroom Melt, Natural-cut Fries, Chicken Nuggets, Double Choco Fudge, and Drink, for a complete and very fulfilling meal. All good things in one box – no doubt this is the best reward for being on Santa's nice list!
Auntie Anne's
World-famous pretzels paired with the ever-tempting maple sugar and rich cream cheese? You've got a recipe for delicious snacking at only PHP90! If you're feeling blue and the work day is bringing you down, grab one (or three!) of these bite-sized wonders and find yourself fast-forwarding to December and your holiday leave!
Morganfield's
Are the -ber months ever complete without some grilled goodies? Dine in now at Morganfield's and celebrate Christmas early with their ribs, fries, and everything nice platters! Selfishly devour their solo platter, or make a feast out of Morganfield's shared platter in your next barkada holiday-in-the-city reunion!
Max's Restaurant
A beautifully cooked chicken is always a reason to celebrate, but when Max's Restaurant offers their signature fried chicken as a holiday bundle, it becomes a real spectacle. With savings of PHP339, enjoy a sumptuous meal with the family complete with the centerpiece Max's Chicken, Sinigang na Hipon, Lumpiang Shanghai (complete with rice and drinks) – and you'll really ignite a moment recalling fond festive moments of the past.
Karton.ph
Looking for that perfectly well-thought out gift without the hassle? Check out this popular online store that offers unique food (and other great) finds in an adorable bundle that will surely delight the eyes and taste buds of your loved ones!
Bistro United
If you're looking for Pinoy comfort food with a little flair, check out Bistro United's foodie offerings and bask in the exciting mix they have conjured for their special holiday baskets. Perfect for your proudly Pinoy or OFW friends who have countless cravings for Pinoy delicacies!
Milkman Dairy Bar
If Christmas feels to you involves sneakily scooping up spoonfuls of cookie dough, then Milkman Dairy Bar's treats were made for you. This time around though, it's guilt free because you ain't stealing bites anymore and these delicious cookie doughs come in 6 tempting flavors – Brownie Batter, Cookies and Cream, S'more Nutella, Everything Nice, Red Velvet Oreo, and Grandma's Choco Chip!
Cook These!
Want to surprise the familia with something lovingly homemade but stuck looking for ideas? Worry no more! Check out BiteSized's best loved sweet recipes for sharing to bring the festive magic and enliven the gift giving spirit in your kitchen.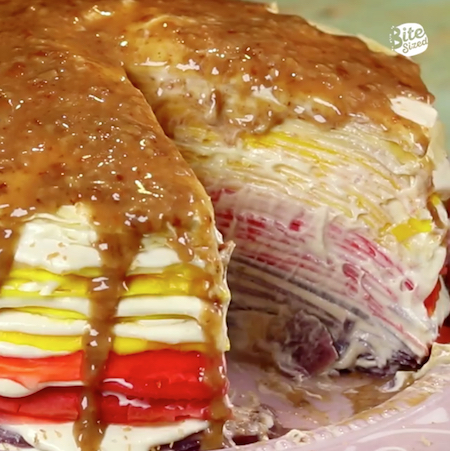 Layers upon layers of Pinoy flavors in this colorful crêpe cake! Click here for recipe.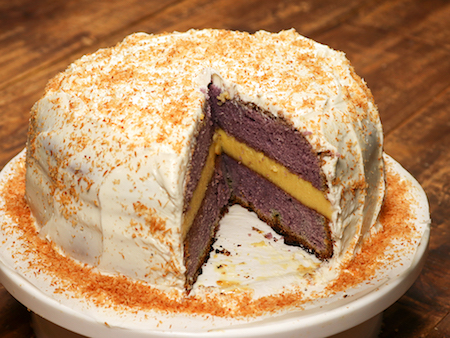 Two local faves bursting with real Pinoy goodness in every slice! Click here for recipe.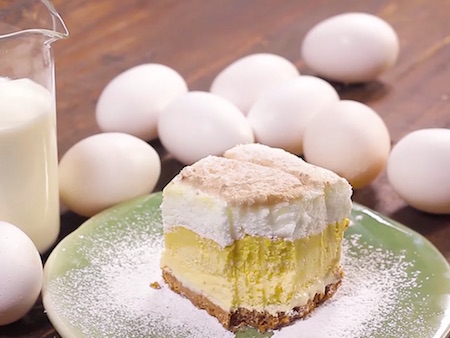 Now you can hack this cravings-worthy dessert! Click here for recipe.