Giving, receiving, and eating tikoy during Chinese New Year has already become a tradition for us Filipinos. This practice is heavily valued by many since tikoy or rather, its Chinese term nian gao when pronounced, signifies "higher year," promising prosperity in life. And even if you aren't observing the Chinese New Year, who wouldn't be able to resist this sticky-sweet rice treat? For those who aren't still comfortable going outside, especially those far from Binondo, here are 8 places to get your tikoy fix.
Echague Bakery's Hopia and Tikoy
View this post on Instagram
Chinese delicacy lovers are sure to know Echague Bakery in Quezon City, one of the country's oldest stores selling the beloved rice cake. Since 1962, this humble bakery has been churning freshly-made tikoy that are available in White, Brown, Ube, and Pandan flavors. The bakery is even known to supply tikoy to established F&B outlets. Firm to the touch but ooey goeey and with just the right amount of sweetness when fried, we don't blame you if you'd make a run for their best-seller. If you're planning to order then add in their other best-sellers like hopia (also available in other flavors, mooncakes, buchi, and chicken empanada.
For orders, visit their Facebook page and Instagram
China Gold
View this post on Instagram
Looking to give away lots of tikoy this year? China Gold's got you! This specialty tikoy brand has been selling tikoy for wholesale and retail needs. The brand specializes in 3 flavors: white, brown, and the latest, coco sugar, which comes is assorted sizes. They're also easy to look for since they've been supplying several supermarket chains.
For orders, visit their Instagram page
Kamuning Bakery Cafe
View this post on Instagram
Another old-school establishment selling ready-to-cook tikoy is Kamuning Bakery located in Quezon City. The bakery mainly does white tikoy in various sizes (mini-250g, tiny-360g, small-700g, medium-1kg, and large-1.5kg). As a complimentary, do try their signature savories: pancit bihon, pancit canton, raddish cake, squash cake, and machang.
For orders, visit their Facebook page and Instagram
Turon and Things
View this post on Instagram
Turon is just one of the many classic ways one can enjoy tikoy in its entirety. As a special Chinese New Year treat, this turon-specialty store came up with an ingenious way of presenting the CNY staple but still enjoy it with familiar flavors. Introducing the Tikoy Turon Cake, a Fil-Chi food fusion made up of fried turon sticks each filled with tikoy, banana, and langka. Available in 9-inch and 12-inch sizes, this unique creation not only removes the chore of preparing tikoy but levels up on how you eat it! If you think you won't be able to finish a whole turon cake then just settle for their Turon Tikoy that's available in bundles of 20s, 40s, and 60s.
For orders, visit their Facebook page and Instagram
The Vegan Grocer
View this post on Instagram
Tikoy in a vegan-specialty store? That's right and it's a unique offering as well! As a part of their fundraising raising effort, The Vegan Grocer came up with a special-flavored tikoy that even looks in color theme with the upcoming Year of the Tiger—Turmeric Rice Cake (P480) flavored with orange peel and rock sugar. That's not all. They also have the CNY Double Delicacies Set (P950): Muscovado Red Bean Rice Cake and Radish Cake—a unique combination of savory and sweet dishes in one delicious offering. Triple up that good luck with these incredible products!
For orders, visit their Facebook page
Instafamealy
View this post on Instagram
All year-round, you can depend on Instafamealy to provide safe-to-eat, freshly-cooked meals ranging from Asian dishes to Western favorites. But for Chinese New Year, the little store came up with their own tikoy offering that's as wholesome as it can be—no MSG, no extenders, preservatives, and even thickeners. If you're looking for a high-quality, rice cake made to be enjoyed by everyone in the family, then this one is for you.
For orders, visit their Facebook page and Instagram
Curated Good Food
View this post on Instagram
Curate Good Food is an online group composed of food-loving individuals who love to eat and recommend their favorites. For this coming Chinese New Year the brand is taking pre-orders of made-to-order tikoy exclusively made by a Hong Kong chef. The sticky rice cake comes in assorted shapes and combinations: traditional round with Fu4 sign, (Golden Koi) fish, emperor (hat), and gold bar.
Visit their Instagram page to join their online Viber group.
Sampaguita Food Mart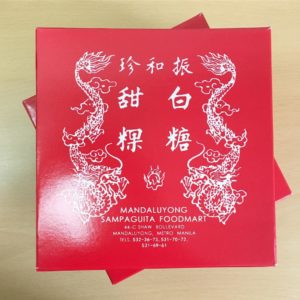 Sampaguita Food Mart in Mandaluyong is another beloved and long-established bakery specializing in tikoy. Aside from making regular-sized tikoy, this unassuming little eatery along Shaw Boulevard makes gigantic versions of their best-seller (up to 4 kilos in weight). As a tip, respected food columnist Chef Reggie Aspiras recommends trying the brown sugar variant.
For pre-orders, call (02) 8532-3673, 8531-7072, 8531-6961
Follow us on Facebook, Instagram, Tiktok, and Youtube for foodie finds, re-imagined recipes, and easy eats that will take Pinoy bellies on an adventure!