We're less than two weeks away from Christmas and now's the time when a lot of our holiday gatherings are happening. Aside from gift-giving and reconnecting with people, bonding over festive and delicious food is the highlight of these events.
For some people though, preparing or cooking food for parties can be time-consuming and too much to handle! That's why ordering food is a convenient option so that it would be less hassle plus, you'll get to focus on just enjoying the party.
To make things easy and less hassle for you, we've compiled a list of food stores you can check to order your holiday spread.
Graze and Deli Ph
 

 

View this post on Instagram

 
If you're feeling fancy and looking to bring quality cheese and charcuterie for your party then check out Graze and Deli Ph. They offer caviar pies, deli boxes, sweet boxes, and Charcuterie boxes. You can also customize your charcuterie boxes depending on your preference.

For more information, Check out their website and Instagram.
Smokin Papi
 

 

View this post on Instagram

 
This smoking joint is best known for its smoky and fall-of-the-bone BBQ Pork Ribs. Smokin Papi is a small family business that serves high-quality smoked meat products. Aside from their BBQ Pork Ribs, they also serve Smoked BBQ Beef Brisket, Litson Baka and Parmesan Crusted Baked Salmon. They also have pasta and Filipino party favorites that are worth trying.
Check out their Facebook and Instagram to try out their succulent smoked meats!
Illo's Party Trays
 

 

View this post on Instagram

 
One of the most popular party trays during the pandemic, Illo's made with love and home-cooked food made them a go-to option for party trays. Their menu is composed of international and local dishes such as Paella Valenciana, Kare-Kare ni Lola Remy and 40 cloves of Garlic Chicken. You can also choose from their party tray sets and packages so you won't have a hard time picking from their vast selection of dishes. Their concept of sharing their family recipes and bringing them to your home has been a hit with a lot of foodies here in Manila. 
Check their website, Facebook and Instagram to see which party trays suits you or visit their branches in Greenhills and Bf Homes Paranaque.
Chef Resty's Roast Beef
 

 

View this post on Instagram

 
Chef's Resty's Roast Beef is a good option if you're looking for affordable and quality Roast Beef. Their Signature Roast Beef is packed with flavors from herbs and spices plus the meat is very tender and juicy. This humble roast beef would be a great potluck to any parties.
You can order their roast beef via Facebook or Instagram. They are also on GRABFOOD so better check if they are delivering around your area.
8 Spoons Party Trays
 

 

View this post on Instagram

 
8 Spoons Party Trays offers a variety of international and local dishes for you to choose from. The 8 Spoons Barbecued Pork Belly and 8 Spoons Bellychon are must-tries on their menu. Their party trays are an excellent choice for anyone who wants good-tasting and high-quality food plus they offer different sizes of party trays to suit your need!
To order, contact their Facebook and Instagram.
Arcy's Kitchen
 

 

View this post on Instagram

 
Truffle fans makes some noise! Arcy's Kitchen serves one of the most delicious truffle pasta in Metro Manila. Known for serving great-tasting dishes with a generous amount of truffle, the best-selling dishes that you should try are Baked Salmon with Truflle Cheese Sauce and Truffle Cream Pasta with Shiitake Mushroom.  Comforting and delicious food is what Arcy's Kitchen promises to deliver with every party trays they serve.

You can satisfy your truffle cravings by ordering thru their website or follow them on Facebook and Instagram
Amber's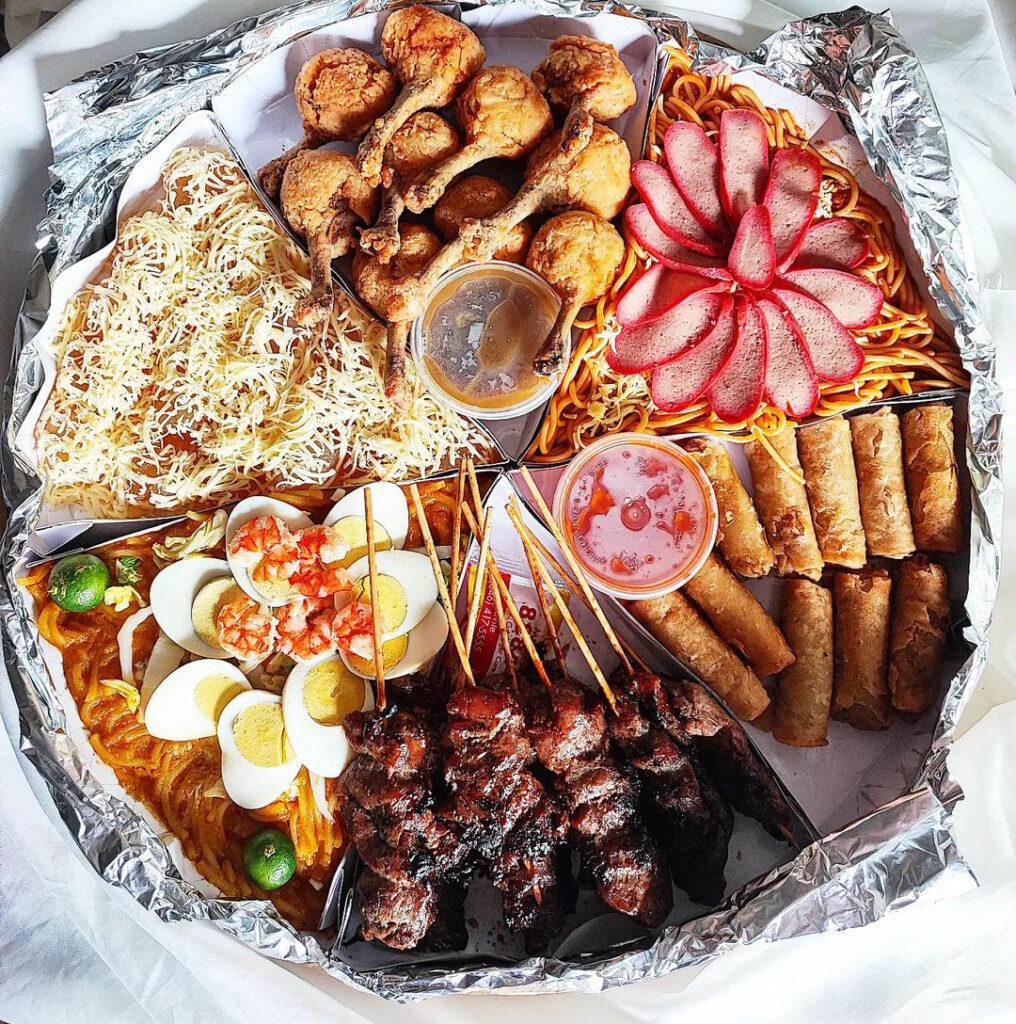 A Filipino Christmas party wouldn't be complete without the classic Pinoy favorites from Amber's such as Pinoy Spaghetti, Pork Barbeque, and our beloved Lumpiang Shanghai! For years, the brand has become an institution when it comes to delectable and affordable Pinoy party food. So, if you're thinking of serving classic Pinoy party food for your holiday occasion, check out Amber's.
You can order from any of their 14 branches or visit their website to get your mouthwatering Pinoy dishes!
Meat Your Maker MNL
 

 

View this post on Instagram

 
If you're looking to splurge a bit like say, wagyu beef then Meat Your Maker MNL can hook you up with that! Specializing in serving wagyu rice, they have two variants to choose from. The Wagyu Paella, a paella rice topped with wagyu prime cut steak, finished with wagyu fat, chicharron and served with their steak a jus. The other variant is the Wagyu Steak Rice, succulent steak rice cooked in wagyu fat and then topped with wagyu prime cut steak. Premium party trays that are glorious and sinful worth bringing on your holiday potluck.
Visit their website or DM them on Facebook and Instagram to order your Wagyu Rice! 
Hope we'd got to help you with your potluck this year! Share this list to your friends and family who's looking to have a hassle free holiday celebration! We'd like to know if you have other food stores you could recommend to other foodies. Comment them below. Happy Holidays everyone!

Follow us on Facebook, Instagram, Tiktok, and Youtube for foodie finds, re-imagined recipes, and easy eats that will take Pinoy bellies on an adventure!