Whether it be a fun food trip to Binondo, a mom-and-pop-style joint the family has gone to for decades, or a delicious hotpot to be shared among loved ones, Chinese food is secondary comfort food for us Filipinos. In celebration of the incoming Year of the Water Tiger, here are 8 flavorful and affordable Chinese dishes to feast on.
Harmony Cantonese Kitchen
View this post on Instagram
Harmony Cantonese Kitchen only has a few items in their repertoire but they do each one so well. Their bestseller is the giant-sized Machang that can easily satisfy two people per serving. The Premium is made up of gelatinous pork belly, chicken salted egg yolk, shiitake mushrooms, and Chinese sausage while the Supreme has the same ingredients with the addition of dried shrimp and peanuts. Braised pork entrée includes Pata Tim available in various sizes, Tee Kah or Pork Trotters, and Braised Pork Cheeks and Ears. Another savory item is the Taro Cake packed with Chinese sausage and shiitake mushrooms. You won't go wrong with any savory, to be honest, but we urge you to go for their Almond Jelly Float—the silkiest one that we've ever tried. It's available in Peach, Lychee, Lychee and Peach, Strawberry, and Mango.
For orders, visit their Facebook page and Instagram
Chef Nathaniel Uy
View this post on Instagram
Nathaniel Uy may be known more for his social media moniker, Thehungrychef, but this talented and charming chef also does incredible party platters. His offering this Chinese New Year is a sure treat: Chinese-style Crab Sotanghon, gelatinous Braised Pata Tim with matching cua pao, and Fat Choy. As a sweet ending to your festivities or as a unique and auspicious giveaway order as well his Coconut Peach Tikoy that's topped with sweet peach slices, dates, and goji berries. Promise, you won't be disappointed.
For orders, send a DM to his Facebook page or Instagram
Champion Hot Pot
View this post on Instagram
One of the best ways to celebrate the Chinese New Year with loved ones is with a bubbling hotpot filled with delicious goodies. Champion Hot Pot does it best with the Special Shabu-shabu option that would befit the upcoming holiday. It includes their signature Shabu-shabu broth, fresh vegetables, pre-sliced meat garlic-sate dipping sauce, thick egg noodles, and hot pot balls. You can also choose to have add-ons like extra meat, vegetables, and balls.
For orders, visit https://tasteless.ph/
The Chowmen Mnl
View this post on Instagram
If crustaceans are at the top of your food list then order from The Chowmen Manila. For premium items, choose your seafood mains like crabs and prawns then select your flavor: Sweet Chili, Salt and Pepper, Black Pepper Garlic, Salted Egg Floss, Salted Egg Aligue, Spicy Curry, Singaporean Chili, and White Pepper Cream. If you prefer dishes on a budget then have the Crab Dip Sampler which you can select 2 or 3 offered flavors and the Special Crab Fried Rice (that changes flavor every month). Other great entrée are the Crab Cream Noodles and Hot Prawn Salad. If you're really going all out for Chinese New Year then indulge with their Chinese New Year Special Set.
For orders, visit https://thechowmen.cococart.co/
Wok With Mom
View this post on Instagram
Incredible flavors that transcend over four generations—that's how we would describe the dishes of Wok with Mom. This home-based business makes soulful Chinese dishes that would make any amah quiver with delight from nostalgic flavors. The Pat Pow Kew or Eight Treasure Chicken is a must. Imagine the laborious work that goes into preparing and cooking this dish. The outcome though is a mouthwatering hearty meal worth ordering again and again. Other stellar items on the menu include the Cha Misua, Drunken Shrimp Sotangon, Warm Shrimp Salad, and Sichuan Braised Fish.
For orders, visit their Instagram page
Ping Pong Diplomacy
View this post on Instagram
Ping Pong Diplomacy actually closed its doors a few years before. So, imagine our delight when it opened again this year, this time at the well-regarded food hall, The Grid in Rockwell, Makati. We missed their Crispy Eggplant and Ping Pong Wings (long marinated fried chicken wings tossed with spices and pork floss plus garnished with fried leeks, chilis, and sesame seeds). For heftier options though try the Dan Dan Rice (round rice stir-fried in Dan Dan paste, squash, peas, mushrooms and ground pork then topped with crispy chicken skin, peanuts, and two fried eggs) and Not Mapo Tofu (steamed soy custard with house-made mapo tofu sauce topped with fried leeks, ground pork, red Szechuan peppercorns, and sesame seeds).
For orders, visit www.thegridfoodmarket.com.
Chops and Sticks
View this post on Instagram
Chops and Sticks doesn't fear volume in orders—in fact, they embrace it! Their Asian party trays are certified crowd-pleasers both in quantity and quality. Bestsellers include Honey Garlic Spareribs, Pork Char Siu, Sweet and Sour Sole Fish Fillet, and Steamed Shrimp with Garlic. For dessert pick the made-to-order Egg Tarts. If you've got a big family or expecting a big number at your Chinese New Year Party then look no further with Chops and Sticks.
For orders, visit their Facebook page and Instagram
J Cuppacakes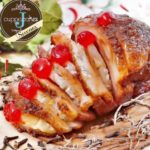 J Cuppacakes may be more known for its beautiful cake creations and decadent confections but did you know that they also make an amazing Chinese Ham? That's right! Their Premium Homemade Chinese Ham is made using a prized family recipe.  The ham, which is available in 0.5kg, 1kg and bone-in (4-5kg) comes with an addicting secret sauce that'll make you wish you cooked more rice to go with it. Plus, if you're looking for the perfect table centerpiece then order their Year of the Tiger-themed cakes.
For orders, visit www.jcuppacakes.com
Follow us on Facebook, Instagram, Tiktok, and Youtube for foodie finds, re-imagined recipes, and easy eats that will take Pinoy bellies on an adventure!